In Fiji, India's Pacific Presence Grows
With historical and cultural links, India looks to firm up relations with Fiji.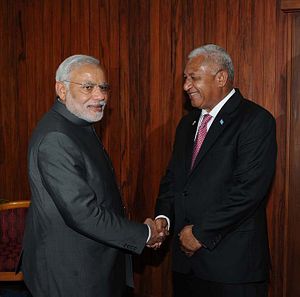 In a small, but symbolically significant, gesture last week, the Indian government provided the Fijian sugar industry with a grant. While the amount was negligible ($1.04 million) and it was tied to Fiji buying agricultural equipment from India (a common foreign aid tactic), the move seems designed to signal India's desire for continued engagement in Fiji, and the south Pacific in general.
Sugar is one of Fiji's largest industries (alongside tourism), and also remains culturally significant to the Indo-Fijian population, who were transported to Fiji by the British in the late 19th century to work in sugarcane fields as indentured laborers, and continue to dominate the industry today. However, the industry has been struggling financially for many years, with concerns for its viability. During his visit to the country in 2014, Indian Prime Minister Narendra Modi made the far more significant act of offering a $70 million line of credit to the industry.
Despite the historical and cultural links, Modi's visit to the country was only the second by an Indian prime minister after Indira Gandhi's 1981 visit, providing a signal in the early months of his government that the Pacific would become a region of greater engagement. The Modi government's Act East policy showed an initial interest in including the Pacific in its purview, with the creation of the Forum for India-Pacific Islands Cooperation (FIPIC), a multilateral group involving India and the 14 Pacific Islands states. The forum was initially held in Suva in 2014.
In a demonstration of India's increasing ambitions, and its desire to invest in Fiji, at the second FIPIC meeting in Jaipur in August 2015, Modi announced a plan for the Indian Space Research Organization (ISRO) to open a new satellite monitoring station in the country. This ISRO infrastructure was designed to lessen India's reliance on Australian and U.S. satellite monitoring stations; however, significant progress on the station has yet to materialize. It remains to be seen whether plans for the station are still being devised.
The conference morphed into the India-Pacific Island Sustainable Development Conference and was held in May this year in Suva. The forum refocused its goals toward climate change issues to coincide with Fiji's presidency of the COP23 conference, which was held in Bonn, Germany in November. The importance of climate change issues to Pacific Islands states is not lost on countries who take them seriously. The refocusing of the conference to meet the region's most pressing concerns was a smart move by India.
India's foreign policy is developing a more muscular posture, but still suffers from residual institutional reluctance. However, the country's increasing naval capability does allow it to project power outside its the Indian Ocean sphere toward the Pacific. India periodically launches patrols through the South China Sea into the Western Pacific. Its deepening security ties with Vietnam and Singapore have primarily been designed to temper increased Chinese activity in the Indian Ocean, and ASEAN countries have encouraged a greater Indian presence in the region. While this power projection has yet to make significant forays farther into the Pacific, Indian naval vessels recently visited Fiji. The two countries signed a new defense agreement in May, with India pledging to help improve Fiji's naval facilities, which could be an indication of an Indian desire to establish a more permanent naval presence in Fiji.
For Fiji, being courted by an emerging power has the desirable outcome of boosting its bargaining power. Previously the country's ethnic suspicions may have led ethnic Fijians to be hesitant about moving too far into India's orbit. However, while Prime Minister Frank Bainimarama runs an increasingly illiberal regime, he has at least attempted to dispose of the country's ethnic rivalries within the legal system. The 2013 constitution created after Bainimarama's 2006 coup discarded ethnic labels and removed the race-based electoral system. In an unfortunate, but potentially symbolic, illustration of this new official ethnic harmony, the current Fijian government is effectively a two-man operation run by Bainimarama and his Attorney General, Aiyaz Sayed-Khaiyum. If the two men see it in Fiji's interest to forge close relations with India, then it will occur.
India's presence in the region comes with less bad blood than the influence of other powers: France's colonial history, China and Taiwan's diplomatic games, the U.S. behemoth, and the paternalism of Australia and New Zealand (something Bainimarama continues to bristle at). India has the ability to forge relationships with less inherent suspicion. With India wishing to exert greater global influence, and Pacific Island states needing wealthy benefactors, there is a mutual benefit that can be developed. Pacific Island states also crucially hold 14 votes within the United Nations and other international forums, votes that could be important to India as it seeks to take its place among the other major powers.