India Successfully Test Fires Supersonic Surface-to-Air Missile
The Ministry of Defense claims that India now has the capability to make any type of surface to air missile.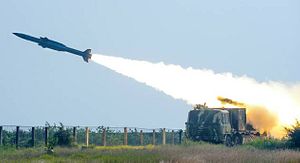 India has successfully test fired the surface-to-air missile Akash fitted with a new domestically developed radio frequency seeker that purportedly improves the missile's accuracy and range from a test site in Odisha on December 5, the Indian Ministry of Defense (MoD) said in a statement.
"The surface to air missile AKASH with indigenous radio frequency seeker against target Banshee [an unnamed aerial vehicle], has been successfully launched from the Launch Complex-III at ITR [Integrated Test Range] Chandipur today at 1338 h[ours]," the official statement reads. "The radars, telemetry and electro-optical systems along the coast have tracked and monitored all the health parameters of the missile."
The test was conducted by India's Defense Research & Development Organization (DRDO), which developed the missile in cooperation with the Ordnance Factories Board, Bharat Electronics, and Bharat Dynamics Limited.
As a result of the successful test of the Akash missile system, "India has achieved the capability of making any type of Surface to Air Missile," the press release reads.
The Akash ("Sky") is an indigenously designed medium-range mobile surface-to-air missile defense system. The supersonic missile is India's first surface-to-air missile with indigenous seeker to be test fired.
The 5.8-meter long Akash is armed with a 55-60 kilogram high-explosive, pre-fragmented warhead and can engage aerial targets up to a distance of 30 kilometers and at altitudes up to 18 kilometers.
According to the missile's developers, "the new weapon is a multi-target, multi-directional, all weather air-defense system and can provide air defense missile coverage for an area of 2,000 square kilometers."
The missile was officially inducted into the Indian Army in 2015 and is expected to stand up two regiments. While the Army initially planned to add additional Akash regiments it announced in 2016 that the missile system does not meet operational requirements (it failed mobility tests in the desert) and as a result would not order any more regiments.
"Neither does Akash have the requisite 360 degree coverage, nor the 3-4 second reaction time the Army wants. Moreover, Akash has a large radar ground signature with several vehicles required for its missile launchers, multi-function radars and the like," an Army source told The Times of India in 2016.
The Indian Air Force (IAF) has ordered eight Akash squadrons. As of now, two squadrons are operational. As I wrote in 2015:
One battery [four launchers with three missiles each] is capable of engaging up to 64 targets (a single radar–[the heart of the Akash missile system is its multi-function Rajendra phased-array radar system] —can track up to 16 objects) and attack 12 different intruders simultaneously, including enemy fighters, helicopters, drones, and sub-sonic cruise missiles. The Akash supersonic missile can reach a top speed of up to Mach 2.5 and can be fired from both tracked and wheeled platforms (…).
According to a 2017 Indian government report, 30 percent of Akesh missiles supplied to the IAF have been found out to be defective when test fired, which partially is the result of inadequate IAF storage facilities.