Jeenbekov and Nazarbayev Put Kyrgyz-Kazakh Relations Back on Track
With a two-day visit to Astana, the Kyrgyz president and his Kazakh counterpart steer relations back to normal.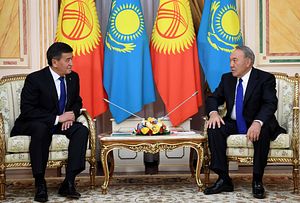 Kyrgyz President Sooronbay Jeenbekov and his Kazakh counterpart, Nursultan Nazarbayev, seem intent on setting the breakdown in relations between the two countries earlier this year — leading to a two-month mini trade war — firmly behind them.
Arriving in the Kazakh capital on December 25, Jeenbekov's two-day visit was the culmination of a rapprochement begun late last month in Minsk when the two presidents met on the sidelines of a Collective Security Treaty Organization (CSTO) summit. Their handshake and conversation was swiftly followed by the signing of a roadmap on bilateral cooperation by Kazakh Deputy Prime Minister Askar Mamin and his Kyrgyz counterpart, Tolkunbek Abdygulov, and the reversing of stricter border controls, which had been in place since October.
It's all smiles now between the two Central Asian presidents: Nazarbyaev, the region's elder statesman and Jeenbekov, its newest leader.
"Kazakhstan and Kyrgyzstan are fraternal and allied countries. We have established a constructive and trustful dialogue in all spheres," Nazarbayev reportedly said after the two met on Monday.
Nazarbayev went on to say that he believes "there are no issues that Kazakhstan and Kyrgyzstan could not resolve." He touted increased trade turnover, cross-border investments, and partnerships as signals of a healthy relationship.
"We will make every effort to continue strengthening our friendly, fraternal relations. After we signed the roadmap, our departments and ministries began to work more fruitfully," Jeenbekov said. Nazarbayev also remarked on how quick the mending of ties was. "Not much time has passed since our meeting in Minsk. Our governments have carried out a very great and productive work and have removed the issues that worried both you and us. That is why today we can talk about what can be done in the future," the Kazakh president reportedly said.
The Kazakh-Kyrgyz border, which had been mired in administrative hurdles imposed by Astana, quickly went back to normal operations in early December. Kazakhstan maintained that its increased border checks were aimed at smugglers and contraband but the rapidity with which the situation returned to normal underscores the abjectly political nature of the mini trade war.
While this was Jeenbekov's first visit as president to Kazakhstan, it was not his first visit this year to Kyrgyzstan's northern neighbor. Jeenbekov met with Nazarbayev in August, shortly before resigning the prime ministership to officially run for the presidency. His main opponent Omurbek Babanov's September meeting with Nazarbayev, however, kicked off the trade war when then-President Almazbek Atambayev accused the Kazakhs of meddling in the election by meeting with Babanov.
Jeenbekov won the October 15 election with 54 percent of the vote and Babanov is out of the country, avoiding charges leveled against him by the state that he incited ethnic discord in a campaign speech.
After meeting with Nazarbayev, on December 26 Jeenbekov met with Kazakhstan's prime minister, Bakytzhan Sagintaev. Sagintaev and Jeenbekov reportedly reached an agreement to resolve bilateral disputes within the Eurasian Economic Union.
When Kazakhstan was stopping Kyrgyz cargo at the border, Bishkek filed complaints with the EEU and the World Trade Organization. Kyrgyzstan withdrew those complaints earlier this month when the border loosened up. Neither complaint had prompted overt action.
It's good news that Bishkek and Astana have made up — to both their bilateral and in the interest of Uzbekistan's dreams of regional cooperation. But there's also little reassurance that something similar won't happen again if the right egos are insulted.
Kazakhstan and Kyrgyzstan hope to increase trade turnover from its current level (under $800 million) to $1 billion by 2020.