Kyrgyzstan and Kazakhstan Make Up, Move Forward
The border problem was rooted in preexisting issues, but was sparked and solved by politics alone.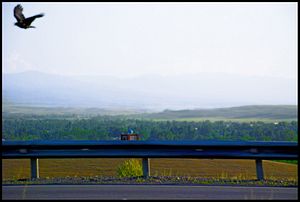 On December 2, Deputy Prime Minister Askar Mamin of Kazakhstan and his Kyrgyz counterpart, Tolkunbek Abdygulov, signed a roadmap on bilateral cooperation that their respective presidents — Nursultan Nazarbayev and Soornonbai Jeenbekov — had shaken hands over in Minsk a few days earlier.
And just like that, the border was back to normal.
RFE/RL's local correspondents reported normal operations by December 4: "…for the first time since mid-October, all trucks started passing the Kyrgyz-Kazakh border without any delays and the long lines of cars and trucks had disappeared."
Kyrgyzstan says it is withdrawing the complaints it had registered against Kazakhstan with the World Trade Organization (WTO) and Eurasian Economic Union (EEU).
The border, as we've been following, became mired in increased customs checks imposed by the Kazakh side in early October.
The kerfuffle began immediately after outgoing Kyrgyz President Almazbek Atambayev began a series of verbal attacks against his Kazakh counterpart stemming from Nazarbayev's meeting in September with Omurbek Babanov, a Kyrgyz presidential candidate.
Kazakh border officials maintained that the increased scrutiny had to do with concerns about contraband and smuggling of goods from China via Kyrgyzstan and other weaknesses in Kyrgyzstan's veterinary and sanitary controls on exported goods.
Kyrgyzstan joined the EEU in August 2015 to high hopes, but as time went on the benefits have been lopsided. In late December 2016, this was the situation:
At a November [2016] meeting, Kyrgyz Prime Minister Sooronbay Jeenbekov gripped over blocked access to the union's common market. And this week, Kyrgyzstan first refused to sign the Treaty on the Eurasian Economic Union Customs Code but apparently agreed later to sign, though with an exception…

Kazakhstan seems to be Kyrgyzstan's biggest problem vis-a-vis the EEU. According to 24.kg, Kyrgyz Deputy Prime Minister Oleg Pankratov told journalists that the Kazakhs had not yet cancelled veterinary controls on the border. "All countries, except for Kazakhstan, and the Eurasian Economic Commission noted that there were no risk and spoke for removal of the control. But Kazakh colleagues once again did not support the issue." But, the Kazakhs did apparently sign an agreement to provide $100 million in technical assistance to resolve the control issues.
The roots of this fall's border affair were already growing when Atambayev opened his mouth in early October. Given descriptions of the roadmap, it seems Kyrgyzstan is accepting Kazakhstan's version of why the border was gummed up by heightened customs checks for the past two months.
24.kg reported that the 50-point roadmap, "concerns all aspects of cooperation between the two states. It includes measures in the field of foreign trade, customs, tax administration, detection and suppression of offenses and crimes, veterinary medicine, plant quarantine, transport and border cooperation."
Kazakh Deputy Prime Minister Mamin reportedly said, "These measures aim to further adapt the Kyrgyz economy to the norms and requirements of the Eurasian Economic Union [EAEU] in order to ensure the access of Kyrgyz goods to the EAEU markets."
Two years after Kyrgyzstan formally joined the organization, Kazakhstan is finally getting around to helping ensure Kyrgyz goods have access to the common market. One has to wonder if Bishkek regrets rejecting Kazakhstan's promised $100 million in technical assistance for this very same set of issues.
As Nurjamal Djanibekova noted for Eurasianet, "As Kazakhstan sees it, the real problems lie with Kyrgyzstan's crossings with China. Until they are definitively satisfied that there is a verifiable way of limiting the volume of contraband being funneled through those points, contention will persist."
The border issue was rooted in existing contention and concerns from Astana about the weakness of Kyrgyz controls, but it came to a head for political reasons and similarly, the present resolution has less to do with actual improvements than a political reset between Nazarbayev and Kyrgyzstan's new leader.
Bonus: Last week, I joined the gentlemen of RFE/RL — Muhammad Tahir and Bruce Pannier — along with Timur Toktonaliev, a Bishkek-based  editor for IWPR, to talk about Atambayev's legacy in Kyrgyzstan with a sizeable section devoted to need for a resetting of relations between Kazakhstan and Kyrgyzstan.