Kyrgyzstan Deports AFP Central Asia Correspondent
Chris Rickleton pleaded on Facebook to the new president to allow him to "return to live with my family in the country I love."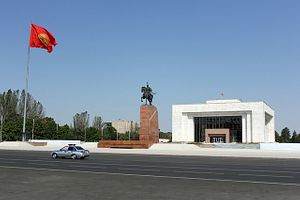 Over the weekend, Kyrgyzstan denied entry to and deported a British journalist working for Agence-France Presse (AFP).
Rickleton, appealed to Kyrgyzstan's new president, Sooronbai Jeenbekov, in a Facebook post while waiting at Manas airport for the next flight to Dubai. He'd just landed in Kyrgyzstan from Colombo via Dubai and said he had not violated the 60-day visa-free window for British citizens.
In interviews with Eurasianet and RFE/RL, Rickleton said border guards told him he was subject to an entry ban but could not explain why (and even asked him for the reason).
24.kg reported that the State Committee for National Security (SCNS) said Rickleton has been banned for "violating the visa regime." Another Kyrgyz news site, Kloop, cited a SCNS spokesman saying that the committee wasn't responsible for deportations and referred questions to the Foreign Ministry.
Rickleton, whose wife and young daughter are Kyrgyz citizens, has been based in Kyrgyzstan for eight years. He taught at the American University of Central Asia, edited various local publications, and has written for Eurasianet. In 2015, he began working for AFP as their Central Asia correspondent.
In his appeal, Rickleton noted that he had failed to achieve long-term accreditation in Kyrgyzstan despite several attempts and two interviews with the SCNS. He has long-term accreditation in neighboring Kazakhstan, where AFP maintains a regional office, and has been accredited to cover events in Tajikistan and Turkmenistan as well. Rickleton said he has been accredited by the Kyrgyz Foreign Ministry just once, to cover the 2016 World Nomad Games.
"I have enjoyed the privilege of being a guest in Kyrgyzstan for nearly a decade now. In that time I have seen a lot of changes, many positive," he wrote in his Facebook appeal to the Kyrgyz president. "I am also aware that being a guest is a privilege that can be revoked at any opportunity by the host. If that is the case on this occasion, I kindly request that you restore it in the near future, so that I can return to live with my family in the country I love."
Rickleton is not the first journalist to face difficulties in Kyrgyzstan, which is frequently lauded as Central Asia's "Island of Democracy." But media freedoms on the so-called island have been under threat in recent years, particularly when linked to touchy topics: extremism, ethnic relations, and criticism of state policies.
In 2015, Umar Farooq, a U.S. journalist, was detained in Osh, held for three days, and briefly charged with possessing extremist materials. (He later wrote an article for The Diplomat about Kyrgyzstan's security services casting a wide net in their pursuit of suspected Islamic State recruiters).
In March 2017, Grigory Mikhailov, the Russian editor of the pro-Kremlin Regnum news website, was made to leave Kyrgyzstan.
These deportations of foreign journalists must be mentioned alongside the consistent pressure felt by local journalists, who were a frequent target of Kyrgyzstan's previous president, Almazbek Atambayev. State prosecutors brought several lawsuits against RFE/RL's Kyrgyz Bureau and a popular local news site, Zanoza in the past year. The RFE/RL case was dropped but the suits against Zanoza resulted in massive fines, which threaten to close the outlet. In November the Supreme Court upheld one of the defamation suits. Zanoza and its founder face two more lawsuits.