Russia to Get New Fifth-Generation Nuclear Attacks Sub in 2030s
The new submarine class will purportedly come in three variants.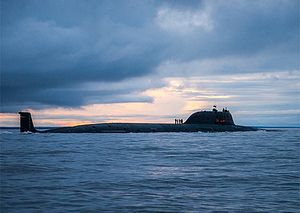 The Russian Navy expects to receive a new class of nuclear-powered fifth-generation submarines in the 2030s, according to the service's deputy commander for armaments, Vice Admiral Victor Bursuk.
"The fleet will start getting fifth-generation submarines around the 2030s," Bursuk told TASS news agency on November 30. Not many details are known of this new submarine program dubbed "Husky". A first conceptual design is expected to be presented by the Malakhit Design Bureau in the summer of 2018.
The new class will allegedly come in three variants: a nuclear-powered attack submarine (SSN), a nuclear-powered cruise missile submarine (SSGN), and a new nuclear-powered ballistic missile submarine (SSBN). All three variants are expected to share a common hull design as well as common sonar, power and propulsion systems.
The new subs will reportedly displace between 4,000 to 6,000 tons depending on the variant, although a SSBN version would likely have to be substantially larger to accommodate intercontinental ballistic missiles.  Yet, as Russia is currently in the process of launching a new class of ballistic missile subs, Husky-class SSBNs are seen as the least likely of the three variants to be built.
Last month, Russia has floated out the first Project 955A Borei II-class ("North Wind") or Dolgorukiy-class of SSBNs. The Russian defense industry is already working on an even more advanced variant of the class dubbed Borei B. For now, Russia intends to build a total of eight Borei-class SSBNs – three Borei-class and five improved Borei II-class boomers – by 2o25.
The new Husky-class is will likely incorporate various elements such as advanced noise reduction technologies of the Borei-class as well as the Project 885-M Yasen M-class of SSNs. Given financial constraints, one of the principal goals of the Husky program is to be build the new subs at much reduced cost in comparison to their Soviet-designed predecessors.
The Husky-class will likely carry fewer missiles than Yasen-class boats. Construction of the new class could begin as soon as work on the last Yasen-class sub is completed. There are currently five more Yasen M-class subs under construction with only one Yasen-class sub, the K-329 Severodvinsk, so far commissioned into the Russian Navy.
According to the Russian Ministry of Defense (MoD), the last Yasen-class boat is expected to be delivered to the Navy by 2020. However, as I noted previously, it is unlikely that Russia"will complete more than two additional Yasen M-class boats by 2020 due to budgetary constraints — the subs are among the most expensive pieces of military hardware ever built by Russia."
The Rubin Central Design Bureau, which also designed and developed the Borei-class, has completed preliminary design work of new conventional fifth-generation submarine dubbed Project Kalina in July. The new diesel-electric submarine will purportedly be based on the Project 677 Lada-class diesel-electric attack submarine.