Trump's Coming Trade War With China
The administration could be courting disaster if it relies too heavily on a punitive approach against Beijing.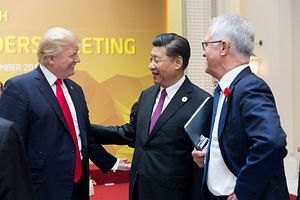 In the last few weeks, the Trump administration has unleashed what may be the initial salvo in a mutually destructive trade war with China.
In succession, it self-initiated a trade case for the first time in over 25 years to fight cheap Chinese aluminum imports, very publicly rejected China's position that it should lawfully be considered a "market economy" in such cases, and apparently suspended the main official U.S.-China dialogue to bolster economic ties.  Now its new national security strategy identifies China as a "strategic competitor" and decries it and Russia as "revisionist powers."
These signs of the White House's growing impatience with China after months of stalemate on commercial and trade issues may be just the tip of the iceberg: the administration's major investigation of China's intellectual property practices appears to be winding down, and could result in a range of unilateral sanctions.  
The administration's paradigm shift likely reflects the results of a reportedly completed, soup-to-nuts review of China policy focused on a growing litany of U.S. economic concerns: uneven intellectual property protection, forced technology transfers, invasive cybersecurity requirements, acquisitions of U.S. technologies critical to national security, and other discriminatory practices limiting U.S. companies' access to the world's largest market.  
The White House's stock-taking is timely in light of clear signs that China is increasingly straying from a market-oriented path of reform and doubling down on the state-directed industrial policies of the governing Communist Party. It can be beneficial to the extent it resolves internal administration disagreements and clarifies the confusing messages being sent to Beijing.  
The administration could be courting disaster, however, if it leans too heavily on unilateral trade sanctions as the linchpin of its new strategy. Launching a frontal assault to compel China to change its trade practices would be at best ineffective and at worst highly counterproductive.  
Long-held fears of a trade war temporarily receded amid mostly benign stories from the president's November China visit, focused on his warm personal rapport with President Xi Jinping. But perhaps what was most noteworthy was the cold shoulder given to China's charm offensive (coming in the form of limited trade concessions). The administration refused to use a leader-level summit – the ultimate action-forcing event in international politics – to negotiate mutually beneficial economic outcomes.
It makes sense not to settle for half-measures or applaud minor deals that may or may not be implemented. But it's also too early to abandon efforts to find common ground with China — and not too late to articulate an affirmative vision for U.S. economic engagement in Asia that can rally allies and partners.  
Let's be clear: relying on a range of punitive trade sanctions is unlikely to force a nearly $12 trillion economy that recently regained its status as the world's fastest growing major country to accede to U.S. demands. Having consolidated their political authority at this fall's 19th Party Congress, China's leaders are now more likely than ever to push back hard.
What's at risk? The United States exports more to China than to Germany and Japan combined. The United States and China alone account for nearly a quarter of world merchandise trade and a fifth of global services trade. Chinese political and business elites have been quietly consistent about their ability to slow walk or respond in kind in sectors where the United States stands to lose a great deal, such as agriculture, technology, and financial services. Even if Washington were able to identify retaliation targets that would do no harm to U.S. suppliers — no easy task with today's globally integrated supply chains — China has demonstrated an ability to retaliate effectively.     
The administration needs to ramp up, not give up, on a results-oriented economic engagement with China. While addressing valid concerns of American workers and farmers, its approach can also focus on negotiating agreements that open services industries vital to overall U.S. growth and competitiveness, not to mention almost 20 percent of the value of U.S. manufacturing output.  
Completing a Bilateral Investment Treaty that provides for job-creating, two-way direct investment in key sectors would be mutually beneficial. China's strategic investments in the United States need to be carefully scrutinized. Overly broad invocations of national security, however, will discourage legitimate foreign investment and embolden China to employ this very approach.
When the United States departs from a rules-based strategy with broad objectives focused on catalyzing Chinese structural reforms to allowing ourselves to be placated by one-off deals, it plays right into China's hands. China plays the long game. America should too.  
Any effective China strategy should be embedded in a proactive regional economic agenda. As China's economy and confidence grows, its willingness to tolerate restraints shrinks. Close coordination with like-minded partners in Asia and Europe in setting clear boundaries on what is appropriate economic statecraft on issues such as technology transfer requirements is essential.
International forums, like the World Trade Organization (WTO), can play a significant role in raising the bar on intellectual property protection and in other areas. The recent announcement of joint efforts to confront state-directed practices that lead to industrial overcapacity in sectors such as steel and aluminum is a positive step. But unilateral U.S. import restrictions judged to be inconsistent with WTO rules will inhibit such cooperation.  
Since World War II, Asia and Europe have looked to the world's wealthiest and most powerful nation to lead, not grouse at major international gatherings about being taken advantage of. The United States was indispensable in writing the rules and building the institutions that underwrote these regions' and, importantly, our own prosperity for 70 years.  
But today's myopic focus on trade deficits has left U.S. allies and partners in Asia with no choice but to move forward without the United States in advancing critical economic architecture, starting with the Trans-Pacific Partnership trade agreement. By now, it should be abundantly clear that even America's closest friends have rejected the idea of negotiating one-sided, bilateral trade deals with an aggrieved superpower.
The president was on the right track when he began to articulate a vision of a "free and open Indo-Pacific" in his speech in Vietnam last month. Concrete steps are acutely needed to develop high-quality infrastructure in Asia and launch new financing alternatives. China's offerings have sometimes saddled countries with long-term debt and encroached on their sovereignty.   
Make no mistake: vigorously enforcing domestic trade rules in the face of mounting challenges with China is an indispensable part of any effective strategy. But it's no substitute for either the hard work of trying to reach agreement with Beijing or building an international consensus on how to respond if those efforts continue to prove unfruitful.  
A go big or go home approach to China's economic policies may appeal to some of the president's supporters today, but it won't improve their or the country's situation. U.S. actions that are carefully calibrated may produce a similar response — and also evince a willingness to change certain policies that benefit U.S. businesses and sustainably grow China's economy. That's a winning recipe for everybody.    
Atman Trivedi is Managing Director at Hills & Company.  He worked on China policy at the U.S. Commerce Department, State Department, and Senate Foreign Relations Committee.  You can follow him on Twitter (@AtmanMTrivedi).