US Navy Commissions Littoral Combat Ship
The USS Little Rock was commissioned on December 16.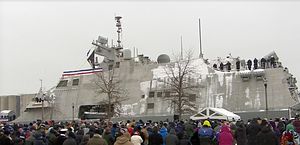 The Freedom-class Littoral Combat Ship (LCS) USS Little Rock was commissioned on December 16 at the Canalside waterfront in Buffalo, New York, the U.S. Navy announced in a statement.
The USS Little Rock is the tenth LCS to enter service with the U.S. Navy and the fifth of the Freedom-class variant. As I reported in October, the LCS was delivered to the service in September following the   successful completion of acceptance trials conducted by the Navy's Board of Inspection and Survey.
The first LCS, surface combatants designed to fight close to the shore, was procured in 2005. Up until now, a total of 29 LCS have been procured for the U.S. Navy with two additional ships expected to be commissioned in 2018.
"LCS is optimized for flexibility in the littorals with mission reconfigurable capability," the U.S. Navy said in a statement. "LCS is a cost effective solution to provide joint force access in the littorals, in an environment of evolving access-denial threats and proliferation of asymmetric weapons and strategies, particularly mines; small, fast, highly armed boats operating in groups; and diesel submarines operating in shallow water."
As I noted elsewhere:
The LCS class consists of two separate variants, the trimaran-hull Independence-class and the single-hull Freedom-class. The former features a larger flight deck that can accommodate two rather than one H-60 helicopter. Furthermore, Independence-class LCS have a wider operational range.

The ship's armament will consist of a 11-cell Raytheon RIM-116B SeaRAM missile-defense system, one 57 millimeter naval gun, and depending, AGM-114 L Hellfire missiles and Mark 5o torpedoes. Additional weapon systems will depend LCS' module which provides different mission-specific capabilities including anti-submarine, surface warfare and mine-clearing.
The latest LCS to join the Navy will be fitted with a new weapons system in 2018, the so-called Surface to Surface Missile Module (SSMM), a 24-shot vertical launch system, as I explained previously:
The surface warfare mission package is slated to achieve initial operating capability (IOC) in 2018. Delays in the development of the SSMM led to the initial deployment of a more limited surface warfare mission package aboard the LCS exchanging hellfire missiles for rigid hull inflatable boats and boarding teams. The package also encompasses two 30 millimeter machine guns, two MQ-8B Fire Scout unmanned aerial vehicles, and an MH-60S Seahawk helicopter.
Beginning in 2020, the U.S. Navy wants to shift from LCS to procuring new guided-missile frigate called the FFG(X) as concerns over the survivability and combat effectiveness of both LCS variants have emerged. The USS Little Rock will be homeported in Mayport, Florida.