What's Next for Vietnam-Laos Border Cooperation?
Both sides held another iteration of a key meeting designed to address ongoing border issues.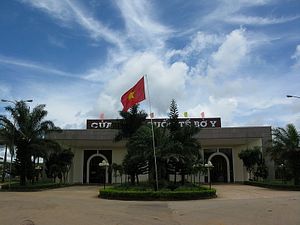 Over the weekend, Vietnam and Laos held another iteration of a key meeting designed to help them manage the challenges and opportunities around their shared border. The interaction, which came during two key anniversaries in Vietnam-Laos ties, illustrated the continued importance of border issues as part of the broader relationship between the two Southeast Asian countries.
Though there are various components to the Vietnam-Laos bilateral relationship, border management is a key issue on the security side, being both a source of opportunity (in terms of border trade) or challenge (in terms of managing issues such as drug trafficking or migration) for both Southeast Asian states.
With 2017 being the 55th anniversary of the establishment of Vietnam-Laos diplomatic relations as well as the 40th anniversary of signing Vietnam-Laos Treaty of Amity and Cooperation, it is not surprising that border management issues have been part of the conversation both sides are having about improving ties (See: "Vietnam-Laos Border in the Spotlight Amid Anniversary Celebrations").
As I noted before, both sides reviewed progress in implementing border agreements and discussed a series of measures to boost border management and protection during the 26th meeting of border delegations held in Vientiane in January. A series of interactions and activities followed throughout the year. Both sides had also subsequently reached a protocol on borderline and border markets as well as an agreement on land border and border gate management that each officially came into effect on September 5 in time for the official commemoration of the 55th anniversary. Another key interaction on this score was expected to be the 27th annual meeting taking place in Vietnam in December.
Over the weekend, both sides held the anticipated meeting in Hanoi. The Vietnamese delegation was headed by Deputy Foreign Minister and head of the National Border Committee Le Hoai Trung, while the Lao side was led by visiting Foreign Minister Saleumxay Kommasith. During his visit, Kommasith had also been involved in several other meetings with Vietnamese officials including Vietnamese Prime Minister Nguyen Xuan Phuc.
As with previous iterations of these meetings, both sides reviewed ongoing progress – which included the two agreements referenced previously that went into effect in September – as well as attempts to manage continued challenges, such as through thematic meetings held at the local level meant to address security issues. Few additional details were publicly disclosed.
Though there will continue to be high-level interactions on this front where border issues will be discussed, including the visit of Lao President Bounhang Vorachitth to Vietnam next year, the next marker of progress will be the 28th iteration of the meeting. That is set to take place in the fourth quarter of 2018.