Why Asia Should Be Wary of Bannon's Remarks
In his latest visit to Tokyo, Stephen Bannon praised Abe's nationalist policy and censured China.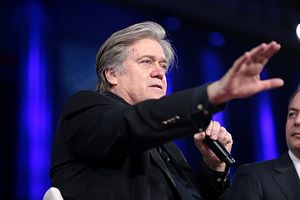 Last weekend, Stephen K. Bannon, U.S. President Donald Trump's former chief political strategist, visited Japan and made a speech at a gathering co-hosted by the Japanese Conservative Union and the American Conservative Union in Tokyo. In his speech, Bannon harshly censured China and, at the same time, highly praised Japanese Prime Minister Shinzo Abe's nationalist policy. His latest remarks, which were in sharp contrast to what he had said earlier in Hong Kong, once again cast doubt on his credibility.
According to Breitbart News, a far-right American website managed by Bannon himself as executive chairman, Bannon compared China to Nazi Germany and referred to the United States as "a de facto 'tributary state' to China" during his latest speech. He said:
We're going through – for the next ten, or fifteen, or twenty years – the valley of decision. Now go back and study what happened in other eras [such as] the 1930s, when leaders of the world [and] leaders on the side of freedom appeased people; didn't face reality; kicked the can down the road. All the easy decisions are decades behind us. We don't have any easy choices. We don't have any easy decisions. There are no easy options on the range of alternatives. There's only hard choices. There's only tough choices… Essentially, the United States had been turned into Jamestown to China's Great Britain, and that all the high value-added manufacturing had essentially been taken by China; had been shipped to China, and the United States was really a tributary state sending China raw materials.
While harshly criticizing "China's 'frightening,' ' audacious,' and 'global' ambitions," Bannon didn't forget to laud his host country and Abe enthusiastically.
According to The Japan Times, Bannon highly praised Abe for trying to "re-instill the spirit of nationalism" into Japan.
"Japan has every opportunity to seize its destiny, to re-establish its national identity (and) in true partnership with the United States, reverse what the elites have allowed to happen," he said. He also urged Japan to be wary of a rising China.
However, Japan as well as other Asian countries should be more wary of Bannon himself. In fact, this was not the first time that Bannon made such aggressive and sensational remarks against China. For example, he has stated that the United States is "at economic war with China," which even led to backlash from Chinese foreign ministry. Yet, what's more troubling than his remarks are his frequent changes in tone.
As The Diplomat has reported earlier, since Bannon was fired from his position in the White House, he has been actively making presentations worldwide, particularly in Asia. In September, Bannon made his first big post-White House speech in Hong Kong in front of a group of rich Chinese businessmen in a luxury hotel. Although the conference organizer refused to disclose whether it had paid Bannon for his appearance, it's widely assumed that Bannon received a large speaking fee.
During that speech, Bannon significantly softened his stance toward China and even praised Chinese President Xi Jinping as well as China's way of governing by saying: "Xi is very impressive. He really understands what's in the best interests of his people. He is very smart, very tough but fair."
The contrast between his speeches in Hong Kong and Tokyo demonstrated that Bannon is a man who will change his position and tone for convenience, in order to cater to different audiences.
In addition, even in the United States, Bannon's reputation has already been greatly tarred by his own behavior. His latest, most criticized act was that he eagerly supported Alabama Senate candidate Roy Moore, despite multiple women having accused Moore of sexual misconduct. Some American analysts have even referred to Bannon as "a dangerous threat to civil rights."
Under such circumstances, it may be wiser for Japan, as well as other Asian countries, to guard against Bannon's sensational remarks, no matter whether these remarks are complimentary or not.