Why China Should Take the Lead on Climate Change
China's leaders are reluctant to commit to a leadership role. Here's why they should dive in.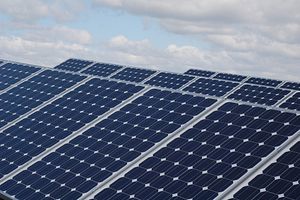 Although eyes have turned to Beijing for leadership on climate change after the U.S. withdrawal from the Paris Agreement, China has apparently decided not to rush for the new crown.
In his report to the 19th National Congress of the Chinese Communist Party, President Xi Jinping picked the word "torchbearer" (yinlingzhe), rather than "leader" (lingdaozhe), to define China's role in the global battle against climate change. When was asked why China is not leading on climate change, Xie Zhenhua, China's chief climate change negotiator, responded that "China is not capable of leading."
From the Chinese point of view, it is rational to be prudent on leadership regarding climate change. After all, leadership is not without costs, and Chinese leaders have to calculate very carefully. In addition, the diplomatic doctrine set up by Deng Xiaoping — "hide your light and bide your time" — is still lingering in the air. Although China has been behaving more assertively and proactively in global affairs, a leap forward to an explicit leadership role is a huge challenge in any sense.
However, like or not, leadership on climate change is perhaps not something that China can choose to take or leave. Today, China emits the largest amount of greenhouse gases (GHGs) of any country— even more than the United States and EU28 combined. While China had been employing the terms of per capita and historical cumulative GHG emissions to exempt itself from responsibilities, these measurements are not in China's favor any longer. Now, China's per capita carbon emissions are even higher than some developed economies, such as France, Italy, and the United Kingdom, let alone its emerging economy counterparts, such as India and Brazil. With respect to the cumulative emissions, China is no small emitter either and is actually the leading emitter since 1990.
Certainly, it would be unfair not to mention China's strict measures to contain GHG emissions, which have demonstrated its leadership potential on climate change. China's clean energy industry has boomed in the past decade from almost nothing to the world leader in various fields, such as solar and wind power capacity. And it is still growing at a stunning velocity. China originally planned to increase its solar PV capacity to 105 GW by the end of 2020, but this target had been easily reached in 2017 – three years ahead of schedule.
With the assistance of clean energy, China will attempt to peak its GHG emissions and reduce carbon intensity by 60 to 65 percent by around 2030. Thought that is ambitious, it is estimated that even greater achievements can be made by China.
China's efforts to control its GHG emissions are consequences of multiple drivers, for sure, but one fact to be addressed is that China is bearing the brunt of climate change. For China, the last thing it would like to see is the halt of the global carbon reduction process. While China and the United States jointly made the Paris Conference a success, China has no option but stand on its own feet and push GHG reductions forward after the U.S. withdrawal.
Moreover, climate change, although a challenge, is also of great value for China's diplomacy. Chinese diplomats have been mobilized to "strive for achievements" after Xi took power in 2012, and climate change can serve as an ideal field for a breakthrough. A worldwide consensus exists in fighting against climate change (the United States might be the only exception), which makes it an issue less controversial than, for example, human rights. Besides, China has a good knowledge of and allies in climate change talks. It has long been acting as the implicit leader of the developing camp within the frameworks of the G77 and BRICS. Today, not only the developing countries, but also some developed ones, such as the EU members, are looking to China for leadership. China has reasons to feel confident in playing a leading role in climate change.
Another, but not less important, benefit from taking the lead on climate change is the improvement of China's prestige. Climate change is perhaps the most fundamental challenge ever confronted by the human race. Leadership here can lift China to the moral high ground, at least on climate change, and help fix China's global image, which has been damaged by accusations on such issues as human rights and Tibet.
In sum, the U.S. retreat in the face of climate change has put China under the spotlight, where it has no place to hide from a leadership role. Now, Chinese leaders are considering the leadership job with great caution. But, despite all the concerns that are stopping China from making a positive decision, Beijing should recognize that taking leadership will benefit not only the world, but China itself.
Zhang Chao is a Ph.D. at Pompeu Fabra University, Barcelona, Spain. His research focuses on China's energy and climate change policies.