Before Paris Talks, China Outlines Its Plan for Tackling Climate Change
China will fulfill its environmental pledges "under any circumstances," says Beijing's climate change representative.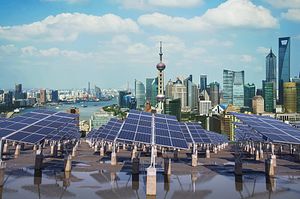 Less than two weeks ahead of the start of a major UN climate change conference in Paris, China has released a report detailing its "Policies and Actions for Addressing Climate Change." In a press conference introducing the report, Xie Zhenhua, China's special representative for climate change affairs, told reporters that he is optimistic the Paris talks will be successfully. He also pledged that China will meet all the commitments it has made in the past two years, including promises to have emissions peak in 2030 and to introduce a national emissions trading scheme in 2017.
Given that many observers directly accused China of killing any possibility of a strong deal at the Copenhagen climate change talks in 2009, Beijing is eager to let the world know how seriously it's taking the Paris conference.
Prior to the Copenhagen conference, the only firm commitment China was willing to make was a pledge to reduce its "carbon intensity" – carbon emissions per unit of GDP. Given China's rapid GDP growth, reductions in carbon intensity would still allow China's total emissions to rise substantially. Meanwhile, Beijing was at the forefront of a movement of developing countries demanding that the developed world bear the brunt of the responsibility for climate change. In October 2009, two months before the Copenhagen talks opened, China's then-special representative on climate change, Yu Qingtai, accused developed countries of "a concerted effort to fundamentally sabotage the Kyoto protocol."
The atmosphere could not be more different now, six years later. China's leadership now faces enormous domestic pressure to clean up its environment, which provides a critical impetus for increased internationals commitments to fight climate change. The emphasis on the environment in the proposal for China's next five year plan adds proof to how seriously Beijing takes this issue.
That's translated into a lot of hype in China prior to the 2015 conference in Paris. Last year, China and the United States jointly unveiled new commitments to reduced emissions and clean energy. This year, China upped the ante again by pledging a new national emissions trading scheme, to open in 2017. Earlier this month, Beijing hosted French President Francois Hollande, who left China proclaiming that "the conditions for success [at the Paris conference] have been laid down in Beijing today." The release of a major report on China's contributions to the fight against climate change, timed just before the Paris conference opens, is just the latest piece of evidence that China is taking the Paris talks very seriously.
In the press conference, Xie reviewed China's previously made commitments, as contained the climate plan (officially known as an Intended Nationally Determined Contribution or INDC) Beijing submitted to the United Nations this summer: have emissions peak by 2030 with efforts to do so even earlier; reduce carbon intensity by 60-65 percent compared to 2005 levels; and have non-fossil fuels account for 20 percent of China's energy consumption. Xie was optimistic about meeting these goals, saying China has "a large space for improvement" when it comes to increasing energy efficiency. He acknowledged that weaning China off of coal would be "difficult," but said "China has made significant progress in recent years" in increasing the use of renewable energy.
Noting concerns that China's revised coal data showed far higher usage than previously reported, Xie said the world "should see it as the very clear indication that China is doing its best to deal with climate change issues and increase the transparency of its data." He added that China's existing commitments "will not be influenced" by the new data.
"China will, under any circumstances, fulfill its INDC pledge… Once we make a promise and set a target, we will carry it through no matter what challenges we face," Xie said.
On the emissions trading scheme, Xie said that China was studying both its own pilot programs and experiences of European Union and local governments in the United States. "There are actually a lot of issues to be dealt with, such as, how to fix an aggregate volume, how to distribute quotas, how to check the trade and emission volumes before transactions," he explained, but remained optimistic that "we have learned the lessons so that we are able to regulate our market in a better and more orderly way."
As for the talks themselves, Xie said that China hopes that "a strong, ambitious, and legally binding agreement can be reached in Paris." His experience at the latest ministerial preparatory meeting was that "the attitudes of all the countries are active and constructive, but there are still disputes, some of them important ones." For China, a "very important concern" is that the new agreement reached in Paris stick to the basic framework of the Kyoto protocol, which enshrined the principles of "common but differentiated responsibilities" by dividing the obligations of developed and developing countries.
"[T]he developed countries should take the lead in cutting emissions on a big scale," Xie said, echoing remarks Chinese official have made for decades.
However, he then added a new twist: an acknowledgement that developing countries must also change their approach. "We hope the outcome of the Paris conference can inspire or encourage or demand every country to transform their development approaches and lifestyles," Xie said. "[…]What I mean is that every country wants to have development, but it must be coordinated with dealing with climate change."
Xie acknowledged that differences still remain between the negotiating parties, particularly when it comes to the question of "common but differentiated responsibilities." He pointed to unfulfilled commitments from developed countries, both on emissions reductions and on financial help for the developing world, as a major cause of concern.
Yet he was ultimately optimistic, saying that the presence of world leaders (at least 80 are expected to attend) "will give a political impulse into negotiations."
"With joint efforts from each state, I believe the conference will succeed and many problems will be resolved at the conference," Xie said.