ASEAN-India Convergence: The Geostrategic Realities
The closer ties between the two sides are occurring in the context of wider regional changes.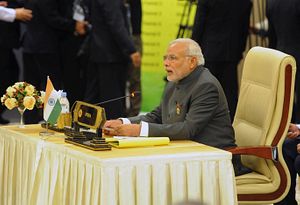 Leaders of the ten Association of Southeast Asian Nations (ASEAN) are in India for the 69th Republic Day celebrations. This is the first time that India has hosted more than one head of state or government as guest of honor for its Republic Day events.
The fact that the ten leaders are in India together reflect India's growing strategic profile and also the increasing strategic convergence between India and Southeast Asia. India and ASEAN are celebrating 25 years of their partnership and 15 years of their summit engagements. The two sides have grown a lot closer in the last decade, primarily driven by the China factor, but questions still remain as to whether India has the will and capacity to make a strategic difference in Southeast Asia.
India's current Act East Policy (AEP) was launched by Prime Minister Narendra Modi at the East Asia Summit in 2014. This policy had its origins in an earlier initiative, the Look East Policy pronounced by Indian Prime Minister Narasimha Rao in 1992, which had a particular focus on economic and cultural relations. However, China's continuing aggressive posturing, especially with regard to the South China Sea, has driven Southeast Asia closer to India. Increasing numbers of security dialogues, political consultations, joint military exercises and training between the two sides are a reflection of the growing strategic partnership.
Creating physical regional connectivity has been of specific interest to India and the ASEAN countries, especially Thailand and Myanmar. The trilateral highway involving the three countries as well as the Kaladan multi-modal transit and transport project are examples. However, they are also a reminder that projects that began with good intentions have not gone very far. While the Modi government has given them a fresh impetus, the lack of progress on infrastructure projects has created negative perceptions about India's overall wherewithal to undertake and deliver on large projects.
Trade and economic interactions between India and ASEAN have grown in the last two decades, from $2 billion in 1992 to $12 billion in 2002 and around $76 billion today. While this is fairly impressive, ASEAN-China trade is many times larger than trade with India.
Also, the more pressing interest between the two sides has to do with the emerging Asian strategic order and the respective roles for India and Southeast Asia in it. India and Southeast Asia have an interest in developing a free and inclusive regional architecture. The idea of an open and free Indo-Pacific has been articulated by India several times. For this, ASEAN's role as a regional institution and that of individual member states such as Singapore and Indonesia are significant. The absence of an overarching comprehensive regional architecture remains a possible agenda for both sides to work on.
Asia has also become a lot more complex strategically because of a couple of different factors. The obvious one is the perception of U.S. decline and withdrawal. Though much exaggerated – the United States still remains the world's largest economy and has the world's most advanced and capable military, indeed the only one with a global reach – such perceptions have driven increasing insecurity in the region. Despite President Donald Trump's rhetoric, his administration is illustrating signs of greater activism and engagement, as witnessed in the newly released U.S. National Defense Strategy. But how the region will react still remains to be seen.
A less obvious factor is Russia. How Russia positions itself in the coming years to the new Asian dynamics will have some implications for Asian and global balance of power. As Russia's strategic engagements with China become stronger, Moscow's role becomes more complicated. Russia sells weapons to Southeast Asian countries such as Malaysia and Vietnam but this could be affected by Russia's concern about not offending China. That would further increase the anxiety in the region, as will Russia's growing military relationships with China, including naval exercises, and Moscow's increasing propensity to side with China in international disputes. Even its seemingly neutral position can be seen as implicitly supporting China, the stronger party in the dispute.
Given these uncertainties and new dynamics, there are some opportunities for India to shape Asian geostrategy. Indian political leaders as well as those from the foreign affairs bureaucracy have articulated the need to see the emergence of an Asian strategic order that is not dominated by one single power but this still needs to be affected beyond the rhetoric. As of now, the gap between Indian declarations and its capacity is likely to limit how influential India will be, the symbolism of the Republic Day parade aside.