What's Next for the New ASEAN 'Our Eyes' Intelligence Initiative?
A closer look at a subregional counterterrorism mechanism launched this week in Indonesia.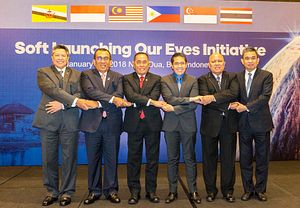 On January 25, six Southeast Asian states officially launched a new intelligence-sharing initiative in Indonesia aimed to help them respond more quickly and effectively to transnational security threats. The launch of the initiative, which has in fact already been discussed among officials for months, bears watching within the broader context of regional responses to terrorism and radicalism in Southeast Asia and the Asia-Pacific more generally.
As I have noted repeatedly in these pages, terror fears in Southeast Asia – made clear in attacks in several Southeast Asian countries as well as the siege by Islamic State-backed militants in the southern city of Marawi in the Philippines – have led states to take a range of steps on their own as well as bilaterally, regionally, and subregionally (See: "What Did the New Asia Terrorism Meeting in Indonesia Achieve?"). The most frequently cited example of this is greater trilateral cooperation in the Sulu-Sulawesi Sea between Indonesia, Malaysia, and the Philippines, which began concretizing in 2017 after much discussion (See: "Confronting Threats in the Sulu-Sulawesi Seas: Opportunities and Challenges").
Another less well-known step is what has come to be known as the "Our Eyes" initiative (OEI). OEI. The OEI, which derives its name from the "Five Eyes" intelligence network that the United States has with its five Western allies, was officially proposed by Indonesian Defense Minister Ryamizard Ryacudu late last year. At the most basic level, the OEI was pitched as an information-sharing platform for member countries designed to facilitate the exchange of intelligence on terrorism, radicalism, and violent extremism.
Though OEI was initially talked about as an initiative between Indonesia, Malaysia, and the Philippines in line with wider trilateral cooperation (or "three eyes"), it was subsequently discussed as part of other broader multilateral discussions, including the session on terrorism at the ASEAN Defense Ministers' Meeting (ADMM) in Manila. There have also been discussions about how a wider, subregional version of this initiative would actually play out in terms of specifics – be it the agencies involved or the areas covered – including a joint working group meeting in November 2017.
This week, the OEI was officially kicked off by senior defense officials from member states – Brunei, Indonesia, Malaysia, Singapore, Thailand, and the Philippines – following two days of meetings in Bali, Indonesia. Ryacudu was joined by Brunei Deputy Defense Minister Abdul Aziz bin Haji Mohammad Tamit, Malaysian Deputy Defense Minister Johari bin Baharum, Philippine Undersecretary for Defense Operations Cesar B. Yano, Singapore Senior Minister of State for Defense and Foreign Affairs Maliki bin Osman, and Thai Deputy Defense Minister Chaichan Changmonkol.
During these meetings, the officials first held a joint working group meeting – the second to be officially held so far – to finalize the terms of references and the proposed joint statement tied to the initiative. They then discussed issues around tackling terrorism and radicalism more generally, inked the joint statement, and officially carried out the soft launch of the OEI.
In theory, the OEI, like other subregional initiatives such as the Sulu-Sulawesi patrols, should help improve cooperation in addressing counterterrorism. As Ryamizard said at the launching and has said before as well, should the OEI result in improvements in synergy and coordination and the greater speed and accuracy of information, that could help facilitate better regional cooperation in Southeast Asia. This could be done through various ways, including holding regular meetings to exchange intelligence on the threat and developing a shared database.
Yet Ryacudu and his counterparts also no doubt know that despite the promise of this initiative and the relatively greater congruence in threat perceptions among these neighboring Southeast Asian states, there are significant challenges inherent in actually getting all of this to work effectively. Many of these are well known, and they are tied to deep-seated issues from lingering interstate distrust to differences in organizational culture to bureaucratic rivalries within the agencies of individual countries.
It is still early days for the OEI, and officials have said subsequent meetings will discuss greater details regarding its implementation. There also continues to be speculation about the extent to which it could actually expand to some degree – whether in terms of the security issues it could cover (moving beyond just terrorism or radicalism), or with respect to its membership, to include not just ASEAN states but also partners like Japan and the United States, as we saw during U.S. Defense Secretary Jim Mattis' visit to Indonesia this week (See: "What's Next for US-Indonesia Relations Under Trump?"). Given all this, it will be interesting to see how this initiative evolves, both on its own as well as within the context of the broader counterterrorism discussion in the region.