What's Next for US-Indonesia Defense Relations Under Trump?
A closer look at the opportunities and challenges for security ties.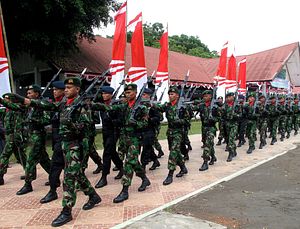 This week, U.S. Defense Secretary Jim Mattis paid his first visit to Indonesia since joining the administration of U.S. President Donald Trump. Beyond the headlines and the usual talking points, the visit, which was part of a trip that also included a stop in Vietnam, highlighted both the opportunities as well as challenges for U.S.-Indonesia defense relations under the Trump administration.
As I have detailed before, the United States and Indonesia share a military relationship that has included a range of interactions including visits, exchanges, and regular exercises, with previous major restrictions in place in the 1990s largely lifted under the George W. Bush administration. U.S. policymakers across administrations have recognized that Indonesia – the world's largest archipelagic state and biggest Muslim-majority country – is a significant actor in Southeast Asia and an important partner in addressing challenges ranging from maritime security to Islamic extremism.
The Trump administration, to its credit, recognized this from the outset, which explains why it quickly prioritized Indonesia as being one of the key countries to engage in the Asia-Pacific once it took office (See: "Trump's Indonesia Challenge Begins With Pence's Visit"). Yet Trump's tenure thus far has posed both opportunities as well as challenges for U.S.-Indonesia relations, with several questions remaining among Indonesian policymakers about the direction of overall U.S. domestic and foreign policy as well as the implications for Jakarta and other Southeast Asian states. Those questions remained as Mattis departed for his first trip to the region in 2018, covering both Indonesia and Vietnam, just days after the release of the unclassified portion of the administration's first National Defense Strategy (See: "What Does Mattis' ASEAN Trip Say About Trump's Asia Policy?").
On January 22, Mattis arrived in Indonesia. During his trip, Mattis was received by Jokowi and met with Indonesian officials including Defense Minister Ryamizard Ryacudu, Coordinating Minister for Political, Legal, and Security Affairs Wiranto, Indonesian Armed Forces (TNI) chief Hadi Tjahjanto, and Foreign Minister Retno Marsudi.
Public accounts of the meetings emphasized the expected topics in both the bilateral relationship, such as maritime security and terrorism, as well as regional issues including the South China Sea issue, the North Korea nuclear situation, the Rohingya crisis, and trilateral cooperation in the Sulu-Sulawesi Sea that Indonesia is forging with the Philippines and Malaysia (See: "A New US-China Role in the Sulu-Sulawesi Sea Patrols?").
There was also discussion about areas for further cooperation. The item that grabbed the most headlines was Indonesia potentially procuring more equipment for its military modernization, as it has already done over the past few years with Apache helicopters and F-16 jets. Ryacudu also mentioned the further easing of restrictions that would allow greater interaction between the U.S. military and Indonesian Special Forces (Kopassus) and potential U.S. assistance with the "Our Eyes" program he has been promoting with other regional states (Washington has its own restricted "Five Eyes" intelligence alliance with Western powers the United Kingdom, Australia, Canada, and New Zealand).
Unsurprisingly, the maritime security domain got significant emphasis during the trip. Mattis explicitly noted that the United States would continue helping Indonesia boost its maritime domain awareness, including with respect to the South China Sea – which he also called the North Natuna Sea in remarks, a name change that Indonesia instituted last year (See: "Why Did Indonesia Just Rename its Part of the South China Sea?"). Mattis also made reference to helping Indonesia realize its ambition to become a "global maritime fulcrum" in the Indo-Pacific, which Jokowi has made a top priority since assuming office despite the challenges in realizing it.
Though these are no doubt promising areas, as I mentioned earlier this week, the extent to which this cooperation actually materializes remains to be seen. Collaboration on several of these fronts has often been slow to actually concretize in the past for various reasons, including lingering suspicion in parts of the Indonesian government as to closer ties with Washington as well as specific challenges Jakarta has on the defense side, whether it be limited budgets or interagency competition that hampers progress.
And while Indonesian officials are willing to advance cooperation, not unlike some of their other Southeast Asian counterparts, they still have profound concerns over Trump's wider foreign policy, whether it be Trump's travel ban or recognition of Jerusalem as Israel's capital, which have fueled anti-American sentiment in the country and could potentially complicate the wider bilateral relationship, or the potential for greater U.S.-China rivalry that could negatively affect the region. Marsudi's expected discussion of some of these concerns during her meeting with Mattis was a reminder of the challenges that remain for ties even as the headlines of the visit were largely around opportunities.