China's Navy Commissions New Stealth Warship
The People's Liberation Army Navy commissioned another stealth corvette into service this month.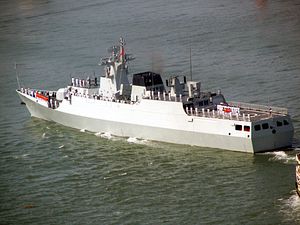 The People's Liberation Army Navy (PLAN) commissioned a Type 056/056A Jiangdao-class corvette into service this month.
The new Jiangdao-class corvette, christened Wuhai, was officially inducted into service during a commissioning ceremony held at a naval port in the city of Dalian in China's Liaoning province on January 16, according to China Military Online.
"Rear Admiral Lv Baoqiang, political commissar of a naval base under the PLA Northern Theater Command, conferred the ensigns of the PLA and the PLA Navy and the naming certificate on the corvette Wuhai at the ceremony," the report notes. "A grand flag-raising ceremony was later held on the corvette."
The PLAN last commissioned two Type 056/056A Jiangdao-class corvettes into service in November 2017, although there were plans to induct at least four more vessels of the class in December and January.
The Type 056 Jiangdao-class is designated as a light missile frigate by the PLAN and has been principally designed as a vessel for patrol and escort operations in the exclusive economic zones of China within 200 nautical miles from the Chinese coastline.
Jiangdao-class vessels are built in two variants: a multi-purpose  (Type 056) and a specialized anti-submarine warfare (ASW) variant (Type 056A) with the latter featuring specialized equipment including towed and variable depth sonars detecting and tracking submarines.
I outlined the ship class' standard fit elsewhere:
Next to four YJ-83 anti-ship missiles (two launchers with two missiles each) and a 76-millimeter main gun, the ASW variant is also equipped with two 324 millimeter triple torpedo launchers, as well as variable depth and towed sonars. The ship's flight deck also allows operation of a Harbin Z-9 military helicopter, specifically equipped for ASW missions.
Although, "the corvette does not feature a helicopter hangar suggesting that it will be difficult to permanently station a helicopter with airborne dipping sonar aboard a Type 056A corvette," I noted. Given that Type 056A corvettes are primarily deployed in proximity to China's coastline, land-launched ASW aircraft help address this capability gap.
According to a Chinese Ministry of Defense statement quoted by Navy Recognition:
Type 056 Corvettes are new-generation light guided missile frigates independently developed by China. It has a length of 89 meters, a beam of 11 meters and a full-load displacement of 1,500 tons.

The warship, independently developed, designed and constructed by China, is equipped with a variety of weapons and equipment, and is featured by good stealth performance, strong compatibility, and a wide range of applications of advanced technologies.

After commissioned to the PLAN, the warship[s] will perform such missions as patrolling, alert, fishery protection, escort, antisubmarine operation and anti-surface operation.
The PLAN operationally deploys 38-40 Type 056/056A Jiangdao-class corvettes as of January 2018.