Eastern India's Embrace of China
West Bengal, in particular, is seeing growing interest from China.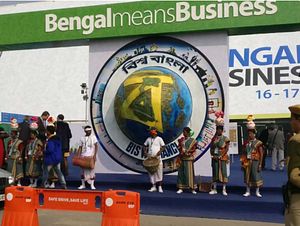 In recent years, a number of Indian states, including, Maharashtra, Gujarat, Haryana Andhra Pradesh, and Madhya Pradesh have been proactively reaching out to Chinese provinces, seeking foreign direct investment. Chief ministers of various states, cutting across party lines, have been visiting China in recent years, such as Chhattisgarh Chief Minister Raman Singh's 2016 visit to China.
The India-China Forum of State Provincial Leaders, which was inaugurated during Indian Prime Minister Narendra Modi's China visit, was initiated with an eye on promoting robust links between Chinese provinces and Indian states. There have been efforts on both sides to explore new opportunities, and look at underexplored investment destinations. For India, that means looking beyond the usual destinations of Guangzhou or Shanghai; on the Chinese side, the effort has been to look beyond Maharashtra, Gujarat, and southern Indian states.
Of late, China has been particularly interested in strengthening links with West Bengal. Thirty Chinese companies were present at the Bengal Global Business Summit held from January 16-17, 2018 . Out of these 30 companies, ten — from Jiangsu, Shandong, and Yunnan provinces — were visiting India for the first time. The Chinese consulate in Kolkata worked closely with the West Bengal state government on the event, and was one of the partner countries of the state government.
The Chinese consulate in Kolkata has also been trying to utilize soft power effectively in West Bengal. It played an important role in the Kolkata International Festival, for instance, and also facilitated exchange visits for tennis players, students, and teachers from West Bengal to China.
China has also extended an invitation to Mamata Banerjee, West Bengal's chief minister, on more than one occasion to visit China. She was reportedly preparing to visit China in June 2017, though the trip did not materialize. Commenting on a possible China visit by Banerjee, Ma Zhanwu, China's consul general in Kolkata, told the Economic Times, "My consulate is happy to work with the Bengal government to find the appropriate time for her to travel. Even though the details of her tour are not yet worked out, but there are possibilities of meeting with investors and businesses."
Efforts to strengthen ties between West Bengal and China, which share historical links, have been going on for nearly two decades in connection with the Bangladesh-China-India-Myanmar corridor (BCIM). The ambitious 3,000 kilometer corridor seeks to connect Kolkata with Kunming, the capital of China's Yunnan province, and will pass through India's northeastern states, Bangladesh, and Myanmar.
In 2015, China proposed high speed rail connectivity between Kunming and Kolkata at the Greater Mekong Subregion meeting (GMS). Li Jiming, the vice secretary of the Yunnan provincial government commenting on this project said, "We are in favor of it. The high speed corridor would help the economies of Myanmar and Bangladesh as well."
There is already a direct flight from Kolkata to Kunming. The capital of West Bengal and Kunming agreed to establish sister city status during former Prime Minister Manmohan Singh's visit to China in October 2013.
Given the tensions between both countries, and differences over China's Belt and Road Initiative, further progress on BCIM or connectivity between West Bengal and Yunnan may seem unlikely. Yet the Chinese consulate has continued its proactive outreach toward West Bengal, with an eye on further expanding its presence in India, especially other states in eastern India.
China's outreach toward West Bengal and other eastern Indian states should be welcomed. For one, it helps enhance bilateral ties between both countries at a time when there are serious strains. Apart from this, the Chinese investments in eastern India will help address the problem of skewed growth in India, which is a key developmental challenge.
The central government should encourage interactions between eastern Indian states and Chinese provinces. Interactions between Indian states and Chinese provinces are likely to be a win-win for both sides; it is important, however, that these links have clear objectives, and that they are based on clear synergies. It remains to be seen whether China's outreach toward eastern India gains momentum, and how it will be impacted by tensions between both countries.
Tridivesh Singh Maini is a New Delhi-based policy analyst associated with the Jindal School of International Affairs, OP Jindal Global University, Sonipat.