India's Growing Afghanistan Challenge
As the security situation in Afghanistan deteriorates, what are the stakes for New Delhi?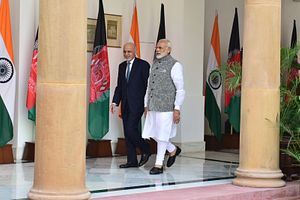 The kidnapping of seven Indian engineers in Afghanistan, who worked for the Da Afghanistan Breshna Sherkat company that operates a power station in northern Baghlan, along with their Afghan driver, has once again brought the worsening security situation in Afghanistan to the fore and underlined how precarious Indian involvement in the nation is becoming. Though no group has claimed responsibility for these kidnappings, local Afghan leadership has put the blame on the Taliban. The Afghan government has assured New Delhi that it will leave no stone unturned to protect and free the Indian engineers.
The security situation in Afghanistan has been highly volatile in recent weeks. Just recently, more than 50 people died in a coordinated double suicide bombing in Kabul and a shooting in the eastern Khost province. Those killed included 10 journalists. The Taliban launched their 2018 spring offensive last week even as the Islamic State claimed responsibility for recent bombings, including attack on a voter registration center that killed 60 people. The Taliban and ISIS are competing with each other and in the process the level of destruction and mayhem is reaching unprecedented levels. While both the Taliban and ISIS want to overthrow the U.S.-backed Afghan government and impose strict Islamic rule, the Taliban's focus has largely been government officials and security forces even as ISIS has been targeting civilians from Afghanistan's Shia Hazara minority, whom it views as apostates.
The Afghan state's capacity is under siege and insurgents are doing all they can to underscore its growing vulnerabilities. Regular attacks on government ministries and the organizers of October's parliamentary and district elections underscore the ability of the insurgents to take on the government forces at a time and place of their choosing. As it is, less than 60 percent of Afghanistan is being controlled by government forces, according to various estimates. As per the latest report of Special Inspector General for Afghanistan Reconstruction, the Afghan army and police together have 36,000 fewer personnel today than they did last year, as a result of desertions and casualties. Recognizing these limitations, Afghan President Ashraf Ghani made one last ditch effort in February to restart the peace process by offering to recognize the Taliban as a legitimate political group. He suggested that he was willing to consider a ceasefire and a release of prisoners, leading to inclusive elections. In return, the Taliban would have to recognize the Afghan government and respect the rule of law.
But the Taliban have so far not considered this important enough. Instead, they want direct talks with the United States, even as the Trump administration is struggling to come up with a coherent policy for Afghanistan and the region. Donald Trump's heart is clearly not in the Afghan war, but his administration bought into the arguments of General John Nicholson, the U.S. commander in Afghanistan, leading to the deployment of an additional 3,000 troops, taking the total of U.S. forces in Afghanistan to about 14,000. The security situation on the ground, however, continues to be shaped by a logic of its own.
Kidnappings in Afghanistan are not a new phenomenon. Last year, a Finnish aid worker was kidnapped from a Kabul guesthouse and released some months later. Before that, in 2011, 12 Iranian and Afghan engineers were kidnapped while working on a road project in western Afghanistan. And Indians and Indian interests have been regular targets as well. As early as 2003, two Indian engineers were abducted while assaults on Indian outposts have continued unabated. The Indian consulate in Kabul was attacked in 2008 by a suicide bomber, resulting in the deaths of 55 people and wounding hundreds. This was followed up by another attack on the Indian Embassy a year later and then in 2010 a guest house frequented by Indians was targeted in an attack that killed several doctors.
There more than 150 Indian engineers and technical experts working in Afghanistan on major infrastructure projects and their protection is a matter of concern for New Delhi. Yet India's engagement with Kabul has remained robust despite these challenges. Last year India and Afghanistan inaugurated two air corridors to boost connectivity and this has resulted in a significant increase in trade volumes. As part of a next-generation "New Development Partnership," India is now implementing 116 new "high impact" development projects in 31 provinces of Afghanistan. India has given four military helicopters to Afghanistan and is imparting training to Afghan security personnel. It remains open to extending further assistance to bolster the armed forces of Afghanistan, though overall New Delhi's approach on military matters remains one of caution.
India's engagement in Afghanistan is crucial for the Afghan state's long-term viability and India has done well to continue its engagement despite facing the wrath of its adversaries. But New Delhi will also have to figure out a way of protecting its nationals and other assets at a time when the Afghan security situation is getting worse by the day. The challenges for India are only going to grow and New Delhi cannot forever continue to rely on the benevolence of others.