Islamic State Claims Attack on Save the Children Office in Jalalabad
As of writing, official sources indicate that at least three people have been killed and 20 injured.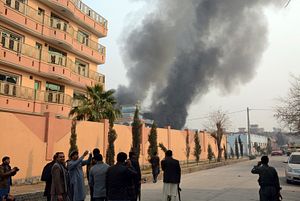 On Wednesday morning, about 9 a.m. local time, a suicide bomber detonated a vehicle-borne explosive device near the entrance to a compound housing Save the Children's offices in Jalalabad, Afghanistan. Gunmen then entered the compound.
As of writing, official sources indicate that at least three people have been killed and 20 injured.
The Islamic State reported a suicide attack and raid on "British, Swedish and Afghan institutions in Jalalabad" by three of its fighters in a message disseminated via its news agency, Amaq.
Save the Children, based in London, is an international non-governmental organization promoting the rights of children and providing relief and support services in developing countries. The organization, which operates in 120 countries, has been active in Afghanistan since 1976. According to its website, Save the Children currently is implementing programs in 16 of Afghanistan's 34 provinces, and said in a statement it reaches almost 1.4 million children in the country.
In a statement, Federica Mogherini, the European Union's High Representative of the European Union for Foreign Affairs, said, "Saving lives should not cost lives." The statement went on to condemn that attack as a "grave violation of international humanitarian law."
"We will not allow acts of terror to deter our support to those most in need in Afghanistan," the statement declared.
Save the Children announced it would be suspending operations in Afghanistan temporarily. "We remain committed to resuming our operations and lifesaving work as quickly as possible, as soon as we can be assured that it is safe to do so," a spokesman said in an emailed statement.
Aid agencies and humanitarian NGOs have found it increasingly difficult to operate in Afghanistan. In some cases, these groups are targeted specifically by militants. In others, such as the devastating U.S. airstrike on a MSF hospital in Kunduz, serious and deadly mistakes are made.
Jalalabad is the capital of Afghanistan's eastern Nangarhar province, which borders Pakistan. The province is considered a stronghold for the Islamic State's Afghanistan affiliate, sometimes referred to as ISIS-K or ISKP (Islamic State in Khorasan Province).
In April 2017, the United States dropped the so-called Mother of All Bombs (MOAB — Massive Ordnance Air Blast bomb) on a tunnel complex used by ISIS-K in Achin, a district in Nangarhar. As an AAN report in the aftermath noted, U.S. forces had been launching air strikes throughout 2016 and early 2017 in coordination with ground operations led by Afghan and U.S. Special Forces in the province.
"The emerging pattern of these efforts, though, was that of successful offensives, with the seizure of significant territory from ISKP, followed by the inability of conventional Afghan forces to hold the ground that the Special Forces had taken," the report noted. "As a result, ISKP would push back and return. In several cases, ISKP brutally killed local Afghan forces after the operations had ended."
The usage of the MOAB, a first, was viewed through several lenses. The American political sphere viewed it in part as a demonstration of President Donald Trump's unleashing of 'his generals.' Months later, when the administration finally unveiled its Afghanistan strategy — labeled its South Asia strategy — Trump pledged to refocus the fight, abandoning timetables and lashing out at Pakistan for its role as a "safe haven" for terrorists. "Working alongside our allies," he said in announcing the strategy, "we will break [the terrorists'] will, dry up their recruitment, keep them from crossing our borders, and, yes, we will defeat them, and we will defeat them handily."
The Afghan government has welcomed the Trump administration's recommitment to the fight, including promises to send a few thousand more troops But the impact of this shift toward the offensive has not become clear.
The Islamic State attack on Save the Children in Jalalabad comes days after a Taliban attack on the Intercontinental Hotel in Kabul, an assault which has resulted in at least 30 deaths.