Japan Unimpressed by Inter-Korean Talks
Despite signs of a thaw in inter-Korea relations, Japan's Abe continues to stress the need for national defense.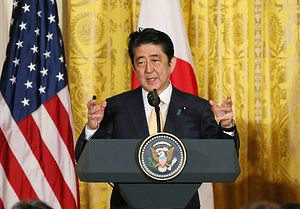 In the wake of North Korea and South Korea's first diplomatic meeting in two years, held at the border peace village of Panmunjom, Japan has emphasized its steadfast stance on maximizing international pressure for North Korea's denuclearization. Japan's foreign ministry is maintaining an all-or-nothing approach via economic sanctions and international diplomacy in pushing an end to North Korea's nuclear development program and nuclear aggression.
In the North Korean leader's New Year national address, Kim Jong-un warned that the nuclear button is always on standby on his desk, ready to launch an attack toward the mainland United States. Furthermore, the 34-year-old dictator highlighted that the country's national goal for 2018 is "mass producing nuclear warheada and intercontinental ballistic missiles" or ICBMs for "operational deployment."
Despite increasing international ostracism, in an unexpected change of heart, North Korea accepted South Korea's proposal to open talks on sending a delegation to the upcoming February PyeongChang Winter Olympics. While Japan is bracing for more provocations from North Korea, South Korea has been given an unexpected breakthrough with North Korea, considerably easing the potential for military confrontation. South Korea is also getting on Pyongyang's good side by offering to foot the bill for the North Korean Olympic delegation and agreeing to provide separate accommodation from other athletes.
The talks between North Korea and South Korea on Tuesday centered around opening up channels for North Korea's participation in the Winter Olympics. But Japan's Chief Cabinet Secretary Yoshihide Suga says Tokyo will not alter its established security policy in response to North Korea's entrance into the Winter Olympics and will continue full steam ahead in rallying further assurance and pressure from Washington, South Korea, and China. A government official said they were skeptical North Korea's meeting with South Korea will bring any benefit to Japan in key issues relating to Japanese nationals abducted by North Korea and ballistic missile development.
To mark a new year back at work, Prime Minister Shinzo Abe continued the annual tradition of visiting the culturally and spiritually significant Ise Jingu shrine. During the speech, he used this opportunity to feature national security as his first priority, vowing to "strengthen defense capabilities that are truly necessary to protect the people." Since North Korea launched three intercontinental ballistic missiles (ICBM) above Japanese waters and conducted a nuclear test in 2017, Japan isn't taking any more risks.
Abe described threats from North Korea as part of the "most severe security environment since World War II." This is being reflected in an increase in December's defense draft budget, allocating 5.19 trillion yen ($45.8 billion) for missile defense technology and stealth fighter jets. In order to pressure North Korea to give up its nuclear weapons, Japan's preferred course of action is working closing with the international community vis-a-vis "resolute diplomacy" in addition to what could be seen as military deterrence.
Experts say Abe's political comeback from near death last September rests on an age-old strategy. Abe utilized growing public anxiety over threats of conflict from nuclear armed North Korea and seized the opportunity to deflect pressing domestic political controversies. Abe's snap election and election campaign in October last year came at a time where he was facing waning domestic popularity, revolving around political scandals of a personal nature — in particular, a corruption scandal over heavily discounted land prices offered to a nationalist elementary school of which Abe's wife was invited to be the honorary principal. Much of Abe's renewed mandate as prime minister rests on his tailored "action man" approach to North Korea and the Liberal Democratic Party's international experience around the negotiating table.
Japan has no formal diplomatic relations with North Korea beside the occasional high-level talks concerning abducted Japanese nationals. With other countries like the United States jumping on the bandwagon for opening dialogue with North Korea, Japan remains cautious.