An Olympic Feat: North and South Korea Engage in High-Level Talks
The focus was on the upcoming Olympic Games, but North Korea agreed to additional military talks.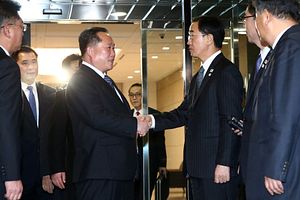 North and South Korea held high-level talks on January 9 and agreed to send North Korean delegations to the PyeongChang Olympic Games, as well as to hold military meetings.
The high-level talks came surprisingly quickly considering the long period of disconnection between the North and South's communication channels.
Kim Jong-un mentioned North Korea's intent to participate in the PyeongChang Olympic Games in his New Year's Address on January 1, prompting communication between North and South Korea via the Panmunjom hotline January 3-4 on four separate occasions. On January 5, North Korea sent a telegram to accept South Korea's request to hold high-level talks at the Peace House in Panmunjom.
In a joint press release, North and South Korea vowed for a "successful PyeongChang Winter Olympic Games and Winter Paralympic Games to raise the status of the Korean people."
North Korea agreed to send high-level delegations, a National Olympics Committee delegation, athletes, a cheering squad, performers, observers, a taekwondo demonstration team, and journalists to the Olympic Games.
North and South Korea also agreed to make joint efforts to "alleviate military tensions, bring about a peaceful environment in the Korean peninsula, and promote reconciliation and unity of the Korean people."
The two agreed to hold separate military talks based on a shared understanding that both states seek to resolve current military tensions, as well as actively engage in exchange and cooperation in various fields.
Both states re-observed past North-South declarations, and vowed to resolve all issues deriving from North-South relations through dialogue and negotiation, as direct parties to the Korean problem. To do so, they agreed to hold additional discussions in various fields alongside the high-level talks.
The issue of North Korea's denuclearization as well as holding family reunions were also brought to the table. South Korea's Minister of Unification Cho Myoung-gyon made a statement during his keynote speech at the general meeting that "talks should be reopened as quickly as possible to discuss issues of bringing peace to the region, including denuclearization of the Korean peninsula." He also suggested holding family reunions in February, in commemoration of the Korean New Year.
Ri Son-gwon, the head of the North Korean Committee for the Peaceful Reunification and North Korea's representative at the talks, responded to neither of South Korea's requests. Reportedly, he even went so far to make a strong complaint against South Korea's suggestion to reopen talks on denuclearization during the final session.
Experts argue that North Korea has drawn a boundary: Directing focus to the Olympic Games while diverting military and other issues to future military talks and other meetings in various fields.
The high-level talks come as a result of unified efforts of many states around the Korean Peninsula. First, South Korea and the United States agreed to postpone the Key Resolve combined military exercise to avoid increasing tensions during the Olympic Games as well as to promote North Korea's participation in the Games. It is the first time that the two have postponed a military exercise since 1992, when Team Spirit military exercise was canceled after North and South Korea concluded the Inter-Korean Basic Agreement and the Joint Declaration of the Denuclearization of the Korean Peninsula.
Also, on January 4, U.S. President Donald Trump reassured South Korean President Moon Jae-in that he supports the talks. Trump went on to tell reporters on January 6 that he is "behind that [dialogue] 100 percent."
China also contributed to the process by speeding up the execution of UN sanctions on North Korea. China announced last September that it will shut down all North Korea-related enterprises within its territory by January 9. China's foreign ministry spokesperson, Lu Kang, said on January 8 that "the People's Republic of China, as permanent member of the UN Security Council, strictly observes North Korean sanctions," emphasizing that the North Korean-related enterprises will be "dealt with by law."
Jeong Yeong-Tae, senior researcher at Korea Institute for National Unification, argues that alleviating sanctions is "the primary objective why North Korea has opted for the talks," adding that "it is a message saying not to dig too deep into discussions on placing sanctions on North Korea."
Japan welcomed North Korea's participation in the Olympic Games, in general. However, it was cautious about how that development may influence the triangle of cooperation among the United States, South Korea, and Japan on carrying out North Korean sanctions. Japanese Foreign Minister Taro Kono said on January 9 at a press conference that "North Korea's intent to participate in the Olympics is welcoming." However, he emphasized that the current policy on North Korean nukes and missiles "will not bring a brighter future."
Japanese Minister of Defense Itsunori Onodera spoke by phone with U.S. Secretary of Defense James Mattis to reconfirm that changing North Korea's nuclear and missile development policy is the core premise for holding dialogues with North Korea. Japanese experts argue that this was a move to keep South Korea in check, and prevent the country from getting too soft on North Korea.
Russia also welcomed the North-South talks. Kremlin spokesperson Dmitry Peskov said that dialogue "is the only way to alleviate tensions. This is the reason that the Russian leadership said it was necessary."