Japan's Delicate Geopolitical Balancing Act in 2018
Japanese Prime Minister Shinzo Abe will have to balance competing priorities in the year ahead.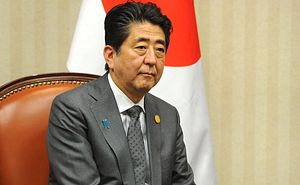 2017 was quite the roller coaster ride for Japan and Prime Minister Shinzo Abe. In the light of a series of scandals (and some gaffe-prone statements from ministers) dogging his government, Abe decided to call snap general elections to for lower house in Japan.
In these elections, held in October last year, Abe's ruling LDP-Komeito alliance won a thumping majority and practically decimated the opposition. The sudden announcement of the elections caught the opposition completely off-guard, so much so that the main opposition Democratic Party split up.
As a new year gets underway, what are the major foreign policy challenges for awaiting Tokyo?
First, the North Korean threat has not diminished for Japan. Last year, North Korea fired two missiles over Japanese territory while North Korean leader Kim Jong-un threatened to "sink Japan."
Second, handling delicate relations with China will be a key challenge for Japan and Abe, especially since Tokyo needs Beijing's help to rein in an increasingly recalcitrant Pyongyang. This may explain why there have been mixed signals emanating from Tokyo with regards to its participation in China's ambitious Belt and Road Initiative (BRI). Tokyo had sent a representative from the ruling LDP to the Belt and Road Forum in Beijing last year.
Third, handling the alliance with the United States will also be a test for Japan, especially with the maverick President Donald Trump at the helm in Washington. Under Trump, the United States has already withdrawn from the Trans-Pacific Partnership trade pact (TPP), much to Japan's disappointment.
Though President Trump had a successful trip to Japan last year, trade issues may complicate ties between Tokyo and Washington (besides, of course, Trump's reliance on Beijing to choke the regime in Pyongyang).
Fourth, handling relations with Russia will also be an important challenge for Tokyo. The two sides have an outstanding territorial dispute, which dates back to World War II. Russia-Japan ties have warmed considerably with Russian Prime Minister Vladimir Putin and Abe at the helm, though the prospect of a resolution of their territorial dispute looks dim at the moment.
Last, but not the least, will be the management of ties with South Korea, another U.S. ally. Recently the two countries have traded barbs over a 2015 deal on the "comfort women" issue. The South Korean President has termed the 2015 agreement as "seriously flawed," putting into jeopardy the progress in Japan-South Korea ties.
Rough Seas Ahead
Tokyo has been promoting the "Free and Open Indo-Pacific" concept, which assumes significance in the light of Beijing's growing assertiveness in what is now being touted as the Indo-Pacific region. Besides, India, Japan, Australia, and the United States also resuscitated the Quadrilateral Initiative on the sidelines of the East Asia Summit (EAS) and the ASEAN Summits in Manila in November last year.
Japan has also announced an increase in its defense budget over the previous years. It has already proposed a record 5.19 trillion yen defense budget for the financial year starting April 2018. However, many critical gaps remain when it comes to Japan's defense, especially with regards to the threats emanating from North Korea.
In the meantime, Abe has also been hinting at amending Japan's post-war constitution, but it remains to be seen if he can do this, especially given the huge amount of domestic opposition.
On the domestic front, Abe has completed five years in office, thus bringing to an end Japan's revolving-door prime ministerships. At the same time, Japan will also have to tackle issues of a low birth rate and caring for its growing elderly population. Abe will also face elections for LDP chief for a third consecutive three-year term, but that seems to be a given unless he or his ruling coalition make a grave political or economic error. If he wins re-election for as LDP chief later this year, it could also make him Japan's longest-serving prime minister.
2018, therefore, seems to be a year in which Japan and Abe will have to maintain a delicate balancing act, both at home and abroad. Abe has shown remarkable political acumen in reaching out very early to Trump and in calling snap elections, taking the wind out of the opposition's sails. However, the jury is out on whether he can succeed in 2018.
Rupakjyoti Borah is with the Institute of South Asian Studies at the National University of Singapore. His latest book is The Elephant and the Samurai: Why Japan Can Trust India? He tweets at @rupakj. The views expressed are personal.