Military Meeting Puts Japan-Vietnam Defense Ties in the Headlines
Both sides continue to discuss ways to make further inroads in their security relationship.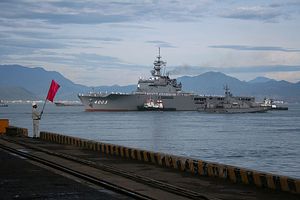 This week, the chief of staff of Japan's Ground Self-Defense Force (JGSDF) paid a visit to Vietnam in yet another defense-related engagement between the two sides. The visit and the interactions connected with it once again put the spotlight on the Japan-Vietnam defense relationship which has been making inroads over the past few years and holds further promise for the future within the existing constraints that both sides have.
As I have noted before, Japan and Vietnam have been boosting their defense ties as part of their broader extensive strategic partnership over the past few years, with Hanoi seeing Tokyo as one important player to engage as part of its wider omnidirectional foreign policy and Tokyo viewing Hanoi as a key node in its greater engagement of Southeast Asia, including in defense particularly with the easing of decades-old restrictions on exports on the Japan side  (See: "Japan Reveals First ASEAN Defense Initiative With Vientiane Vision").
As a result, we have already seen some significant developments, including not only maritime security assistance but also new naval drills, Japanese port calls, an agreement on coast guard cooperation, and discussions of future opportunities on defense industrial cooperation. Last November, when Japanese Defense Minister Itsunori Onodera met with his Vietnamese counterpart Ngo Xuan Lich amidst the flurry of meetings occurring on the sidelines of the ASEAN defense meetings in Manila, we saw the two sides discuss some future steps to step up defense ties, including in defense equipment and defense industrial collaboration where conversations had already been ongoing (See: "What's Next for Japan-Vietnam Defense Relations?").
This week, another series of defense interactions took place between the two sides brought about by the visit of General Koji Yamazaki, the chief of staff of the Japan Ground Self-Defense Force. His visit saw delegations from the two countries meet for a series of consultations, along with meetings with officials including Senior Lieutenant General Phan Van Giang, Vietnam's deputy defense minister, who is also the chief of the general staff of the Vietnam People's Army (VPA) and is a member of the Party Central Committee and permanent member of the Central Military Commission.
As is often the case, the official Vietnamese account of the meeting focused more on the broad contours of the relationship rather than new developments. That came as no surprise: sensationalism following some previous engagements or mulled initiatives had at times not only gotten ahead of what was actually agreed but also generated concern, particularly among some in Beijing who tend to watch this relationship quite closely.
The statement said both sides had mapped out cooperation in familiar areas such as military medicine, humanitarian assistance and disaster relief, and peacekeeping (See: "What's Next for Vietnam's New Military Peacekeeping Role?"). Though few specifics were included, the outlines of collaboration – from aviation medicine to maritime security – have been previously discussed in other forums between the two sides.