What's Next for Vietnam's New Military Peacekeeping Role?
A closer look at the context behind some key developments in Hanoi's contributions in this realm.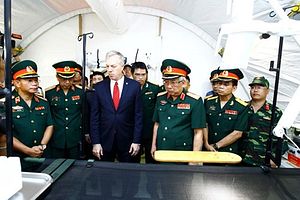 Last week, Vietnam held a ceremony that featured some key developments in the country's ongoing efforts to boost its involvement in international peacekeeping. Though these developments are part of a broader ongoing transition, they are nonetheless worth noting given the importance that Hanoi has placed on peacekeeping as part of its wider defense and foreign policy in recent years.
Though Vietnam's contribution to UN peacekeeping operations only officially began in 2014, Hanoi has long placed an emphasis on this as part of its contributions to the international community and within its defense relationships with key partners.
So far, around 20 officers have been sent to missions in South Sudan and the Central African Republic. Vietnam finally sent its first female peace officer last October, and over the past few months, the focus has been on preparing for the deployment of a level-2 field hospital and military engineering unit in South Sudan which are expected to take place soon.
In line with Vietnam's effort at participating in UN peacekeeping activities, Hanoi had officially inaugurated a Peacekeeping Center back in May 2014. Since then, the Center has grown with the help of Vietnam and its partners, and it has since begun to host meetings not just related to Vietnam's own peacekeeping role, but the regional ones such as an ASEAN Regional Forum (ARF) workshop that took place last month.
As part of a roadmap that had been agreed upon by the Vietnamese government and an interagency working group on peacekeeping activities, various designations and authorities were set to be shifted in line with Hanoi's growing participation in peacekeeping, with permanent designation being transferred over to the defense ministry over time.
Last week, we saw some key developments as part of this ongoing process. On January 5, Vietnamese media outlets reported that the new Vietnam Peacekeeping Department had made its debut following its upgrade from the Vietnam Peacekeeping Center at a ceremony in Hanoi which was attended by top officials including Vietnam's Foreign Minister and Deputy Prime Minister Pham Binh Minh and Vietnam's Defense Minister Nguyen Chi Vinh.
In addition, as had been envisaged before as part of shifting authorities and designations, the role of the head of the interagency task force on UN peacekeeping operations was also officially transferred from the foreign ministry to the defense ministry.
To be sure, these developments are not short on significance. As Vietnamese officials attested to at the ceremony, the move is yet another demonstration of the emphasis that the government is placing on peacekeeping and the importance it has within the broader context of Vietnamese foreign policy and international engagement.
But they should also be understood as part of a broader ongoing transition that had already been envisaged and then subsequently implemented slowly but surely. We had in fact already seen some other incremental steps along the way in line with some other previous activities, including the launching of the Peacekeeping Center's website in January 2017 and the subsequent announcements made on the shape of Vietnam's future contributions. And we are likely to see more of these developments as 2018 progresses.