Nepal's Deadly Chhaupadi Custom
A dangerous social practice in far western Nepal is causing reoccurring deaths.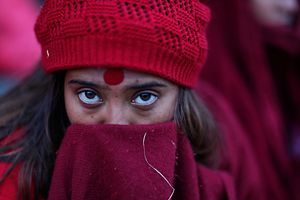 In the first week of January this year, a Nepali woman who was sleeping in a hut during her menstrual cycle was found dead by her neighbors. According to the preliminary investigation, police suspected that Gauri Bayak, 23, a permanent resident of Turmakhad Rural Municipality-3 in Accham district, died due to suffocation, thanks to the narrow and congested hut where she was sleeping. She was the latest victim of the Chhaupadi custom, which is prevalent in several far-western districts of Nepal.
In far western Nepal, while menstruating, women are considered impure and are forced to live alone in huts or mud cowsheds for seven days, away from family members. The exile of women from home to hut during this period is known as Chhaupadi.
"In the last ten years in Accham district alone, nine women have lost their life while living in the huts during their menstrual cycle," Menuka Dhunaga, a local journalist, said in a report published in Nepal's vernacular daily, Kantipur. "Despite the announcement of destroying such huts to end such practices, women continue to die and practices go unchecked," she reported.
In December 2016, a 15-year-old girl in the same district also died from suffocation while sleeping in a shed.
Despite efforts by the government and non-governmental organizations to end the practice, Chhaupadi remains a major social problem, mainly in Nepal's western districts. Many related deaths go unreported in the media.
Reports indicate that more than 90 percent of women in Nepal's far-western and mid-western districts follow the Chhaupadi tradition, whether due to social pressure or according to their own wishes.
During menstruation, women are not allowed to stay in the home or eat their regular diet. They are not even allowed to bathe from the tap, in wells or rivers during that period of time. In some villages, there are separate taps and wells for the women. They are completely barred from going near the temple; if a road is even linked to a temple, a menstruating woman has to choose a different path.
As they are compelled to sleep in poorly constructed and dirty huts, these women face health problems and other risks. Woman who live in the huts are always at risk of diarrhea, pneumonia, and respiratory diseases. While living in the isolated huts, they also face the danger of attack by wild animals, or even abuse and rape by their fellow villagers.
As per the social custom, women who are unmarried have to stay six days in the hut, married women having both a son and a daughter have to stay five days, and women who have only daughters will have to live for seven days in the hut.
Following pressure from rights activists, last year Nepal's parliament enacted a law labeling Chhaupadi a criminal act. As per the new law, people who force their family members to live in sheds are subject to legal actions. Nepal's Supreme Court had directed the government to make laws criminalizing Chhaupadi all the way back in 2005; it took more than a decade to formulate the laws. Now that the laws are in place, the challenge is in effective implementation.
As per the law, a three-month jail sentence or $300 fine, or both, will be leveled on anyone who forces a relative to stay in a shed. However, the new legal provisions have not been implemented at the grassroots level. People who are aware of the new legal provision are reluctant to implement it. Community radio stations have been conveying the message that sending women to huts is a crime and the practice must be abandoned, but local people are not ready to accept the change.
In the third week of January, when I visited some parts of the Jaya Prithivi Municipality of Bajhang district, another far-western district, the practice of Chhaupadi was rampant in the villages.
Even educated women are compelled to follow this tradition due to pressure from family and society. Tika Kunwar, 30, a teacher by profession, said that she cannot resist the social pressure.
"I know this is a bad tradition and I also teach the students in the school to snub this tradition but during my menstrual period, I live in [the] hut," she said. According to her, there are two poorly built huts in her village allocated for the women. "There are 25 families in my village and there are two huts," she added.
There is a strong belief among locals that if women are allowed to stay inside the home during their menstrual period it would bring misfortunes for members of family. Similarly, there is a strong belief that family members will fall sick if the women stay inside the house. Male members of the family believe the custom must be followed to avoid any bad luck. Senior members of families and village elders are firm in this tradition, while the young, educated generation cannot gather the courage to challenge this custom.
Ganga Bahadur Dhami, 55, of Jaya Prithivi Municipality-8 of Bajhang-8 candidly admitted, "My daughter is living in the hut." He added, "I know about the new law. There are also radio programs which often call us to abandon such a custom. But we are god-fearing people. If we allow women to stay in the home during their period, it will invite bad omens and disease." He said the new law cannot cure family members if they fall ill.
His 15-year-old daughter, who was living in the hut at the time I visited, refused to speak about the difficulties she has been facing.
It is not easy to implement laws to prevent long- standing customs like Chhaupadi. In comparison to the past, there have been some changes in urban areas but such practices are still rampant in rural areas. In this region, it is very  difficult to change the mindset of even educated people.
Local politicians and political parties can play a vital role in creating awareness at the local level about the harms of this custom. However, politicians are often reluctant to highlight this issue because they fear of losing the support of common people. Parliamentarians rarely raise such issues in the national parliament; instead they want to conceal such social issues. Some non-governmental organizations at the local level and some government agencies are creating awareness, asking people to shun Chhaupadi, but due to the lack of support and backing from politicians, their campaigns have not been effective.
Kamal Dev Bhattarai is Kathmandu-based writer and journalist.