Russia-Vietnam Military Ties in the Spotlight with Defense Minister's Visit
The visit saw both sides continuing to chart the course for their future ties in a changing strategic environment.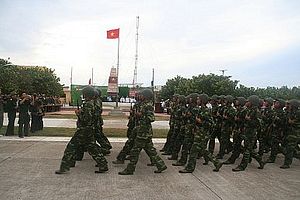 This week, Russian Defense Minister Sergei Shoigu visited Vietnam as part of a broader Southeast Asia tour that has also included trips to Myanmar and Laos. The trip put the spotlight on Russia-Vietnam defense relationship and highlighted future steps that the two countries could take over the next few years in their military cooperation.
As I have noted before in these pages, Vietnam and Russia have a defense relationship that dates back to the Cold War and continues on today as Hanoi continues to modernize its military and Moscow seeks a stronger and more visible defense presence in the broader Asia-Pacific. This is true even though international media attention to Vietnam-Russia defense ties tends to be limited to one-off transactions or headlines, be it actual deals or lines of speculation (See: "A Vietnam Base for Russia?").
On January 23, Russia's defense minister Sergei Shoigu visited Hanoi as part of a broader Southeast Asia tour that had also included earlier visits to both Myanmar and Laos. Shoigu's tour comes at an interesting time for Moscow, with elections set for later this year and uncertainty over the future direction of U.S.-Russia relations as the Trump administration looks to build out its own defense policy in the region with some indications of a tougher line towards Russia and China, with U.S. Secretary of Defense Jim Mattis' trip to Vietnam later this week (See: "What Does Mattis' ASEAN Trip Say About Trump's Asia Policy?").
During his visit, he and his delegation met with top Vietnamese officials, including his counterpart Ngo Xuan Lich, President Tran Dai Quang, and General Secretary of the Vietnamese Communist Party's Central Committee Nguyen Phu Trong. Though the range of top officials that Shoyu met with was far from atypical, it was yet another reminder of the importance Vietnam continues to accord Russia in the defense realm despite warming ties with relatively newer partners including the United States (See: "US-Vietnam Defense Relations: Problems and Prospects").
The visit saw both sides reaffirm the importance of defense ties and highlighting opportunities for future cooperation. According to local media outlets, Shoigu and Trong reinforced the importance of developing the Russia-Vietnam comprehensive strategic partnership, with Trong repeating that Vietnam views this as a top priority in its wider foreign policy and sees Moscow as a "prioritized partner" in military technology cooperation. Similar rhetoric is seen in other defense interactions be it at their regular strategic defense dialogue which was last held in November 2017 or during other visits and exchanges.
The two countries also discussed moving forward on the implementation of existing agreements as well as progressing on future areas of collaboration. Media accounts fixated in particular on the drawing up of a future plan by both sides for military cooperation. What was characterized as a novel development was in fact more of a routine one, where Hanoi reviews collaboration with major partners every few years. As Shoigu noted, the one between Russia and Vietnam, dates out to 2020 and includes the range of cooperative endeavors they have under it, from meetings to drills.
Unsurprisingly, few details were publicly provided in the way of specifics about the content of that plan. Russian official accounts did stress some individual focus areas such as education and training in areas like peacekeeping and law enforcement. In terms of timing, Shoigu said the plan would be signed "in the near future."