What's With the New Russia-Vietnam Truck Deal?
A closer look at a new protocol between two old partners.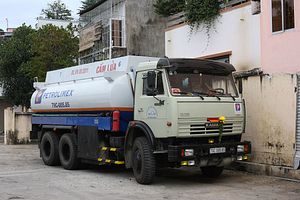 Last week, Russia and Vietnam inked an intergovernmental agreement that was billed as facilitating cooperation on producing commercial and military trucks and vehicles in the Southeast Asian state. The protocol shed light on a component of the longstanding Russia-Vietnam relationship and highlighted the inroads that Russian truck producers are trying to make in Southeast Asian markets despite previous challenges.
Vietnam and Russia have a defense relationship that dates back to the Cold War and continues on today as Hanoi continues to modernize its military and Moscow seeks a stronger and more visible defense presence in the broader Asia-Pacific. This is true even though international media attention to Vietnam-Russia defense ties tends to be limited to one-off transactions or headlines, be it actual deals or lines of speculation (See: "A Vietnam Base for Russia?").
In recent years, Russian truck manufacturers, which have had a presence in Vietnam for decades, have also been looking to boost export of trucks to the Southeast Asian as part of a broader move to expand their presence in other ASEAN markets as they have experienced difficulties in other regions. For instance, last year, the director-general of Kamaz, Russia's biggest truck manufacturer, said the firm planned to increase its footprint in Vietnam by boosting production facilities with a view to then supplying neighboring countries like Laos and Cambodia (See: "Russian Truck Giant Eyes ASEAN Market with Vietnam Expansion").
Last week, in another development in this realm, Vietnam and Russia signed an agreement to collaborate on the manufacturing of trucks. Local media outlets noted that the intergovernmental protocol, signed between the Vietnam trade ministry and the Russian Embassy on December 27 in Hanoi, would provide incentives to facilitate the advancement of joint ventures with major Russian producers such as Kamaz, Gaz, and Uaz, to both expand these companies' production in Vietnam as well as develop Hanoi's own industry.
Though these accounts largely focused on the implications for commercial trucks, these Russian companies also manufacture select vehicles for military applications as well. For instance, in 2016, of the 1,855 trucks that Kamaz disclosed that it had exported to Vietnam – a fifth of its overall exports – slightly less of a third of that went to the Vietnamese military.
Few other specifics were publicly disclosed about the agreement, making it difficult to forecast exactly what it may mean. As I have noted previously, Russian producers have sought joint ventures in Vietnam in the past but progress has been slow and previous moves to expand this even further had been met with frustration. That is not just due to the conditions in place in Vietnam, which the new agreement seeks to address, but the presence of other competitors in certain parts of the market as well. These realities will be important to note amid the headlines we see about the fresh protocol.