Trump's Tweet Further Strengthens China-Pakistan Ties
While the U.S. plans to cut security assistance for Pakistan, Pakistan adopts the Chinese yuan as a currency for trade.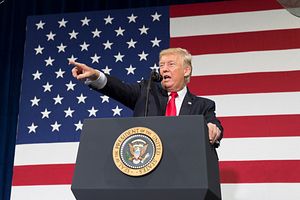 History has repeatedly shown that the worse U.S.-Pakistan relations become, the stronger China-Pakistan ties grow.
On January 1, U.S. President Donald Trump lashed Pakistan in his first tweet of the new year, saying that the United States had "foolishly" given Pakistan $33 billion in aid over the last 15 years, and Pakistan has "given us nothing but lies & ­deceit, thinking of our leaders as fools."
Trump further tweeted: "They give safe haven to the terrorists we hunt in Afghanistan, with little help. No more!"
Trump's remarks immediately caused backlash from Pakistan. On January 2, Pakistan's Foreign Affairs Minister Khawaja Asif hit back on his own Twitter account: "Pres Trump quoted figure of $33billion given to PAK over last 15yrs, he can hire a US based Audit firm on our expense to verify this figure & let the world know who is lying & deceiving…"
In the meantime, China, as Pakistan's "all-weather friend," also stood up against Trump for Islamabad.
China's foreign ministry spokesperson Geng Shuang defended Pakistan at the regular press conference on January 2:
Pakistan has made great efforts and sacrifices for combating terrorism and made prominent contributions to the cause of international counterterrorism, and the international community should fully recognize this. We welcome Pakistan and other countries' cooperation on counter-terrorism and in other fields on the basis of mutual respect and their joint commitment to the security and stability of the region and the world.
It was not the first time China had come forward for Pakistan. As The Diplomat reported earlier, in August, when Trump singled Pakistan out as terrorist haven in his grand strategy for Afghanistan and South Asia, China also publicly expressed full sympathy toward Pakistan, defended Islamabad's "great sacrifices," and blamed the United States for not fully recognizing Pakistan's efforts in fighting terrorism.
This time, Geng not only defended Pakistan but further offered a shoulder for Islamabad to lean on. He said: "China and Pakistan have maintained the all-weather strategic cooperative partnership. China stands ready to further deepen cooperation with Pakistan in various fields to bring greater benefits to the two peoples."
In return to China's firm support, Pakistan immediately issued a new policy to deepen economic cooperation with Beijing.
Pakistan's central bank, the State Bank of Pakistan (SBP), announced on January 2 that the country has officially adopted Chinese yuan as a currency for trade and investment.
"Both public and private sector enterprises (i.e. both Pakistanis and Chinese) are free to choose CNY [Chinese yuan] for bilateral Trade & Investment activities," the SBP's announcement said.
"Considering the recent local and global economic developments, particularly with the growing size of trade and investment with China under CPEC [China–Pakistan Economic Corridor], SBP foresees that CNY denominated trade with China will increase significantly, going forward; and will yield long term benefits for both the countries," the announcement added.
This measure means that from now on both Pakistanis and Chinese companies can trade directly in Chinese yuan rather than another currency, such as the U.S. dollar. Given that China and Pakistan have already signed multi-billion-dollar cooperation deals under Beijing's grand Belt and Road Initiative, the new measure will undoubtedly further consolidate the power of the Chinese yuan in the global marketplace, and, at the same time, more or less undermine the role of the U.S. dollar.
On January 3, Reuters reported that Trump's administration has already made up its mind to cut security assistance for Pakistan and has informed members of Congress of the decision.
In response to any U.S. follow-up measures, expect China and Pakistan to soon issue further cooperation plans in various fields.