What Does Zimbabwe's Leadership Change Mean to China?
With Mugabe gone, China will face a new set of challenges in Zimbabwe.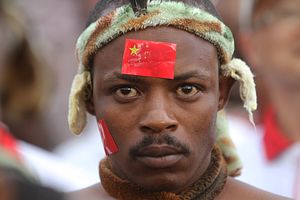 On December 15, 2017, Zimbabwe's ruling party, Zanu-PF, held an Extraordinary Congress, during which Emmerson Mnangagwa was formally confirmed the party's president and first secretary, and presidential candidate for the 2018 national election. A month earlier, Robert Mugabe, who ruled the country for 37 years, was forced to give up power by his military comrades, who were unhappy with his firing of Mnangagwa, the former vice president. Mnangagwa returned to be appointed the party leader and sworn in as Zimbabwe's interim president on November 24 after hiding in South Africa for over two weeks.
Among those sitting at the congress to watch Mnangagwa's confirmation was a Chinese delegation led by Vice Minister Xu Lyuping of the International Department of the Chinese Communist Party (CCP) Central Committee. Many observers have speculated that China was behind the scenes of Zimbabwe's recent leadership change. The only evidence so far is that then-Zimbabwean Defense Forces commander, General Constantino Chiwenga, was on an official visit in China immediately before he returned to preside over the military takeover that led to Mugabe's resignation.
While the link between Chiwenga's visit and China's role in Mugabe's downfall is speculative at best, there is no doubt that China holds a high stake in Zimbabwean politics due to their close economic and political relations. The poor performance under Mugabe's leadership had made Zimbabwe an increasingly unwelcoming investment destination. The nonagenarian Mugabe's relentless hold on power, his self-defeating strategy of playing off one faction against another within Zanu-PF, and his eventual preference for G40, a faction led by his wife, Grace Mugabe, had all made Zimbabwe's political developments unstable and unpredictable. China was hoping for a peaceful leadership transition before things got out of control. Now that Mugabe and G40 have been removed from the political scene and all went through without bloodshed, Beijing could sit back and relax, feeling relieved.
However, China's Zimbabwe risk has not ended. The uncertainty in Zimbabwe's political future will continue to perplex China's economic and political interests. For one, Mnangagwa's ability to save Zimbabwe's abysmal economic situation and to ensure a smooth presidential election is not guaranteed. For another, the rumors about China's role in Zimbabwe's recent transition do not bode well for its future stance in Zimbabwe politics. If Mnangagwa's performance is frustrating, China may become a convenient target of criticism for its alleged involvement in Zimbabwe's politics.
Challenges for Mnangagwa
Despite the high expectations of his leadership, Mnangagwa faces a number of challenges at the inception of his presidency. He inherited a weak economy from Mugabe. Zimbabwe's per capita GDP ranked 157th in the world, according to the IMF. Its agriculture has not run at full power thanks to the land reform in early 2000s, which seized land from white farmers while black farmers lacked experience, technology and funds, leaving large areas of land untended. Around half of the country's GDP is devoted to public expenditure, an impressive level for its population, but the majority of it is spent on personnel costs. In 2016, 96.8 percent of Zimbabwe's national revenue was used to pay state employees. Meanwhile, 90 percent of the labor force has difficulties entering the formal labor market. Zimbabwe does not have a functioning currency or a monetary policy and shortages of foreign cash they use, mostly the U.S. dollar and South Africa rand, often cause price hikes. The prices of food products and appliances increased by over 300 percent since September.
Redressing the economic challenges is already a headache for Mnangagwa, but he also has a deadline to beat. In eight months, he hopes to deliver a satisfactory result that could gain him legitimacy and trust and help him win the presidential election. Therefore, he has vowed to pay salaries and bonuses to civil servants on time and back allowances to MPs, forced land grabbers to return land to white farmers, and ordered bakers to revert the bread price hike. During his inauguration speech, he called for investments from all the nations in the world, and he made his first foreign trip to address a high-profile business conference in South Africa and to attract investments. Mnangagwa's strategy of patronizing clients may work temporarily, but the structural problems of Zimbabwe's economy will take time to correct. In the short term, it's unlikely we will see promising signs in areas like creating jobs, resolving the currency crisis, or countering the water shortage.
Not long after Mugabe's rule was finally over, the opposition parties turned their doubts and criticisms to Mnangagwa. MDC-T, the oldest opposition party, initially thought to be invited by Mnangagwa to form a coalition government until the 2018 election, but then complained that Mnangagwa turned down the plan. Other parties contended that Mnangagwa will not offer anything new to Zimbabweans and that he is no different from his predecessor.
The good news for Mnangagwa is that, for now, the opposition parties are weak individually and divided as an alliance. MDC-T, the only party that ever shared power with Mugabe after winning the 2008 election, is now seeing its leader, Morgan Tsvangirai, in poor health. In April, MDC-T and seven other opposition parties, including Joice Mujuru's National People's Party, formed an alliance to unseat Mugabe in 2018 and to build a coalition government. Now that their common enemy is gone, the alliance loses its cohesion and needs to find a new common voice or face collapse. But the opposition parties see the upcoming election as a great opportunity to finally gain power as Mugabe is gone and Mnangagwa struggles to get off the ground. They will keep attacking the ruling party for inadequate economic reforms and political closeness. More than anything, they will bring up the episode of the "coup" to delegitimize Mnangagwa and to remind voters that Mnangagwa is an accomplice to what Mugabe has done to the Zimbabweans.
The current unity within Zanu-PF will allow Mnangagwa to carry through economic reforms without worrying about backstabbing. Success in reforms will in the short term add credits to his electoral campaign, and make him hardly replaceable in the party in the long run. But a failure will make him unable to sustain patronage to followers and look bad in the election, which will provide weapons to his potential enemies. Even after the Mugabes were removed from power and Mnangagwa secured the backing of the military and other senior party officials, it does not mean that Zanu-PF is exempted from future factionalism and intra-party chaos.
Mnangagwa lacks the charisma and the level of legitimacy Mugabe held as a leader of the independence war and as a founding father of the nation. He needs to consolidate a power base by installing his followers at various levels of bureaucracy. He appointed General Chiwenga as his deputy and two former military officers in his cabinet, all of whom played a critical role in the military takeover. Christopher Mutsvangwa, a former war veteran leader who was outspoken in supporting Mnangagwa, was appointed special adviser to the president. Both Chiwenga and Mutsvangwa fought the Rhodesian Bush War, served the military or the government, and helped Mnangagwa to gain power. But given Mnangagwa's age, 75, the presidency will soon be coveted by potential successors who will develop their own power base and possibly fight each other to gain his favor if not try to replace him, as happened to Mugabe.
Challenges for China
Given these uncertainties in Zimbabwe, China should keep its eyes open to the nation's development and, particularly, the upcoming election. Mnangagwa's rise to power may be a better scenario for China than if Mugabe kept gripping power or if G40 took control. Mnangagwa's relationship with China dates back to the 1960s and his military connections make him a key person in protecting China's profitable mining business in Zimbabwe. Beijing did not hesitate to show its pleasure to Mnangagwa's victory, sending a special envoy to congratulate him and extending the first foreign investment deal under his leadership. But if Mnangagwa's political and economic agenda falls apart, China may become a convenient target of criticism by the opposition. Mnangagwa has promised a democratic and peaceful presidential election. But if things go south, it would not be surprising if Mnangagwa adopts his mentor's strategy of using violence to scare off opposition candidates and voters. In that scenario, Mnangagwa loses his domestic and international legitimacy and Western sanctions will continue. Beijing would again be among the few foreign investors to buttress Zimbabwe's economy, sustaining another Mugabe-type regime.
Beijing seems to have adopted an alternative strategy of influencing Zimbabwe's political future and protecting its own interests – helping Zanu-PF to become a more capable ruling party. As part of Xi Jinping's campaign to strengthen the Party leadership, the CCP and its subsidiary departments have now exerted a more overarching influence on China's foreign relations. Taking advantage of its record of spearheading a successful economic takeoff in the world's most populous country, the CCP believes that it has a lot to share with other ruling parties in the developing world. Its idea that strong leadership, preferably by a single political party, is necessary to mobilize resources and move forward difficult reforms at certain stages of development is now being introduced to and envied by many governments that have seen years of civil strife, economic backwardness, and political incompetency. Even the anti-graft campaign carried out by the CCP since 2012 has had some echoes in countries like Saudi Arabia. The first-ever World Political Parties Dialogue hosted by China in early December further signals that Beijing is intensifying the use of inter-party diplomacy both to promote China's development model and to have an effective global influence.
In Zimbabwe, through an exchange program, the CCP has conducted training workshops for Zanu-PF office bearers on how to win the hearts of the voters by putting the interests of the people first and how to ensure national development. It seems that China is investing in the future of Zanu-PF as a ruling party, not just individual politicians, which makes sense because, given China's own experience, even the most powerful politicians cannot turn around national development without a capable and motivated cadre of followers in the party. By helping Zanu-PF build up its capacity, China both consolidates Mnangagwa's rule and increases the chance for Zimbabwe to have a stable political environment.
The Zimbabwe case further illustrates that China's foreign policy principle of non-interference is challenged by its foreign interests. Despite its denial of being involved in the military takeover, China finds it hard to shed the image of interference or intervention. In Beijing, there seems to be an assumption that China's intensification of inter-party exchanges is not seen as interference in other countries' internal affairs. But China should not overlook the fact that countries like Zimbabwe, after all, have multi-party political systems where every party has the right to compete and rule. Given that the CCP is, de facto, hard to distinguish from the government of China, its technical support to Zanu-PF will still be viewed by the opposition parties as interference in Zimbabwean politics and damaging to Zimbabwean democracy.
Claiming the principle of non-interference while practicing otherwise will cost China international credibility. China should consider leveling up cooperation with international and regional institutions such as the United Nations, African Union, and Southern African Development Community to support programs strengthening governance capacity, improving economic management, and ensuring political stability.
Dr. Wang Xinsong is an Associate Professor at the Beijing Normal University School of Social Development and Public Policy.