What Pakistan's Decision to Pull Out of a Mega Dam Project Tells Us About the Future of CPEC
There's much more to the China-Pakistan Economic Corridor than the rosy headlines touting friendship between Islamabad and Beijing.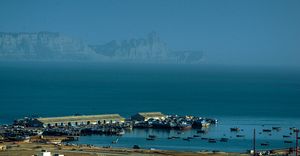 About a month ago, Pakistan withdrew its request to include the $14-billion Diamer-Bhasha Dam in the China-Pakistan Economic Corridor (CPEC) project citing strict monetary conditions on Beijing's part as being against the country's national interests. The fact that an energy-starved country like Pakistan has pulled out of a dam project that it has not been able to complete on its own for years is significant.
While the exclusion of a single major project doesn't mean that the whole infrastructure scheme between the two countries is in danger, observers warn that Beijing's strict monetary conditions have landed the future of Pakistan's whole economy in a tight spot.  The whole process of Chinese-funded projects has not been transparent. There are alarming reports about the levels of debt these secret dealings will impose on Pakistan.
Michael Kugelman, the deputy director of the South Asia program at the Woodrow Wilson Center, believes that there is a growing realization among the policymakers in Islamabad that the long-term financial implications of a number of deals made under the CPEC are troubling for the country. "The debt repayment terms are not transparent and are difficult for outside analysts to access, but what seems clear is that Pakistan has put itself in a position where it will need to put very large amounts of money into debt servicing in the coming years. For an economy as fragile as Pakistan's, that's an undesirable and perhaps evens an untenable proposition," says Kugelman.
Apparently, the government in Pakistan is not interested in making the details of such dealings public, for it might generate serious controversy about how agreed upom financial terms are likely to pose a threat to Pakistan's sovereignty in the long run. Practically, Islamabad's emerging economic model is becoming dependent on China. However, at the same time, the country doesn't have any other viable economic plans to revive its choked economy and domestic financial base. Over the last few years, Pakistan approached economic collapse on several occasions with China offering life-saving support to the country's economy.
If Beijing continues to push with its aggressive monetary conditions, it's likely that in the coming years, Islamabad may cancel more projects which do not bode well for the overall commercial viability of the project. "A one-off incident of Pakistan backing away is not so serious, but if we start to see multiple cases of Pakistan walking away, then the very viability of CPEC could come into question. Given the astronomical level of importance that Pakistan and China have placed in CPEC, any suggestion that the project may not see itself through is cause for alarm," suggests Kugelman.
It's unlikely that China will make any trade or monetary concessions to Pakistan that involve Beijing losing financial benefits with such mega infrastructure deals. China has aggressively pushed Pakistan toward accepting conditions that offer the former more leverage than the latter. The evidence in this regard is overwhelming: Pakistan's Federal Minister for Ports and Shipping, Mir Hasil Bizenjo, recently advised the Senate that 91 percent of revenues generated by Gwadar port as part of CPEC will flow out to China, with Beijing virtually controlling all projects. Moreover, there are indications that the project is not likely to produce as many jobs for local Pakistanis as previously anticipated.
Clearly, there are signs that both countries have developed differences over the issue of who stands to benefit strategically from the project in the long run. Seth Oldmixon, a public affairs consultant and the founder of Liberty South Asia, contends that concerns in Islamabad's ruling circles in this respect are acutely serious: "There appears to be a realization among Pakistani decision makers that many of the deals are lopsided to the point of being exploitative." Kugelman agrees: "The fact that Pakistan has backed away from several projects — coupled with the fact that China has itself backed away from a few projects — is significant in that it highlights that for all the heady talk and soaring rhetoric about CPEC and its successes, there are some significant constraints that need to be worked out."
There have also been other difficulties. The Chinese are worried about the presence of a number of jihadist groups in Pakistan. Secretly, China has been pushing Pakistan to take action against Islamist groups rising influence in the country which can directly pose a threat to Beijing's regional economic plans and financial investments in Pakistan. While Beijing has long aided Islamabad's position at the United Nations (UN) by blocking moves against a number of anti-India militant leaders, now that China is a direct stakeholder in Pakistan's security, it's reviewing its vocal support.
During the recent BRICS summit, China, in an unprecedented shift from its previous policy of taking up strategic dialogues with Pakistan behind closed doors, agreed with the rest of the member states in issuing a joint statement, stating that a number of militant groups allegedly based in Pakistan remain a "regional security concern." The groups comprised the ones that target India's interests in the region. If Pakistan's newly adopted policy of Jihadist mainstreaming goes parallel with a continued reduction in terror attacks in Pakistan – especially on CPEC route – the Chinese projects and these radical Islamist groups might coexist. However, if there is any surge in violence, Beijing will use its financial clout to arm-twist the Pakistani establishment.
As Raza Rumi, a Pakistani writer, journalist and a public policy specialist argues:
The issue of territorial disputes in Pakistan is another reason that China remains reluctant from making weighty financial commitments to some of the major projects. The fact that the Daimer-Bhasha dam is being constructed in a region that is a disputed territory between India and Pakistan is a factor that cannot be denied.
He further adds that "China is cautious because it doesn't want to annoy India with whom it has billions of dollars worth contracts."
However, so far, both states have avoided public confrontation over the surging problems under CPEC which, with all its due constraints, has strategic significance for both countries. "While CPEC and the relationship with China are considered too sensitive to be broadly criticized like the Pak-U.S. relationship, there are increasing signs of frustration among Pakistani officials," says Oldmixon. "I imagine that China and Pakistan will work out arrangements that ensure a critical mass of projects to be carried out in their entirety. There's too much at stake for both countries for it to be any other way," adds Kugelman.
All of this points toward the conclusion that beyond bilateral rhetorical flourishes, there remain some critical monetary, security, and capacity issues that can hamper the future of the CPEC. Certainly, growing frustrations on Pakistani side raise doubts as to whether the project will ever be concluded without leaving the country in profound debt. It remains to be seen how far can China go with its tough conditions, for there is a deepening urgency in Islamabad about saying "No" to Beijing's habit of finding its wont with all deals that certainly undermine Pakistan's interests.