Analyzing North Korea's 2018 Military Parade: The Missiles and the Launchers
What can we learn from what North Korea showed and didn't show at its 2018 military parade?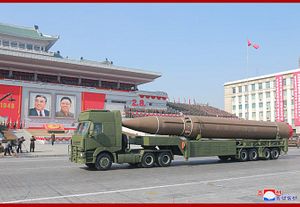 The Diplomat's Ankit Panda (@nktpnd) discusses North Korea's February 2018 military parade with imagery analyst and ArmsControlWonk podcast producer Scott LaFoy. The discussion focuses on North Korea's strategic missiles.
Click the arrow to the right to listen. If you're an iOS or Mac user, you can also subscribe to The Diplomat's Asia Geopolitics podcast on iTunes here. If you use Android, you can subscribe on TuneIn or on Google Play Music. If you like the podcast and have suggestions for content, please leave a review and rating on iTunes and TuneIn.