Filling In the North-South Trade Corridor's Missing Links
New Delhi is deftly decoupling its connectivity-centric policy in Iran from its increased engagement with Washington.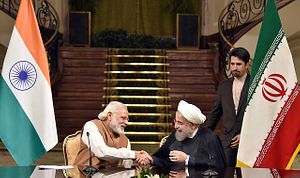 On February 19, 2018, Iranian President Hassan Rouhani completed a three-day tour of India. Shortly after holding bilateral talks on February 17 with Indian Prime Minister Narendra Modi, the Indian Ministry of External Affairs released a joint statement and a list of nine Memorandums of Understanding (MoU) signed by the two countries. Both sides explicitly reaffirmed their commitment to the International North South Transport Corridor (INSTC) in their statement. The region has witnessed a number of positive developments in late 2017 and early 2018 that bode well for the future of the INSTC.
I previously wrote for The Diplomat about how the INSTC was beginning to take shape with India's accession to the Transports Internationaux Routiers (TIR) Convention, Russian President Vladimir Putin and Modi's joint speech at the St. Petersburg International Economic Forum (known as the Davos of Eurasia) and the INSTC conference held in New Delhi three days after China's Belt and Road Initiative Forum. However, the Trump administration's harder stance on Iran have made private sector investors jittery about the INSTC, while on the technical side issues of differing railway gauges between the railways of the different countries in the region continues to make interlinking them for seamless railway connectivity a pipe dream without the construction of new rail lines, a costly and cumbersome affair.
In late October 2017, amid much fanfare, a maiden consignment of Indian wheat arrived in Zaranj, Afghanistan after being imported through Chabahar port in Iran. The main purpose of this exercise was to signal that the port is finally open for business, since then India has exported five consignments of wheat to Afghanistan. In mid-February 2018, various sources claimed that India was set to allow Indian rupees to be used for investment in Iran. The recent India-Iran joint statement explicitly states, "It was also agreed to set up a Joint Committee of officials to examine feasible options, including Rupee-Rial Arrangement, Asian Clearing Union mechanism to establish functional payment channels." On February 1, India formally entered the multi-modal transport centric Ashgabat Agreement after submitting an application in 2016. This was also mentioned in the India-Iran Joint Statement as a positive sign for improved Eurasian connectivity
New Delhi is deftly decoupling its connectivity-centric policy in Iran from its increased engagement with the United States and Israel. Pushing the INSTC forward will now require New Delhi to pay close attention to the opportunities at hand in Central Asia.
Linking the INSTC with Central Asia's Existing Multilaterals
For the connectivity initiative to succeed, it would be prudent to take advantage of the existing transport initiatives in the Central Asian region. The two most important are the Organization of the Black Sea Economic Cooperation (BSEC) which leans heavily towards Europe and the recent Ashgabat Agreement, which is more Central Asia-centric.
Several publications have stated that Turkey has communicated to India's Ministry of Road and Transport that Ankara is ready to provide information on linking the INSTC secretariat to the BSEC. However, details on what this would entail are scant. The BSEC (which includes Turkey, Russia and Ukraine among its 12 Eurasian members) has seen limited progress in terms of initiatives implemented as a number of issues divide its members, making cooperation difficult. However one area of notable progress is the European Union-supported Black Sea Ring Highway (BSRH).
Turkey's Anadolu Agency states the project is almost completed except some parts in the northern and western regions of the Black Sea and the Georgian section. The BSEC has also moved forward on creating a BSEC certificate for trucks traveling along the highway. However, according to Bahram Amirahmadian, assistant professor at the University of Tehran and senior fellow at the Institute for Iran-Eurasia Studies as well as Meena Singh Roy of the Institute for Defence Studies and Analyses, Iran's aging truck fleet (as a result of decades of sanctions) is not authorized to drive European roads as its trucks do not meet modern road standards. Therefore, facilitating Iran's use of the BSRH by upgrading its fleet and setting up a mechanism assisting the issuing of the BSEC certificate to allow for trucks carrying INSTC consignments to move seamlessly within Eurasia would be a noteworthy goal for INSTC-BSEC cooperation.
India's accession to the Ashgabat Agreement allows New Delhi to take advantage of rail connectivity in Central Asia. While the agreement broadly aspires to foster Central Asian connectivity, it is mainly focused on utilizing the Iran-Turkmenistan-Kazakhstan railway line and overcoming the region's mismatched gauge problem. It specifically aims to create a rail corridor that can effectively use the different rail line gauges by developing efficient wheel set replacement measures and reducing waiting times at the borders. However, the current nature and volumes of INSTC trade would favor road transport over rail as the latter requires sufficient volumes in order to take advantage of the economy of scale that railways provide. This highlights the next biggest hurdle of the INSTC.
Fostering Private Sector Involvement
Promoting connectivity is only one side of the coin for the INSTC; the other is expanding trade volumes that will justify the infrastructure and connectivity investment into the region. Former Indian Ambassador to Kyrgyzstan, P. Stobdan, considers trade with Central Asian states to be of prime importance. Current trade between India and Central Asia is limited to pharmaceuticals and tea from India and mainly crude oil and some agricultural products from Central Asia. Ambassador Stobdan writes that Central Asia is looking to expand its non-oil exports and in particular intends to export its vast stores of high-value minerals.
One low hanging fruit for India's export sector that could immediately be taken advantage of is the market for sugar imports in Central Asia. The region currently imports more than $130 million worth of sugar from Brazil. This is a market that India's sugar exporters ought to immediately move into. However, most of India's sugar mills are concentrated in its northern state of Uttar Pradesh, which would require consignments to cross multiple state lines in order to reach the diametrically opposite western port of Mumbai in order to be exported.
The task of roping in private sector investment into the INSTC has become particularly more challenging as the Trump administration publicly threatens to go back on the Joint Comprehensive Plan of Action (JCPOA) and sanction Iran's economy once again. This prickly issue requires New Delhi to continue its deft geopolitical manoeuvring and it remains to be seen whether the Rupee-Rial Arrangement will successfully assuage the concerns of Indian and perhaps other investors.
Important Steps Forward
Taking into account the importance of expanding trade volumes between INSTC members, fast-tracking the India-Eurasian Economic Union (EAEU) Free Trade Agreement would be a crucial next step. It would not only increase trade overall but also allow for the use of all the connectivity infrastructure and mechanisms currently in the region justifying increased focus and investment from both the private sector as well as the governments. In the medium term improved visa facilitation for the region's businessmen and investors should also be looked into.
An interesting dimension to this discussion was the designation of the China-backed Gwadar Port in Pakistan as a sister port to Chabahar port by Pakistan's Minister for Maritime Affairs Mir Hasil Khan Bizenjo at the latter port's inauguration ceremony. Both Pakistan and Iran are excitedly pursuing this narrative. The question must be asked of what possibilities this can hold for future connectivity in this region?
Roshan Iyer is a Research Assistant at CUTS International working on the regional integration of India's neighborhood. The views expressed in this piece are personal.