Macron to Set Tone for an EU Balancing Act Between India and China on Belt and Road
Will Macron speak for the EU as he balances between India and China?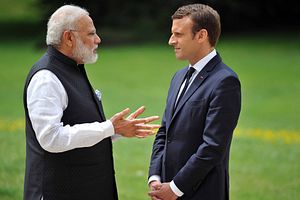 French President Emmanuel Macron, in his first visit to China from January 8 to 10, 2018, announced that he wanted France to take part in China's Belt and Road Initiative (BRI). While he did express that China's "new silk roads" could not be "one-way… and cannot be those of a new hegemony," his message to China was one based on "strengthen[ing] cooperation under the framework of the belt and road."
However, Macron will likely temper his statements on China's Belt and Road Initiative when he visits India, which opposes the BRI, in March. India's objections to the BRI are rooted in the claim that the project violates its territorial integrity as it cuts through land claimed by India in Kashmir and that China's agenda with regard to the project is unclear, and could be about enhancing its political influence rather than physical connectivity.
In India, Macron will instead echo the concerns shared by a number of his European counterparts, such as Prime Minister of the United Kingdom Theresa May and German Chancellor Angela Merkel, and expand his call for greater cooperation between France and India in the Indian Ocean. In doing so, Macron will set the tone for a broader balancing act by European leaders between India and China vis-à-vis the BRI.
Macron's Optimism in China
From the start of his visit to China, Macron adopted a much more optimistic tone on the Belt and Road Initiative. France had, earlier, expressed caution over the project's lack of transparency, as well as social and environmental sustainability standards. However, Macron's decision to visit Xi'an, rather than Beijing, as his first destination while in China underscored this shift in tone. Charlotte Gao noted in this publication that, given Xi'an's historical role as the capital for multiple prosperous Chinese dynasties and as the eastern end of the ancient Silk Road, "Macron's decision to start his trip in China from Xi'an is actually a very smart move. It both demonstrated his appreciation for Chinese culture and sent a message to Xi that France is ready to fully embrace the BRI."
Macron further expanded on this support for the BRI in an interview with China.org.cn, where he said "The Belt and Road Initiative, launched by President Xi Jinping, is very important… I think it's very important that Europe and China strengthen their collaboration on the initiative. France is ready to play a leading role in this."
Such a desire for greater openness and engagement with China, including on the BRI, is driven by two key factors. First, France has a €30 billion ($36 billion) trade deficit with China, the largest with any of France's trade partners. Deals announced by Presidents Macron and Xi during the visit, such as trade agreements in areas including aviation, agriculture, and nuclear energy, and the repeal of a Chinese embargo on French beef underscored the role of improved diplomatic and trade relations with China in reducing the deficit.
Second, Macron is trying to position himself as the leader speaking on behalf of Europe, according to Philippe Le Corre, a senior fellow at Harvard's Kennedy School. Macron has already benefited from relatively political stability compared to Britain's May, who faces difficulties in negotiations over Brexit, and Germany's Merkel, who struggles to form a government coalition. An "assert[ion] [of] himself as the privileged interlocutor of China in the European Union," would strengthen his claim as a leader of Europe.
A Balancing Act in India
However, as Macron heads to India in March, he will likely temper his views on the BRI in order to balance the relationship with India, which has staunchly opposed the Chinese initiative. To that end, Macron will not only adopt a more cautious tone, but also highlight India's growing role in the Indian Ocean.
Indeed, France and India have recently signed a defense logistics agreement, granting India access to French military bases in the Indian Ocean, where India and China have increasingly engaged in a contest for influence. While in India, Macron will likely push further on such cooperation, and is expected to advocate for the establishment of "a dialogue mechanism for greater security and strategic cooperation in the Indian Ocean Region."
Such a balancing act echoes the sentiments of other major European powers. During May's own visit to China, the U.K. did not sign a memorandum of understanding officially endorsing the BRI. The U.K. prime minister reportedly expressed concerns over a lack of transparency and adherence to international standards. Similarly, Indian media reported that Germany had endorsed India's position on the BRI, quoting the German Ambassador to India Martin Ney as saying the initiative "is very different from the ancient Silk Road. It's not about free trade, it's a trade enhancing measure by China."
As Europe decides whether to view China's Belt and Road Initiative as an opportunity or a threat, it is crucial that Europe's leaders ensure good ties with both India and China as the political and economic heft of the two nations continue to grow. However, India's opposition to the BRI and growing competition between India and China in the Indian Ocean means that European leaders will have to maneuver and address the concerns of both countries. As he heads to India, Macron is likely to set the tone for such a balancing act.
Aman Thakker is an analyst with Protagonist (formerly Monitor 360) and a graduate of the George Washington University's Elliott School of International Affairs. He writes about Indian foreign and domestic policy.