Nepal and India: Mending Fences
Sushma Swaraj's surprise visit to Nepal sends a positive signal despite past tensions with Nepal's new prime minister.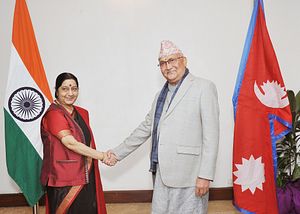 With Indian Minister for External Affair Sushma Swaraj's sudden visit to Kathmandu on Februray 1-2, there are signs of a rapprochement between Nepal's newly elected Left Alliance and New Delhi.
For the Communist Party of Nepal (Unifed Marxist-Leninist) (CPN-UML) leader (and presumptive prime minister in the new coalition government) K.P. Oli, a friendly relationship with India is must. Two-thirds of Nepal's trade is with India; the country is heavily dependent on its larger neighbor to meet its everyday needs. For India, it is necessary to build cordial relation with the new government in Nepal to minimize growing Chinese influence in Nepal and protect its interest.
Swaraj's visit was first step toward rapprochement. As the first high-level foreign guest to visit Nepal after the successful conclusion of three levels of elections — local, provincial, and federal — Swaraj traveled to Kathmandu to formally congratulate the Left Alliance for its impressive victory in the national parliament polls.
Soon after Swaraj landed in Kathmandu on the afternoon of February 1, she and Oli held a one-on-one meeting to share their respective concerns about bilateral relations. Swaraj conveyed a message dispatched by Indian Prime Minister Narendra Modi to Oli. According to CPN-UML leaders, Swaraj assured Oli that India is ready to support and work with the new government in Kathmandu. Oli, whose relationship with India hit a low point during his previous tenure as prime minister in 2015, conveyed the message to New Delhi that he is ready to maintain cordial relations.
Swaraj also held a one-on-one meeting with Communist Party of Nepal (Maoist Center) Chairman Pushpa Kamal Dahal (commonly known as Prachanda), who will serve as coalition partner with the CPN-UML-led government. She assured Indian support for the new government.
Swaraj's visit took place at a time when there are reports that New Delhi is upset over the Left Alliance's victory. There are fears in India that the new government in Kathmandu will be instrumental for China to further increase its influence in Nepal.
Indian political leadership seems to have realized that engagement with Oli and the Left Alliance is a must to secure its interest in Nepal — simply because the Left Alliance is not going anywhere in the near future. After two rounds of telephone conversations with Oli, Modi decided to send Swaraj to Kathmandu with a message that New Delhi respects the verdict of Nepali people, and is willing to work closely with the new government. As the largest democracy in the world, India might have decided that it should welcome the successful democratic exercise in Nepal by sending a high-level dignitary.
Amid speculations that the Left Alliance government led by Oli will tilt toward China, Oli tried to assure New Delhi that his new government will maintain cordial relations with India and addresses its genuine security concerns. Sending a letter to Modi on India's Republic Day, Oli assured Modi that he is keen to work with his Indian counterpart on bilateral issues. "As one of the recently elected people's representatives and leader of largest party in federal parliament, I am eager to work with Excellency and your government for the better of our two countries [all sic]," Oli said in his letter to Modi.
India-Nepal relations hit a new low in 2015, under Oli's government, when India voiced concerns over Nepal's then-newly promulgated constitution and instituted an unofficial blockade that prevented crucial supplies from entering the country. Oli, who was then leading the government, vehemently criticized the blockade and there was huge support in Nepal for his stance. Oli also signed a trade and transit agreement with China with the goal of ending India's monopoly over Nepal's supply of daily essentials. After this, the Indian establishment always blamed Oli for playing the "China card" and creating anti-Indian sentiments in Nepal.
Now, some Left Alliance leaders are publicly saying that India is trying to split the political alliance and prevent Oli from becoming prime minister. These leaders believe that India is pushing Maoist chairman Prachanda as the new prime minister. Prachanda has also publicly confessed that the Nepali Congress, which received the second-most seats in the federal parliament, is offering him the prime ministerial position if he agrees to break the alliance with CPN-UML.
By sending its foreign minister to Nepal, India also provided a symbolic message to China that despite the victory of the Left Alliance, New Delhi still enjoys cordial relation with Nepal. After the federal elections, Beijing was upbeat, believing that the results would be helpful to advance its influence in Nepal.
After the election, Modi called Oli two times with a message that New Delhi is keen to work with Nepal's future government. The Indian prime minister also stated that he is eager to welcome Oli in New Delhi. Oli is expected to visit India first — before China — after becoming prime minister.
Oli is expecting Modi to visit Nepal even before he visits India as prime minster. In their telephone conversation, Oli invited Modi on a pilgrimage tour of religious sites Janakpur, Muktinath, and Lumbini in Nepal. In 2014, during his last visit to Nepal, Modi had expressed an interest in visiting those places but the tour was abruptly canceled at the eleventh hour without explanation. Many took this as a turning point in Nepal-India relations; the relationship began to deteriorate from that point.
With Swaraj's visit, there are renewed hopes of establishing a relationship at the top political level. In his telephone conversation with Modi, Oli expressed a desire to engage with political leadership on bilateral issues, with a view that engagement only at the bureaucratic level would not bear fruit. That is why India sent its foreign minister as a special envoy to Nepal instead of the foreign secretary or other top officials.
Swaraj's trip signals that both sides have realized their past mistakes and are ready to build cordial relations. Despite this, India's desire to minimize Chinese influence in Nepal after the formation of the Left Alliance is unlikely to be fulfilled because Oli seems determined to implement past agreements signed with China and sign new projects under the Belt and Road Initiative.
Kamal Dev Bhattarai is Kathmandu-based writer and journalist.