The Limits of Nepal's China Outreach
Nepal and China finalized the protocol of their Transit and Transport deal. What will that mean in practice?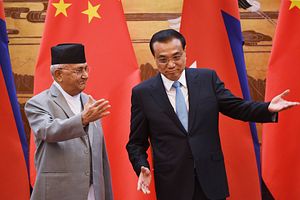 Two years after signing their historic Transit and Transport Agreement, Nepal and China have finalized the much-awaited protocol of the treaty, paving the way for Nepal to use Chinese ports for trade.
In March 2016, when Nepal was recovering from 2015's double-whammy of a major earthquake and the blockade at the Indian border, the Nepal government, then (and now again) under the leadership of K.P. Sharma Oli, signed the agreement ending India's complete monopoly over Nepal's supply system. The treaty was signed with the knowledge that overdependence on one country could invite problems for a landlocked country like Nepal. Therefore, the thinking went, Kathmandu must diversity its trade and transit options with other countries — mainly with China, its other neighbor.
"There has been agreement between Nepal and China about the transit protocol. Now, we could use sufficient border points and roads to get connected with a third country. It is a matter of immense happiness for us," Prime Minister K.P. Oli said in a Twitter post on September 8.
Two days of meetings of senior officials of Nepal and China settled the contentious issues this week. In the next step, the protocol will be exchanged at the top political level between two countries. As per the agreement, Nepal can use four Chinese ports — Tianjin, Shenzhen, Lianyungang, and Zhanjiang —  according to a statement issued by Nepal government. Similarly, Chinese side has agreed to allow Nepal to use three dry ports located at Lanzhou, Lhasa, and Xigatse.
Despite the celebration concerning the agreement on the protocol for the transport and transit agreement, Chinese ports are not feasible for Nepal to use in terms of cost and distance. There is a reason two-thirds of Nepal's trade is with India: geographical proximity and a well-connected border. Even with this agreement in place, overcoming those Indian advantages will be a steep climb for China.
The oldest trading point with China, Tatopani border point, has remained closed since 2015, despite being the major trade crossing before then. The Rasuwagadi-Kerung is the only major trade point currently open between two countries, but due to a lack of proper road infrastructure, this crossing is not regularly used. It is mainly open in the summer season. In the last couple of years, Nepal has expedited the task of widening the road toward Rasuwagadi-Kerung. There are some other border points, but two-thirds of China-Nepal trade remains dependent on the Rasuwagadi-Kerung border crossing – and thus overall trade remains very low.
The Chinese government closed the Tatopani border soon after the April 2015 earthquake, citing anti-Chinese activities in bordering areas. There have been several rounds of talks between two countries about reopening the border at that location, but there has not been any agreement. The Chinese government has reportedly proposed joint security mechanisms in order to address issues related to security. Nepal and China are also mulling over the opening of new border points, and Nepali officials say China has agreed to do so in principle.
Even if more border crossings are opened, the question of distance remains. The Chinese ports that Nepal is going to use are over 3,000 kilometers away from the Nepal-China border. Currently, Nepal is using Kolkata and Vishakhapatnam ports for trade with third countries. Kolkata is 742 km away from the Nepal-India border, while Vishakhapatnam is around 1,400 km from the border.
Under normal conditions, then, Nepali businesspeople will prefer Indian ports – but even in emergency time like in 2015, it's likely that Nepal would continue to use Indian ports. Officials, however, have said that trade with East Asian countries such as South Korea and Japan could carried out via Chinese ports. The agreement with China is expected to be fruitful in 10 to 15 years — after Nepal is well-connected with China through rail and road.
Oli is thus under pressure to enhance connectivity with China in order to decrease Nepal's overdependence on India. Officials of both Nepal and China are working on railway connectivity after an in-principle agreement during Oli's China visit this year.
A joint team has conducted a pre-feasibility study for the Kathmandu-Kerung railway line, linking the Nepali capital to the border. The preliminary report by a Chinese company concluded that "complicated geological terrain and laborious engineering workload will become the most significant obstacles to building a cross-border railway line linking the Chinese border town of Kerung with Kathmandu," according to an exclusive report published by The Kathmandu Post on August 16.
The Post adds: "The [prefeasibility] report, which was obtained exclusively by the Post, said the railway line, which has to pass through the rugged Himalayan high mountains, would involve orchestrating complex construction plans, raising questions about whether the most hyped infrastructure project in Nepal will see to its end."
Chinese officials have assured that the railway line will be made possible through the invention of new technology.
Officials say it will take two years to prepare Detail Project Reports (DPR) for the project. If everything goes as planned, it will take 11 years to complete the railway line after the DPR and investment modality is concluded.
Funding is also a potential snag. Nepal is requesting that China build the railway line as a grant, but China is offering soft loans. So far the two sides have not been able to agree on how the funding from China will be provided. Funding questions are also a major reason why there has been no agreement to date about specific projects in Nepal under the Belt and Road Initiative. Nepal signed a Belt and Road framework agreement with China in May last year, but Nepal is hesitant to choose projects, fearing  debt trap.
As in other areas, Oli is making efforts to balance infrastructure projects between China and India. When Indian Prime Minister Narendra Modi was in Nepal from August 30-31 to participate in the fourth BIMSTEC Summit, Nepal and India signed a deal on the construction of the Raxual-Kathmandu railway line. According to the Memorandum of Understanding (MoU), India will carry out a preparatory survey within a year.
"On April 7, 2018, the two Governments had issued a joint statement on expanding rail linkages, agreeing to construct a new electrified rail line, with India's financial support, connecting the border city of Raxaul in India to Kathmandu in Nepal. As a first step, it was agreed that the Government of India, in consultation with the Government of Nepal, would carry out preparatory survey work within one year, and the two sides would finalize the implementation and funding modalities of the project based on the Detailed Project Report," the Indian Embassy in Kathmandu said in a statement.
The railway diplomacy is part of Oli's effort to enhance relations with China while keeping cordial relations with India. Foreign policy analysts are keenly watching to see if he can succeed.
Kamal Dev Bhattarai is a Kathmandu-based writer and journalist.