Nepal Has a New Prime Minister. Now Comes the Hard Part.
Will the second time be the charm for K.P. Sharma Oli?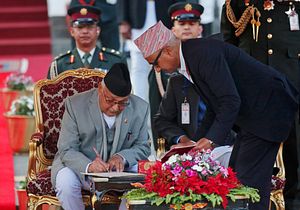 K.P. Sharma Oli has been officially made Nepal's new prime minister, bringing a prolonged and often-painful political transition to an end. Oli, a veteran communist leader, was sworn in as the 41th prime minister of Nepal on February 15, two months after the completion of elections. The formation of a new government was delayed due to the need to hold elections for the National Assembly, the upper house in Nepal's bicameral parliament.
Oli's appointment is expected to set off a journey of peace, stability, and economic development in the Himalayan nation.
Oli, a 65-year-old communist leader who spent 14 years in jail during the Panchayat era for his advocacy for democracy, was elected as chairman of CPN-UML in 2014. In 2015, soon after Nepal's Constituent Assembly promulgated the country's new constitution, Oli became prime minister for 10 months, but was displaced when his governing coalition dissolved.
In this second stint, however, Oli is regarded as the most powerful prime minister in Nepal's recent history as the Left Alliance, dominated by Oli's Communist Party of Nepal (Unified Marxist-Leninist) and the Communist Party of Nepal (Maoist Center), is going to dominate all the country's power centers. The Maoists, led by Pushpa Kamal Dahal (or Prachanda) has supported the formation of the Oli-led government. In addition to holding the posts of president, vice president, prime minister, speaker and deputy speaker, the Left Alliance also controls both houses of parliament – the House of Representatives and National Assembly – as well as the provincial governments in six out of Nepal's seven provinces.
The CPN-UML secured 121 seats in the 275-member House of Representatives; the Nepali Congress (the main opposition to the Left Alliance) won 63 and the Maoists 53. Two Madhes-based parties, the Rastriya Janata Party-Nepal and Sanghiya Samakbadi Forum hold 17 and 16 seats, respectvely.
The Left Alliance has also formed provincial governments in all but one of Nepal's provinces. In Province No. 2 (all Nepal's provinces currently have provisional numbers instead of names), two Madhes-based parties RJP-N and Sanghiya Samajbadi Forum SSF formed a coalition government.
The parliamentary elections, held late last year, served a humiliating defeat to the Nepali Congress (NC), which had won more seats than any other party in the 2013 elections.
Efforts are currently underway to cement the Left Alliance by merging the CPN-UML and the Maoists. Both Oli and Prachanda have in principle agreed to rotate leadership of both the unified party and the government.
Oli, who has built an image as "a man of his word," has a host of challenges to overcome as the new prime minister of Nepal. With the recent elections signaling the end of the political transition that began in 2006, Oli's main challenge is fulfilling the people's quest for peace, stability, and development. Fed up with chronic political instability, people are expecting economic development and stability thanks to the new Left Alliance's massive majority. One reason the coalition was able to secure nearly a two-thirds majority was their slogan of prosperity and development.
The first challenge for new Oli government is to manage the newly created seven provinces under the federal set up. Due to a lack of budget and resources, these provinces will have to depend on the central government for general expenditures and other development projects. And it's not only the provincial governments; 753 local bodies are also facing budgetary problems. As internal resources are insufficient, the Oli government will have to garner international support to manage both the provincial and local governments. Oli, who has often been accused of being not committed to federalism, now shoulders the daunting task of managing Nepal's fledging federal structures.
One lingering challenge in that regard will be the ongoing demands of Madhes-based parties to amend the 2015 constitution in order to increase their voice in the federal system. India threw its support behind these calls, although it has now backed away from opening calling for constitutional changes. Oli and the CPN- UML, however, have rejected the possibility of any constitutional amendment in the near future.
Another challenge for the Oli-led government will be meeting the high expectations of the people. With a stable government, the first Nepal has enjoyed in over a decade, there are hopes that more jobs will be created, new industries will be set up, and infrastructure — such as roads, airports, and hydropower projects — will be built. On daily basis, 1,500 youths go abroad to find work, which demonstrates the scale of unemployment that country is facing. As youths are flying abroad, there are other spillover effects; fertile agriculture land in villages is turning barren, resulting in low agricultural productivity. To meet the aspirations of the people, the Left Alliance government will have to bring more foreign investment to the country along with building a skilled and trained workforce.
The Oli government is preparing to focus broadly on four areas: agriculture, energy, tourism, and infrastructure development. In the field of agriculture, the new government plans to ensure land is efficiently utilized. To help eliminate Nepal's recurring blackouts, priority will be given to alternative energy sources. In terms of boosting tourism, the Left Alliance has announced its goal to bring 5 million tourists to Nepal annually in the next 10 years. Finally, the new government plans to construct and upgrade highways and build railways. If those policies are implemented, Left Alliance leaders hope that their efforts will greatly help ease unemployment.
There are other challenges too; providing justice to war-era victims is one of the most prominent. The Truth and Reconciliation Commission has received 60,000 complaints from conflict victims but they have not been settled.
Formulating a sound, effective, and balanced foreign policy is another major challenge. Oli needs to maintain balanced and cordial relations with both neighbors, India and China, which is an uphill battle. Meanwhile, to bring more investment and increase development cooperation, Oli will have to reach out to Western and European countries along with other Asian countries like Japan and Australia, which are major development partners of Nepal.
Oli has already taken some steps to improve ties with India, which soured during his first stint as prime minister. In 2015, during the campaign, Oli promised to increase ties with China and reduce dependence on India, a theme that took on even more importance after an unofficial blockade stopped daily necessities from entering Nepal from India.
In response, Oli signed a trade and transit agreement with China, ending India's monopoly over the supply system. Similarly, Oli reiterated his commitment to link Nepal with China by rail. Nepal has already signed on to China's Belt and Road Initiative (BRI) and Oli has promised to select BRI projects without any delay. However, so far, there has been very little progress on the implementation of those agreements.
There is a domestic pressure on Oli to speed up the projects signed with China; there is also pressure from India not to tilt toward China. Observers are keenly watching the Oli government's foreign policy to see how he will respond to these competing influences.
Kamal Dev Bhattarai is Kathmandu-based writer and journalist.