Police in India Punish Muslim Victims in 'Mob Lynching' Case
After a deadly 2017 case of cow vigilantism, the victims are the ones being charged.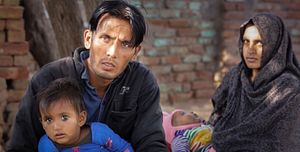 Police in the north Indian state of Rajasthan appear to be harassing two dairy farmers who survived an infamous mob lynching incident that killed their associate Pehlu Khan last year. According to the victims' lawyer, police jumped to conclusions in charging the survivors with cow smuggling to punish them for pressing charges against their attackers.
"The charges (in the cow smuggling case) have been framed to intimidate them," said advocate Kasim Khan, who is representing the survivors, Azmat Khan and Rafeeq Khan.
Tho two were brutally beaten up by cow vigilantes in Alwar district in April 2017. Police charged the victims on January 24 under the Rajasthan Bovine Animal (Protection of Slaughter and Regulation of Temporary Migration or Export) Act of 1995. Many Hindus consider cows sacred.
The charge sheet states that they violated Section 5(1) of the Act, which bans export of cows to another state "for the purposes of slaughter." Police claim that Pehlu Khan and his companions didn't have the required permission to transport cows from Rajasthan state to Haryana state, where they live.
Azmat and Rafeeq bought milking cows from the Jaipur Municipal Corporation with official receipts, each milking cow costing more than Rs. 30,000, or roughly $470. They submitted the receipts, along with some affidavits, to police, but those documents were not included in the charge sheet, according to Kasim Khan. He also pointed out that the lynching incident took place within Rajasthan, and yet his clients have been charged for transporting cows outside the state.
The lawyer asked: Who would buy expensive milking cows, along with their calves, for slaughtering?
Investigating Officer Harun Khan of the Behror police station in Alwar refused to respond to the question. "SHO (police inspector or station house officer) sahib can answer these questions, not me," he said.
The inspector, Mahaveer Singh, didn't want to respond either. "Speak to the Superintendent of Police, Alwar," he said.
Alwar SP Rahul Prakash said he had not seen the charge sheet, but argued that the statements and affidavits submitted by Azmat and Rafeeq were excluded from the charge sheet because "they are accused in this matter."
He added that since the accused live in Haryana, they were exporting the cows from Rajasthan, but failed to mention that the law is not against transporting of cows in general, only if it is done for the purpose of slaughtering.
The police seem aggressive in framing the lynching survivors but passive in bringing the accused in the lynching case to justice, Kasim Khan argued.
Before his death from injuries, Pehlu Khan was able to name six men who attacked him and the other dairy farmers, all of whom were Muslim. However, police claimed they did not find any evidence against the six, and charged a few others in that case. According to the first information report (FIR), the six men belonged to the right-wing groups Vishwa Hindu Parishad and Bajrang Dal, which are linked to India's governing Bharatiya Janata Party (BJP). Rajasthan state is also governed by the BJP.
At the time, The Wire quoted Pankaj Singh, the additional director general of police (crime), as saying that there was no evidence, "be it photographic evidence or locational evidence for these six people to be there but from the photographs we found that there were two other people who were definitely present and their presence is corroborated by others also." Singh added, "We are recommending these two people apart from the seven people who are already chargesheeted but regarding the six people named in the FIR by Pehlu Khan, we didn't find any evidence."
Azmat, 28, suffered a severe spinal cord injury in the beating, and doctors have told him not to lift anything heavy for the rest of his life. He remains fearful, refusing to leave his home without his friends.
Nearly 30 Muslims have been lynched in India over suspicions of cow slaughter, possession and consumption of beef, since 2015. More than 80 percent of India's population is Hindu. While the majority of India's population is known to be tolerant, the incidence of violence toward members of minority communities is high due to what media often describe as "fringe right-wing" groups.
Avinash Giri is a freelance journalist.