Russia's Pacific Fleet to Upgrade 4 Nuclear Subs With Supersonic Cruise Missiles By 2021
Four nuclear-powered subs are expected to be upgraded with new weapons systems by 2021.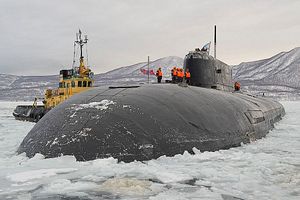 Russia's Pacific Fleet is slated to receive four Project 949A Oscar II-class nuclear-powered guided missile submarines (SSGN) upgraded with 3M-54 Kalibr cruise missiles by 2021, Russian Deputy Defense Minister Yuri Borisov said on February 6.
"We have discussed this issue today and we believe that the year 2021 is a realistic term," Borisov told journalists while visiting the Zvezda Shipyard, owned by the United Shipbuilding Corporation, in the Russian Far East, TASS news agency reports. The deputy defense minister did not reveal additional details.
Nevertheless, it appears to be unlikely that all four Project 949A subs will be ready for service by 2021.
As of 2017, only two subs of the class—the Irkutsk and the Chelyabinsk—are being retrofitted at the Zvezda shipyard and the upgrade program has already encounter multiple delays. In 2015, the Russian Ministry of Defense announced that it will retrofit its entire operational fleet of eight Project 949A SSGNs for an estimated $180 million per boat.
Last year, Borisov said that overall up to four SSGNs could be modernized, which, next to new weapons systems includes upgrades of the subs' navigation and support systems. "This work is under the current state program (…)," he said in March 2017. "The Irkutsk submarine is modernized now, and it is due in 2021, now we consider modernization of another three submarines under the future state program for 2018-2025."
The status of a third submarine of the class, the Oryol, which caught fire during maintenance work 2015, remains unclear. Russia's State Armament Program for 2018-2027 now foresees the upgrade of six Project 949A SSGNs over the next nine years. The upgrades are expected to extend the service life of the subs by 15-20 years. Around 40 to 60 percent of Russia's submarine force is estimated not to be operational.
As I reported in March 2017:
Project 949A subs, built between 1985 and 1999, are primarily designed to attack U.S. carrier strike groups and coastal targets in the event of a conflict. They are the largest cruise missile subs currently in service in Russia. The Russian Navy is currently operating two Project 949A subs in its Northern Fleet and five with the Pacific Fleet.

Displacing around 24,000 tons (submerged), Project 949A subs can carry up to 24 P-700 Granit (NATO designation: SS-19 Shipwreck) anti-ship cruise missiles.
The SSGNs new primary weapon system, the 3M-54 Kalibr, is a stand-off supersonic anti-ship cruise missile with an estimated range of 270 to 410 miles. The subs could also be fitted "with a land-attack version of the weapon system, dubbed Kalibr 3M14T and 3M14K (NATO designation: SS-N-30A), with a substantially larger range estimated between 1,000 and 1,500 miles," I explained elsewhere.