World's Largest Anti-Submarine Robot Ship Joins US Navy
A prototype of the autonomous unmanned sub-hunting vessel was handed over to the U.S. Navy in January.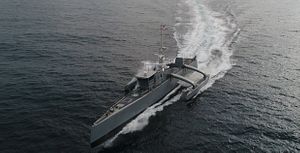 The U.S. Defense Advanced Research Projects Agency (DARPA)– an organization responsible for developing emerging technologies for the U.S. military's use— has handed over the first prototype of an autonomous sub-hunting surface ship, christened Sea Hunter, to the Office of Naval Research (ONR) on January 30 for further testing.
This marks the end of DARPA's so-called Anti-Submarine Warfare Continuous Trail Unmanned Vessel (ACTUV) program. "ONR will continue developing the revolutionary prototype vehicle—the first of what could ultimately become an entirely new class of ocean-going vessel able to traverse thousands of kilometers over open seas for months at a time, without a single crew member aboard—as the Medium Displacement Unmanned Surface Vehicle (MDUSV)," according to a January 30 DARPA press release.
Capable of reaching top speeds of up 27 knots, the 132-feet (40 meters) long and 140-ton heavy unmanned autonomous MDSUV trimaran prototype is designed to operate autonomously for 60 to 90 days straight, surveil large stretches of ocean territory and — should an enemy submarine be detected — guide U.S. Navy warships or aircraft to the subs location to destroy it (the Sea Hunter does not carry any weapons systems).
The robot ship reportedly uses a fifth-generation medium-frequency hull-mounted sonar system to conduct active and passive sonar searches. DARPA has also been working on developing non-conventional sensor technologies to enable the correct identification of surface ships and other objects while at sea.
The ACTUV allegedly has already successfully tracked a submarine from one kilometer (0.62 miles) away. DARPA is also working on developing non-conventional sensor technologies to facilitate the correct identification of surface ships and other objects while at sea.
DARPA initiated the ACTUV program in 2010. In 2014, DARPA joined force with ONR to jointly fund a test phase for the ACTUV prototype. The ship was christened in April 2016 and has been undergoing open-water trials, which included testing the prototypes long-range tracking capabilities, for the past 20 months. In August 2017, the Sea Hunter also conducted at-sea tests with a mine countermeasures payload.
"ACTUV's move from DARPA to ONR marks a significant milestone in developing large-scale USV technology and autonomy capabilities," said Alexander Walan, a program manager in DARPA's Tactical Technology Office (TTO). "Our collaboration with ONR has brought closer to reality a future fleet in which both manned warships and capable large unmanned vessels complement each other to accomplish diverse, evolving missions."
The ACTUV is part of the  Pentagon's so-called Third Offset strategy devised to maintain U.S. military superiority over possible future adversaries such as China and Russia in a cost effective way. For example, the Sea Hunter will approximately cost $15,000 to $20,000 per day to operate, whereas the average costs of operating a guided-missile destroyer with anti-submarine warfare capabilities are around $700,000 per day. Consequently, the U.S. Navy could field dozens of sub-hunting robot ships at the fraction of the cost of existing anti-submarine warfare assets currently in service.
"ACTUV represents a new vision of naval surface warfare that trades small numbers of very capable, high-value assets for large numbers of commoditized, simpler platforms that are more capable in the aggregate," said Fred Kennedy, TTO director. "The U.S. military has talked about the strategic importance of replacing 'king' and 'queen' pieces on the maritime chessboard with lots of 'pawns,' and ACTUV is a first step toward doing exactly that."
The Sea Hunter could be handed over to the U.S. Navy for operational testing by the end of 2018.