Approaching North Korea Negotiations with Guarded and Cautious Optimism
Both President Moon and President Trump have an opportunity but need to keep in mind the Kim regime's dismal negotiations history.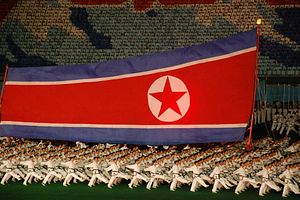 There appears to be sustainable momentum driving North Korean diplomacy in recent months. Kim Jong-un's summit invitation to President Moon Jae-in is surprising, but developments seem to break new ground with each turn. If the summit between Kim and U.S. President Donald Trump takes place, it would be the first between a sitting U.S. president and a North Korean supreme leader. Additionally, analysts who predicted that the Kim regime under Kim would continue to shun high-level diplomatic contact with Beijing have been proven wrong with Kim's visit to Beijing to meet Xi in late March 2018.
However, even as Pyongyang seems willing to negotiate the DPRK's denuclearization and the easing of inter-Korean tensions, Seoul and Washington should be prepared to drive a hard bargain and win irreversible concessions from Pyongyang. Inasmuch as the North has frequently backpedaled on its earlier denuclearization pledges and expressions of pacific intent towards South Korea, Kim Jong-un must not be allowed to renege on any commitments that might be inked with Moon or with Trump subsequently.
Guarding Against the "Halo Effect" in Negotiations with Pyongyang
According to the field of psychology, the halo effect is a judgement bias which allows specific positive traits to influence the overall assessment of an individual. When applied to nations, this could mean that the behavior of a state is not holistically judged, with only certain national traits or policy actions influencing international perceptions of the aforementioned state.
Concerning North Korea, since Pyongyang has exhibited so much destabilizing and hostile behavior in the past against South Korea and the international community – comprising, among other things, covert military adventurism, state sponsored terrorism, UNSC prohibited long range missile tests and six nuclear detonations to date – some would eagerly welcome any contrasting positive behavior from the Kim regime. However, since it is well documented that North Korea has broken all earlier denuclearization agreements, and has repeatedly initiated violent provocations against South Korea even after two previous ROK-DPRK summit meetings, cautious preservation of maximum economic, diplomatic, and military pressure is prudent.
A Suggested Negotiation Stance for Seoul
Knowing the Kim dynasty's dismal agreement fulfillment track record, it is proposed that Moon and his advisers adopt a guarded and cautiously optimistic approach during the ROK-DPRK summit. As it is common knowledge that the North Korean economy remains backward and poor, and that Kim highly prizes regime security, a successful summit strategy should exploit these considerations.
To start with, humanitarian food aid from South Korea distributed via the United Nations World Food Program, along with a promise to discourage delivery of leaflets, money, and contraband entertainment media via helium balloons by anti-Kim regime groups in South Korea, could be offered. These token measures address economic concerns because Pyongyang would not have to import food, bearing in mind the perennial inability to feed North Koreans adequately from domestic agriculture. As for the disruption in the flow of what the North considers anti-regime contraband, this reinforces regime security. In return, the Moon administration could demand that the DPRK commit to a policy of military non-aggression in all areas and means including electronic and cyber warfare.
Additionally, Seoul could firmly request that Pyongyang display a concrete show of faith communicating sincerity towards denuclearization before the latter's summit with Washington. Since the North has already halted all activities at the Punggye-ri nuclear test site in recent days, another demonstration of sincerity like shutting down the Yongbyon nuclear reactor should not be difficult.
Furthermore, Moon could end the summit on a positive note by encouraging Kim to earnestly negotiate with Trump in good faith, with subtle messages communicated to Kim that irreversible progress on denuclearization will bring substantial rewards like the reopening of the Kaesong industrial park and the easing of economic sanctions. In this regard, Seoul not only serves South Korean national interests in trying to preserve stability on the Korean peninsula, but also exhibits diplomatic influence by facilitating U.S.-DPRK denuclearization diplomacy.
The Upcoming Trump-Kim Summit: Hard Bargaining Ahead
Lastly, if and when the Trump-Kim summit takes place, Trump needs to be gently reminded that North Korean denuclearization would most likely not be solved within one meeting. Pyongyang has been seeking nuclear arms since the late 1950s and is certain to demand a very high price for nuclear abnegation.
Given this, Trump would be advised to seek the best opening deal possible, which would be the DPRK's admission of what it possesses in terms of weapons grade plutonium and uranium to manufacture nuclear bomb cores, tritium stocks for hydrogen bomb making, completed nuclear or thermonuclear warheads, and a full inventory of nuclear capable missiles possessed. This will enable the United States to conclusively negotiate for complete denuclearization in subsequent meetings without Kim hiding nuclear arms and for the former to determine reasonable compensation during negotiations. Moreover, the North's nuclear and missile holdings must be certified by the IAEA and the UN to preclude subterfuge by Pyongyang.  
In return for this significant concession, Washington can offer suspension of U.S.-ROK military exercises as long as negotiations last, food aid distributed by the UN, and even a provisional non-aggression assurance contingent on North Korea's good behavior. In closing, this initial quid pro quo is realizable as the Kim regime does not have to surrender anything concrete and this would be affordable for the United States.
Liang Tuang Nah, PhD is a Research Fellow at the Institute of Defense and Strategic Studies, a constituent unit of the S. Rajaratnam School of International Studies (RSIS), Nanyang Technological University.