Chief Engineer of China's Alleged Stealth Fighter Vows New Capabilities For Aircraft
In an exclusive interview with Chinese state-run media, the J-20's chief engineer pledged new capabilities for the aircraft.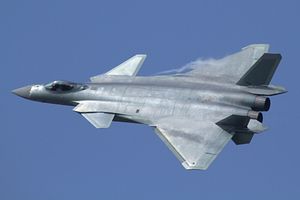 The People's Liberation Army Air Force's (PLAAF) purported first fifth-generation stealth fighter aircraft, the Chengdu Aerospace Corporation (CAC) J-20A multirole fighter, will be modernized to gain new capabilities the aircraft's chief engineer, Yang Wei, said in an  exclusive interview with the state-run China Daily newspaper this week.
"We are not complacent about what we have achieved. We will develop the J-20 into a large family and keep strengthening its information-processing and intelligent capacities. At the same time, we will think about our next-generation combat plane to meet the nation's future requirements," Yang said in the March 13 interview held on the sidelines of the 13th National People's Congress.
"In the past, we had to follow others' paths when it came to designing military aircraft because our research and development capabilities were primitive in this regard, but now we have become capable of designing and making what we want to have," he added. Yang did not offer details on the future new variants of the J-20A.
The J-20A is a twin-engine, single-seat fifth-generation (designated fourth-generation in the PLAAF) stealth fighter jet, designed and built by CAC. The stealth fighter, which had its maiden flight in January 2011, is designed for long-range fighter missions.
"Of course, it will be tasked with penetrating air defense networks, but that will not be its only mission. It definitely has multiple functions. How we will use it depends on its production and deployment scale," Yang said.
There is considerable doubt whether the J-20A qualifies as a fifth-generation fighter aircraft. Among other things, it lacks an an indigenously developed and designed next-generation high performance turbofan jet engine and continues to rely on older Russian-made models lacking, among other things, thrust vectoring. As I reported in October 2017:
The domestically developed WS-15 turbofan engine, a thrust engine under development since the 1990s, has not entered serial production. It is assumed that the first patch of J-20s is equipped with an unknown variant of the Saturn AL-31, an older Russian-made jet engine. According to some sources, the J-20 is still purportedly incapable of super cruising — sustained supersonic flight [without using afterburners].
According to other reports, the aircraft's avionics are also not up to fifth-generation standards, next to a host of other technical issues including problems with the J-20As stealth coating. Despite the aircraft's shortcomings, it was rushed into service in 2017 and also entered serial production before J-20 has officially reached full operational capability.
In the interview Yang also noted that the Aviation Industry Corporation of China, of which CAC is a subsidiary of, is additionally working on another fifth-generation aircraft, the FC-31.