China Sends Envoy to Talk Trade as Trump Mulls Tariffs
Amid reports of imminent U.S. trade action against China, Liu He arrives to talk with U.S. officials.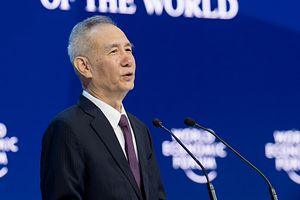 Chinese President Xi Jinping's top economic adviser is in Washington, DC this week for discussions with U.S. trade and economic officials. Liu He, who directs the Office of the Central Leading Group for Financial and Economic Affairs, will be meeting with U.S. Trade Representative Robert Lighthizer, Treasury Secretary Steven Mnuchin, and Gary Cohn, chief economic adviser to U.S. President Donald Trump, between February 27 and March 3.
Liu's visit comes amid reports that the Trump administration is poised to take serious action against what it alleges are unfair Chinese trade practices. In particular, Trump is currently considering what action to take after the U.S. Commerce Department concluded in February that steel and aluminum imports "threaten to impair the national security" of the United States. Bloomberg reports that Trump favors imposing a blanket 24 percent tariff on all steel imports (one possible measure mentioned in the Commerce Department report) as well as a 10 percent on aluminum imports.
A source told Bloomberg that Trump was considering making the steel announcement "days before" a tightly contested special election in Pennsylvania. With the election set for March 13, if the timeline is correct it would mean China has less than two weeks to try and forestall the tariffs.
Meanwhile, Trump is also mulling taking action against China for alleged intellectual property theft. Axios' Jonathan Swan reported that the White House is preparing to place Section 301 sanctions on "potentially hundreds" of Chinese products in retaliation for IP theft. Trump himself told Reuters in January that "a very big intellectual property potential fine" would be announced "soon."
Sharp rhetoric against Chinese trade practices was a hallmark of Trump's campaign speeches in the 2016 presidential race. The fact that over a year has passed with little movement on this front reflects disagreement within the Trump administration on how to proceed, with tensions between pro-globalization voices (officials like Mnuchin and Cohn) and more protectionist thinkers like Lighthizer.
However, Trump himself is reportedly impatient to start making good on campaign trail promises to get tough on China over trade issues. In a sign that the winds are shifting, Peter Navarro is now tipped for a promotion that will give him more direct access to Trump. Navarro's views on U.S.-China trade are best summed up by the title of his controversial book: Death by China.
Given the atmosphere, it's no wonder that Beijing shipped Liu to Washington for discussions. Liu has the benefit of being a trusted adviser to Xi, and he seems poised to take a more active international role on trade issues. Liu spoke this year at the World Economic Forum's annual meeting in Davos on China's behalf, and is widely expected to be named vice premier in charge of the economy in March. But even with those credentials, Liu will be hard put to overcome the current tensions, particularly given that previous talks on trade issues between the United States and China have hit a brick wall.
In fact, the U.S.-China Comprehensive Economic Dialogue (CED), designed to be a forum to discuss trade issues, has been put on hiatus, as the Trump administration is frustrated over a lack of progress. U.S. Under Secretary of the Treasury for International Affairs David Malpass told Financial Times in November that that two sides were not even talking about restarting the dialogue, saying, "China is not moving in a market-oriented direction so for now the CED is also stalled."
There's similar pessimism hanging over Liu's visit. As one senior U.S. official told Reuters, "the Chinese don't really want to make a deal. They like the status quo."