China's 2018 Military Budget: New Numbers, Old Worries
Beijing's growing might continues to stoke regional anxieties.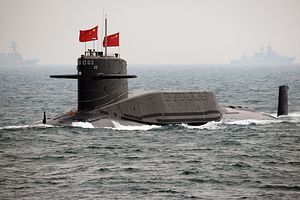 On Monday, China announced that its defense expenditure in 2018 would be over 1.1 trillion yuan ($174.5 billion). In a speech, Chinese Premier Li Keqiang said, "Faced with profound changes in the national security environment, we must … firmly uphold the guiding position of Xi Jinping's thinking on strengthening the armed forces as we develop national defense and the armed forces." He added that China will advance "all aspects of military training and war preparedness, and firmly and resolvedly safeguard national sovereignty, security and development interests."
This year's defense budget marks an increase of 8.1 percent from last year. This is slightly more than 7 percent hike seen in 2017, but possibly the largest spending in the last three years.
This appears to be part of a wider trend where China, after the decade-long double-digit increases in its defense spending, now seems to be settling down for high single-digit hikes. Earlier, China's defense budget increase rate was 10.7 percent in 2013, 12.2 percent in 2014, 10.1 percent in 2015 and began to come down to single digit growth rate from 2016 onward with 7.6 percent in 2016.
China has justified its defense budget by arguing that its defense spending is less than 1.5 percent of its GDP, but that argument is not going to go down well with its neighbors. Given the size of China's economy, its defense spending in absolute terms is quite high.
Chinese experts have suggested that what China does with its defense spending is quite normal and standard given its ambitions. Guo Xiaobing, the deputy director and research professor at the China Institute of Contemporary International Relations (CICIR), outlines a range of threats that China's military will have to counter including  "protection of maritime tights," counterterrorism, disaster relief operations, international peacekeeping, and "escorting in the Gulf of Aden." Guo also argues that China is transparent about its military expenditure, referring to the report of the 19th National Congress of Communist Party of China which identifies the military goals of China.
While this may all sound reasonable to Beijing, China's neighbors, particularly Japan, Taiwan, India, and Vietnam, will have many concerns about the impact of such defense spending on the military balance in the region. They worry that China's increasing military might may make it even more prone to aggressive moves in the region.
The recent signs are not comforting for some of these regional states, including countries such as South Korea that maintain friendlier ties with Beijing relative to some of China's other neighbors. To take just one example, the South Korean Joint Chiefs of Staff recently reported that a Chinese military spy plane, a Y-9, crossed into South Korea's air defense identification zone (ADIZ) without warning last week, one of several such crossings into the Korean ADIZ in recent months.
This is not an isolated incident. It comes on top of other developments including China's actions in South China Sea over the last few years which suggest that Beijing is changing the status quo in a way that raises questions about its long term objectives. Similar strategies have played out in the East China Sea as well, though with less success.
Chinese state media, for its part, has unsurprisingly continued to rebut such concerns. For instance, China Daily has asserted that "accusations of China's rising assertiveness in the East and South China seas… is a denial of the truth, as China is merely trying to stand up for itself and its rights."
Among China's neighbors Japan in particular, has raised the lack of transparency as a major problem in China's military spending.  Reacting to the increase in military spending, Yoichi Shimada, professor at Fukui Prefectural University, said that "it is an open secret that China's military spending is far bigger than their government will ever admit."  He added that in addition to the quantum of funding, it is the increasing sophistication of the Chinese military that is alarming.
The United States has also raised similar concerns about the non-transparent nature of China's military spending. Vice Adm. Phillip Sawyer, commander of the Asia-based U.S. Seventh Fleet, referred to the lack of transparency as an issue that causes angst in the region which "is potentially disruptive to security and stability and the free flow of commerce and trade."
Though it is unlikely that there will be much of an arms race between China and its neighbors – for most, China is already too large to compete with anyway – anxieties around Beijing's defense spending can exacerbate security dilemmas and generate behavior that could leave the region less peaceful and prosperous than it could otherwise be. Especially worrying in this respect is the fact that Beijing at times seems far too quick to dismiss the concerns of its neighbors rather than listening and attempting to allay them.
All this suggests that even as we keep getting new numbers around what China spends on its military, the old concerns around what Beijing does with its rising capabilities are unlikely to go away anytime soon.