How Asia Could Circumvent US-China Trade War
If the U.S.-China trade spat escalates, the rest of Asia will also suffer the fallout.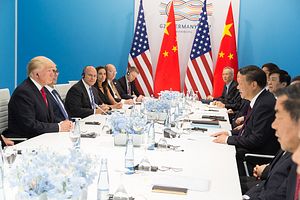 The world's two biggest economies have swapped tariff hikes in a tit-for-tat escalation that threatens a global trade war. With financial markets reeling and the Asia-Pacific region fearing the fallout, is there a way out before it gets serious?
On March 22, fulfilling previous campaign pledges, U.S. President Donald Trump announced the imposition of $60 billion worth of new tariffs on Chinese imports, targeting technology products. The measures included restricting Chinese investments in sensitive sectors, along with filing a World Trade Organization case against China, alleging intellectual property violations.
Worryingly for Asia, Trump indicated further trade action would be likely against even U.S. security allies such as Japan and South Korea.
Defending his decision, Trump said the United States had lost 60,000 factories and 6 million jobs due to "unfair trade practices," with the U.S. trade deficit with China reaching $504 billion.
"Any way you look at it, it is the largest deficit of any country in the history of our world… We have a tremendous intellectual property theft situation going on, which likewise is hundreds of billions of dollars," he added.
The protectionist U.S. leader also noted that his administration was renegotiating the NAFTA pact with Canada and Mexico, which he described as "a very bad deal for the United States," along with starting negotiations with the European Union. He also described the U.S. trade deal with South Korea as "very one-sided…it's a deal that has to be changed."
Trump said he had asked "the highest Chinese representatives, including the president…to reduce the trade deficit immediately by $100 billion."
The deal-making president said he would be seeking "reciprocal" trade arrangements with all trading partners, with the likelihood of eventually "negotiating a deal."
"…The people we're negotiating with… they cannot believe they've gotten away with this for so long. I'll talk to Prime Minister Abe of Japan and others – great guy, friend of mine – and there will be a little smile on their face. And the smile is, 'I can't believe we've been able to take advantage of the United States for so long.' So those days are over," he warned.
Trump's move against China followed his earlier decision to impose steel and aluminum tariffs, on the grounds of national security as well as protecting U.S. industry. While a number of U.S. allies won exemptions from the new tariffs, Japan was excluded and is under pressure from Washington to negotiate a bilateral trade deal.
For the Trump administration, Beijing's "Made in China 2025" program that aims to achieve global leadership in a number of advanced industries is a key target of the new tariff hikes, including aviation, electronics, and robotics products, Trump adviser Peter Navarro said.
China's response was swift, with the communist-ruled nation's Ministry of Commerce releasing a detailed list of 128 U.S. products it would potentially target. The products, worth around $3 billion, ranged from U.S. agricultural products to aluminum and steel pipes, with U.S. pork facing a 25 percent tariff.
"China does not want to fight a trade war, but it is absolutely not afraid of a trade war. We are confident and capable of meeting any challenge. It is hoped that the U.S. side will be able to make a swift decision and not to drag bilateral economic and trade relations into danger," a ministry official said.
The trade battle triggered a slide in global stockmarkets Friday, with Asian equities suffering the biggest losses. Japan's benchmark Nikkei Stock Average dropped by 4.5 percent, China's Shanghai composite index lost 3.4 percent, South Korea's Kospi index fell by 3.2 percent and Hong Kong's bourse slipped by 2.45 percent, while even U.S. stocks suffered their biggest weekly decline in two years.
For a president who previously touted strong stock market gains under his economic leadership, the market's rebuttal to the protectionist moves was universal. Adding to the "risk-off" sentiment was news that Trump had replaced his national security advisor H.R. McMaster with the hawkish John Bolton, who has backed a unilateral military strike against North Korea.
Lose-Lose
Nevertheless, the "lose-lose" nature of any trade war between the United States and China is demonstrated by the interdependence of the two economies. For example, Chinese smartphones use chips from U.S. manufacturer Qualcomm, while many parts of Apple's iPhones are made in China.
The United States accounts for around 20 percent of Chinese exports, while China is the United States' largest goods trading partner, being a major buyer of U.S. soybeans, aircraft, electrical machinery, and vehicles, among other exports.
A trade war could also damage Beijing's aspirations of doubling gross domestic product (GDP) by 2020 compared to 2010 levels, since any fall in U.S. exports could weigh on China's economic growth.
Globally, the OECD has estimated that a 10 percent hike in import tariffs across China, Europe, and the United States could reduce world GDP by 1.4 percent and global trade as much as 6 percent, reversing the recent synchronized global growth.
"Moreover, the likelihood is that these costs would be only the beginning. A trade war scenario is also one in which international cooperation and openness in other areas is likely to be compromised," the Paris-based body said in a 2017 report.
"Harmful restrictions could follow with regard to flows of people, investment, aid and information. Cooperation on international rules and institutions could be set back. Such a scenario must not be allowed to unfold."
Australian Defense Industry Minister Christopher Pyne has warned that such a trade war could even be the trigger to another Great Depression.
"Unfortunately the history of our world in terms of depressions is usually predicated on trade wars just of this kind," Pyne told Sky News.
The trade spat comes amid data showing world trade made a strong start to 2018, with world trade growing at its equal fastest pace since rebounding from the global recession in 2011.
Global trade volumes increased by 0.9 percent in January, according to data published by the CPB Netherlands Bureau, with Germany and China leading the charge in exports.
However, Capital Economics suggests the economic impact of the Trump tariffs on China will be outweighed by its damage to financial markets.
"The economic impact of the tariffs which have been announced by the Trump administration will be small, even if they are implemented in full, and we suspect that any retaliation will be moderate. But fears that the rest of Trump's presidency will be punctuated by protectionist announcements and actions may continue to weigh on investor sentiment. In short, markets will be more affected than the economy," the consultancy's chief global economist, Andrew Kenningham, said in a March 23 report.
According to Kenningham, the new U.S. tariffs on Chinese imports cover less than 3 percent of total U.S. goods imports, similar to those on steel and aluminum. The tariffs would affect around 10 percent of China's exports to the United States, accounting for 0.25 percent of China's GDP.
With only minimal economic damage likely to both major economies, and with an expected measured retaliation by other countries, Kenningham sees the biggest fallout on equity markets, particularly those reliant on supply chains linked to China, notably Taiwan.
"In addition, traditional safe haven currencies, notably the yen, will continue to be vulnerable to appreciation, which will have a knock-on effect on their stockmarkets," Kenningham said.
For Japan, a stronger currency and weaker stocks, as seen Friday, is exactly the opposite of "Abenomics" policy targets aimed at reflating the economy.
Alternative Solution
Yet amid the saber-rattling, an alternative solution could help reduce the U.S.-Asia trade imbalance and circumvent a trade war.
According to ANZ Research, while Asia runs a large overall trade surplus with the United States, the latter maintains a surplus in services with Asia that has further scope for growth.
In 2017, the United States had a $811 billion deficit in its goods balance but enjoyed a $242 billion surplus in the services account, with the top contributors to the U.S. trade deficit comprising China (59 percent), Mexico (12 percent), Germany (12 percent), and Japan (10 percent).
"We see scope for the U.S. to narrow its trade deficit with Asia via the services channel, especially against China. Indeed, efforts to reduce the trade imbalance via an expansion in trade in services, an area where the U.S. has a clear comparative advantage, is preferable. It will be much less disruptive to Asia compared to tariffs on goods, given the region's extensive supply chain network," ANZ's senior strategist for Asia, Irene Cheung, said in a March 23 report.
"From the U.S. perspective, service exports typically offer higher domestic value-add than goods, while tariffs will see U.S. consumers paying higher prices."
According to Cheung, an increase in the U.S. surplus in intellectual property rights with China comparable to its surplus with Europe would cut the U.S. deficit by up to $30 billion.
"This, coupled with room for growth in Chinese tourism to the U.S. (including education), will go some way to narrow the U.S.-China trade imbalance," she said.
"This is in line with what Chinese Premier Li Keqiang said this week, that there is no winner in a China-U.S. trade war and that China will open up its economy further to imports (with elimination of import tariffs) and investment, and fully open its manufacturing sector."
Such an impact would still be well short of Trump's desired $100 billion reduction in the trade deficit. But it would be a better outcome for Asia and the world than a costly "beggar thy neighbor" trade war.
Trump's call for negotiations suggests that the tariff hike on China could just be the first round in a protracted dispute. On Monday, Washington and Seoul agreed on revisions to their trade pact, after what South Korea's trade minister described as "heated discussions."
As negotiations continue between Washington and Beijing, just how much China is willing to concede, and the United States is ready to accept, will keep the world guessing as the rest of the Asian region strives to avoid further fallout.