If Indonesia's Democracy Is in Trouble, It's in Good Company
A look back at Indonesia's political developments in 2017 shows some familiar global trends.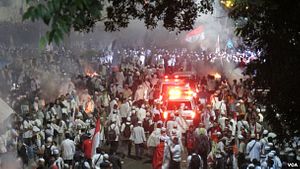 Former Jakarta governor Basuki "Ahok" Tjahaja Purnama was included on the 2017 list of 100 Global Thinkers compiled by the U.S. magazine, Foreign Policy, for "standing up to Indonesia's creeping fundamentalism" and "becoming the most prominent symbol of Indonesia's beleaguered ethnic and religious pluralism." Ahok was targeted during late 2016 and early 2017 by massive hate protests, led by hardline Islamist groups, after being accused of insulting Islam in a reference he made in public to Quranic verse. His public apology, noting that he never intended to insult Islam or the Quran, didn't help him. In May 2017 he was sentenced by the court to two years in prison, based on the blasphemy law. About three weeks earlier, Ahok the skillful and popular governor, had been defeated in a run-off gubernatorial election in Jakarta by the Muslim contester, Anies Baswedan.
The blasphemy case and election were strongly entangled with each other. The clear asymmetry between Jakartans' overall satisfaction with Ahok's performance and the final electoral results was largely explained by the role religious and ethnic identity played in voters' selections. Indeed, the atmosphere created by the street politics against Ahok, which ran in parallel to electoral campaigns in Jakarta, played into the hands of Anies, who was largely argued to be playing on Islamic identity. Certainly it's the not the first time in post-reformasi Indonesia that religion has been used as political leverage, but this time the impact of religion on the electoral choice was particularly striking.
The elections results in Jakarta of 2017 may be further heightened by a comparison to the Jakarta gubernatorial elections in 2012, won by Joko "Jokowi" Widodo, now the incumbent president, and his running mate, Ahok. The pair was victorious even though the candidacy of Ahok, who possesses double minority status, was not welcomed, to say the least, among Muslim conservative political actors, let alone Islamists. Hence there was some ground to argue then that the 2012 elections results indicated a more mature political culture in Indonesia, by increasing movement toward democratic, pluralistic voting patterns, in which racial and religious lines are replaced by criteria such as skills and competence.
Let's move back to today; a quick scan reveals that politicking based on religion and race in Indonesia — whose formative foundations include the separation of state and religion and the national motto of Bhinneka Tunggal Ika ("unity in diversity") — was not limited to the Jakarta gubernatorial campaign. Last October, soon after he sworn in as governor, Anies sparked a controversial debate related to racial matters by using the term pribumi, commonly meaning "indigenous," in the following context: "In the past, we pribumi were the conquered. Now, it's time for us to be the hosts in our own land. We worked hard to get rid of colonialism and we must enjoy our freedom."
With Ahok's case still looming on the backdrop of the political stage, there are also concerns about stirring up anti-Chinese sentiments. Anies gave a speech at the opening of what was described as a reunion of the 212 anti-Ahok rally (Reuni Aksi Bela Islam 212) held on February 12, 2017. The "reunion" was celebrated at the grounds of the National Monument, located at the center of the capital, currently governed by Anies. In addition to Anies' speech, a recorded speech by the leader of the Islamist group Islamic Defenders Front (FPl), Rizieq Shihab, a highly significant actor in the outraged campaign against Ahok, was also played at this event – even though Rizieq was considered a fugitive from Indonesian law, thanks to his involvement in a pornography case. In his speech, Rizieq called on Indonesia to adopt Shariah law. Strikingly, Rizieq topped the Google's Year in Search 2017 list for Indonesia in the category of tokoh, or public figures.
The current political game in Jakarta, including the fate of the diverse protagonist, might give rise also to confusing thoughts that aren't limited to the Indonesian context alone. In other words, Indonesia constitutes a local mirror image of a much wider global phenomenon that can be epitomized by the following words from Italian diplomat, politician, and philosopher, Niccolò Machiavelli (1469-1527): "Politics have no relation to morals." Similarly, the current Jakarta case has triggered questions about the trajectory of the country's relatively young democracy, which dates back to 1998. Nevertheless, when viewed through a more balanced, realistic lens, it might be said that Indonesian democracy didn't reinvent the wheel in this case either; politicians almost everywhere, including in evolved, matured democracies, use political freedoms to play on sensitive racial and religious sentiments for electoral interests. In this way, candidates around the world inflame intolerance, xenophobia, and discrimination, particularly during election campaigns. Sometimes such political games are played shamelessly on the stage front; sometimes else the impact is more insidious.
In other words, Indonesia's current milieu offers additional evidence of the eternal validity of 19th century French political scientist and historian Alexis de Tocqueville's statement: "History is a gallery of pictures in which there are few originals and many copies."
Dr. Giora Eliraz is Affiliate Instructor at the Jackson School of International Studies, University of Washington, Seattle and a Research Associate at the Harry S. Truman Institute for the Advancement of Peace, the Hebrew University of Jerusalem.