Japan Commissions One of the World's Most Advanced Attack Subs
The latest boat of Japan's most advanced class of diesel-electric attack subs was commissioned earlier this week.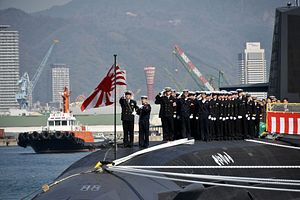 The Japan Maritime Self-Defense Force (JMSDF) has commissioned into service its ninth Soryu-class diesel-electric attack submarine (SSK). The commissioning ceremony was held at the Mitsubishi Heavy Industries (MHI) shipyard in Kobe in Hyogo Prefecture on March 12, the JMSDF said in a statement this week.
The JS Seiryu (pennant number SS 509), which was launched in October 2016, is slated to serve in the JMSDF's Submarine Flotilla 2, based in Yokosuka.
It is the fifth Soryu-class sub and the 27th boat overall built by MHI since the end of World War II. The other four Soryu-class submarines were constructed by Kawasaki Heavy Industries (KHI), which has assembled a total of 27 boats since 1945. In November 2017, KHI launched the 10th Soryu-class SSK, named Shuriyu, which is expected to be commissioned in March 2019.
The latest Soryu-class sub, JS Seiryu, cost around 53 billion yen ($496 million), about eight billion yen less than the first-of-class SSK, according to the Nikkei Asian Review. Soryu subs are considered to be among the most advanced class of SSKs in the world. As I explained previously:
The 4,200-ton (submerged) Soryu-class boats are the JMSDF's first SSKs to be fitted with air-independent propulsions (AIP) systems, enabling the submarines to stay underwater for up to two weeks. Japan plans to build a total of 12 Soryu-class SSKs. In 2015, Japan's Ministry of Defense (MoD) announced that it intends to equip the last two boats of the class with lithium-ion batteries. (According to some reports, the other boats of the class will be retrofitted with the batteries as well.)

Soryu-class SSKs are powered by two Kawasaki 12V 25/25 SB-type diesel engines and four Kawasaki Kockums V4-275R Stirling AIP engines for silent running. The boats have an estimated range of 6,100 nautical miles (11,297 kilometers) with a maximum surface speed of 13 knots and a subsurface travelling speed of 20 knots. The maximum diving depth of the sub is around 650 meters.

The Soryu-class is fitted with six HU-606 533 mm torpedo tubes that can accommodate Type 89 heavyweight homing torpedoes and UGM-84 Harpoon anti-ship missiles. Next to bow-and-flank-mounted Hughes/Oki ZQQ-7 sonar arrays, the sub is also equipped with a towed array sonar capable of detecting ships over 70 kilometers away.
Furthermore, I noted:
The Soryu-class boats' hydrodynamic design is based on the older Oyashio-class diesel-electric attack submarines currently in service with the JMSDF. It is (…)  fitted with a computer-controlled, Swedish-designed X rudder to increase the submarine's maneuverability when operating in shallow waters close to the seabed.
The crew of a Soryu-class SSK usually consists of nine officers and 56 sailors. The MSDF plans to operate a total of 12 Soryu-class boats by March 2021.