Makha Bucha: Making Merit in Thailand
Over 30,000 temples celebrate the Buddhist holiday each year.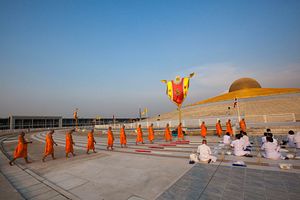 Thailand is one of the most populous majority Buddhist countries in the world. Makha Bucha is a widely observed event, celebrated by over 30,000 wats (temples) nationwide. Falling on the day of the full moon on the third lunar month of each year Makha Bucha (also known as Magha Puja) is the second most important Buddhist holiday, emphasizing the virtues of not committing sins. Celebrations are characterized by a candlelit procession, where attendees walk around a temple's ordination hall three times at sunset.
The megalopolis of Bangkok, Thailand's capital and largest city, is home to many of the nation's most important Buddhist temples, which drew millions of devotees on March 1 this year for the holiday.
Lat Phrao, a district in Bangkok's northeast, is home to Wat Lat Phrao, a temple off the beaten track. Nestled next to the Lat Phrao canal, the temple's unique design, with elevated pavilions and numerous standing Buddha statues, sets it apart from other temples in Bangkok.
Wat Saket, popularly known as the Golden Mount and located next to Bangkok's historic Phra Nakhon district, is also a heavily visited temple on all Buddhist holidays. It requires a short but arduous climb to reach the chedi or stupa at the top of the artificial hill it sits upon. The hill is believed to contain relics of the body of the historical Buddha, Siddhartha Gautama.
Perhaps the most unique and visually stunning Buddhist temple in the world, Wat Phra Dhammakaya, sits 50 kilometers north of Bangkok in the province of Pathum Thani. The centerpiece of the massive religious complex is the Wat Phra Dhammakaya cetiya dome stupa and surrounding assembly area, designed in a futuristic style unlike any other Buddhist temple.
Adryel Talamantes (instagram: adryel_talamantes) is a photojournalist and writer originally from the United States, now based in Bangkok, Thailand.  His work has been published by the Wall Street Journal, USA TODAY, The Diplomat, The Nikkei Asian Review, The Global Post/PRI, War Is Boring, and elsewhere.