Malaysian Politics Get Nasty
Whether it's breakfast cereal or Anwar, old rivals monopolize Malaysian politics.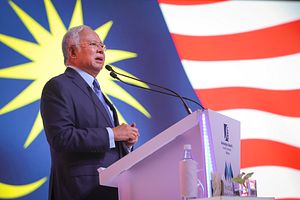 Politics in Malaysia are heating up and getting nastier, with scandal-plagued Prime Minister Najib Razak and his nemesis Mahathir Mohamad trading insults ahead of an election that threatens to end the ruling party's long-held grip on power.
The fighting also taking a toll on others as well. One example is leading businessman Robert Kuok, who has been caught in the crossfire and been forced to reconfirm his Malaysian allegiances after it was reported he had offered financial support for the opposition, whose figurehead Anwar Ibrahim continues to languish in prison.
The pre-election spats between Mahathir and Najib have ranged from personal barbs to attacks on the rising costs of living, and has even indulged their choice of breakfast grain — rice or quinoa — making for a rather banal start to what promises to be a most torrid election campaign.
The campaign is marked by a government plagued by allegations of corruption, old stagers, and traditional ethnic and religious rivalries – in a country in desperate need of fresh political blood.
"Perhaps the saddest factor about Malaysian politics today is the lack of any regeneration of leadership," said Keith Loveard, a senior risk analyst with Jakarta-based Concord Consulting.
"All three major players, Najib, Anwar, and particularly Mahathir, are leftovers from a different era. Their failure to encourage younger players to emerge out of the political vortex is damning of the entire system of politics as it is played there."
What's Old Is New Again
Najib, 64, calculated badly, thinking that Mahathir's son, Murkhriz, might run against him and challenge for the leadership of United Malays National Organization (UMNO) with his father's backing.
Instead, Mahathir, the former prime minister and Malaysia's longest serving leader, stunned the political establishment last month by announcing he would join the opposition alliance and contest the election. If he wins, Mahathir will seek a royal pardon for Anwar, 70, and hand power to him once he is released from a five-year jail sentence for sodomy.
Mahathir and Anwar's wife, Wan Azizah Wan Ismail, will run as candidates for premier and deputy prime minister for the Pakatan Harapan, an alliance of center-left parties that includes Anwar's People's Justice Party, Mahathir's Malaysian United Indigenous Party, the Democratic Action Party, and the National Justice Party.
However, at 92, Mahathir's health remains an issue. His supporters feared his election bid had run off the rails when he was admitted to hospital with a chest infection.
But to the chagrin of his political enemies, the former prime minister made a swift recovery and is back at the center of the country's politics, hoping to capitalize on his lingering popularity and Anwar's successes in 2013 when the ethnic Chinese vote deserted UMNO and backed the opposition.
That was dubbed the Chinese tsunami in remarks that are remembered to this day. But now, talk is about Mahathir creating a Malay tsunami of his own at the next poll, which must be held by August but is expected before the Muslim holiday of Ramadan in May, while Anwar is still behind bars.
Anwar is expected to be released in June, with time off for good behavior. He would still be barred from holding public office due to his criminal conviction, unless a royal pardon is issued. Mahathir and the prospect of a pardon has put Najib and UMNO firmly on the back foot.
"Sugar King of Asia" Under Fire
Meanwhile, well-documented scandals like 1 Malaysia Development Berhad (1MDB), the jailing of Anwar after he won the popular vote in the last election, and, dating back even further, the acquisition of two French submarines when he was defense minister, have damaged Najib's tenure as much as Islamic puritans and race issues.
Race is again in the spotlight after a series of articles and blogs were published claiming Kuok, an ethnic Chinese, was funding the opposition, casting doubts over his loyalty to the ruling Barisan National coalition, which helped UMNO – the senior coalition partner – rule since independence.
Headlines like: "Robert Kuok wants Chinese rule in Malaysia" and "Robert Kuok's last chance at changing the government" had embarrassed the well-known businessman, prompting a robust response and strenuous denials that reflected the sensitivity of such issues in Malaysia.
"The false assertions made in these articles include that he was funding The Malaysian Insight and various political parties with the aim of overthrowing the present government of Malaysia and embarking on a campaign to manipulate the Malaysian political process and democratic system," one such denial read.
"Other false statements about him include him being anti-government vis-à-vis the ruling Barisan Nasional Party and being a racist and a Chinese chauvinist. These allegations are untrue, and Kuok expressly denies them in their entirety," it added.
Kuok, Malaysia's richest man and known as the "Sugar King of Asia" is threatening to sue the online news portal Malaysia Today, publisher of the articles, for what in other country would be a storm in a tea cup.
But this is Malaysia.
"Ethnic Chinese have been second class citizens in Malaysia since its founding and in a democracy businessmen, and of course any citizen, should be free to back anyone they want — so if these allegations are true, then so what," one analyst, who declined to be named, said.
"But in Malaysia it's a sensitive issue given Najib's loss of the popular vote at the last poll due to the Chinese tsunami that swept over him. He only held onto government through gerrymandering, and this type of behavior is indicative of Malaysia."
Najib's Chances
Thanks to heavy gerrymandering, Najib could yet win this election. But his chances are slimming with Mahathir in the mix.
Even if he does win, he is unlikely to carry the popular vote. Mahathir, with his promise to hand the leadership to Anwar, will in all probability lift the opposition's broad support well beyond 50 percent and at the very least further undermine Najib's mandate to govern.
With the plethora of scandals and legal action in courts around the world — in particular the $4.5 billion alleged by the U.S. Justice Department to have been stolen from the 1MDB fund — Najib should have long since stepped aside while investigators carried out their job.
Instead, Malaysian investigations were shut down and officials declared Najib innocent.
Pakatan Harapan, described by Mahathir as the government-in-waiting, has pledged a raft of popular reforms and importantly to reopen 1MDB investigations, which are still underway in half-a-dozen countries, in Malaysia if it wins the next election.
Najib, meanwhile, is desperate to hang on, regardless of the electoral outcome. That's the best chance he has to avoid the courts, and, potentially, the same fate that befell Anwar.
Luke Hunt can be followed on Twitter @lukeanthonyhunt