Moon's March 1 Address Pokes Sensitive Issues With Japan
For the first time in 11 years, the Dokdo/Takeshima dispute made its way into a South Korean president's March 1 remarks.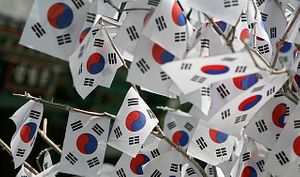 On March 1, Anguk subway station in northern Seoul turned into a memorial. Dozens of Seoulites dressed up as freedom fighters who once stood against Japanese colonial rule back in the early 1900s to commemorate the 99th anniversary of the March 1 Independence Movement.
Anguk station is symbolic in many ways; the place was home to some of the most revered activists for Korea's independence, including Lyuh Woon-hyung and Son Byeong-hee. It was also a place that connects Bukchon and Insadong, where the March 1 Movement took place.
Visitors came from all generations. Both young and old held South Korea's national flag as they shouted, "long live Korea," while others recited Korean poems and sung songs written during Japanese rule.
This year's anniversary marks the second year that South Korean President Moon Jae-in has given his memorial speech at the Seodaemun Prison History Hall, unlike previous administrations whose tradition was to give their remarks at the Sejong Center for the Performing Arts.
Seodaemun Prison was infamous for incarcerating Korean liberation activists during the colonial era. Moon gave his first March 1 memorial speech last year at the site to honor Korea's forefathers who perished there. This move, interestingly, was also regarded by many as his way of taking a stance on the controversy surrounding the official founding year for South Korea.
South Korean politics has been divided over the exact year when South Korea was formally founded. The conservatives cite 1948, when the Government of the Republic of Korea was first established. The liberals, however, argue for the year 1919, when the Provisional Government of the Republic of Korea was first established in Shanghai, China.
Many of the liberation activists imprisoned in Seodaemun Prison were involved in the establishment of the Provisional Government, including Kim Koo, the former premier of the Provisional Government. Many see Moon's choice of the site, two years running, as his way of illustrating his stance that this year marks the 99th year since the country was founded, not the 70th year.
Another flashpoint for this year's March 1 is that Moon explicitly discussed the Dokdo/Takeshima dispute in his memorial speech — the first time in 11 years a president has done so. Moon pointed out during his address that "Dokdo was the very first South Korean territory to be occupied by Japan," adding that "Japan's rejection of that fact is the same thing as rejecting the attitude of remorse for their act of imperialist aggression."
This specific ongoing territorial dispute between South Korea and Japan was last mentioned in a March 1 address back in 2006, when then-President Roh Moo-hyun brought up the issue as a reason for South Koreans to hold "suspicion that Japan may again seek to justify its history of aggression and domination."
Some experts argue that Moon's mention of the disputed area is tied to Japan's more vocal claims regarding Dokdo/Takeshima of late. As recently as last January, the Japanese government opened the National Museum of Territory and Sovereignty in Tokyo, where its exhibitions argue for Japan's claim on the island. Japan also announced its new governmental guidelines for high school study, which make educating students about Japan's territorial claim on the island mandatory.
Moon also re-emphasized his stance on the comfort women issue. He strongly refused to accept the 2015 agreement, saying that "the Japanese government, a perpetrator, should not be the one to say that this is over." He added that "mere words are not enough to cover up anti-humanistic, human rights crimes that were committed during the war."
Two months ago, the Moon administration decided not to accept the 10.7 billion won that was agreed upon as reparation fee to be paid by Japan in the 2015 agreement.
Japan's Chief Cabinet Secretary Yoshihide Suga responded in an afternoon press conference on the same day, saying that the Japanese government "can never accept President Moon's statement as it goes against the Korea-Japan agreement."
"The 2015 agreement between Korea and Japan is a final and irreversible resolution to the sex slave question," Suga said, echoing language used by both government when the deal was announced.
Concerning the Dokdo/Takeshima dispute, Suga expressed his strong regret for "South Korea's repeated acts of rejecting the view of the Japanese government on the territorial claim," adding that "an immediate protest was made to South Korea via diplomatic channels."
Suga said the dispute "is something that cannot be resolved overnight, but what is unacceptable to us will be notified to South Korea." The Japanese government "will not cease to address the issue from a larger perspective," he said.
Some experts argue that Moon's strong remarks against Japan were also influenced by Japan's less-than-positive attitude toward South Korea's efforts to engage in dialogue with North Korea. Japan's attitude was very clear when Moon and Japanese Prime Minister Shinzo Abe met at a South Korea-Japan summit, held shortly before the Opening Ceremony of the PyeongChang Winter Olympic Games.
There, Abe said "it is not the time to postpone U.S.-ROK combined military exercises." Moon responded by saying Abe's statement constituted "interference in South Korea's internal affairs," and released the incident to the public due to "Japan's attitude."
Moon's hostile remarks about Japan in his speech seem to be based on his confidence that the United States will back Seoul over Tokyo — at least when it comes to the North Korea question.
Experts say that, should a conference be held on North Korean nukes at this juncture, it is most likely that South Korea will hold the key to opening the doors for Japan to participate. In other words, Moon has the advantage in South Korea-Japan relations. In fact, South Korea has been coordinating closely with the United States for a North-South summit. There are even reports that U.S President Donald Trump and Moon may directly exchange their views on this matter soon.
In sum, Moon's March 1 address seems to have been targeted at achieving several political objectives at once: winning a liberal victory by claiming that South Korea is 99 years old; showing Japan that South Korea has the upper hand in dealing with the United States on the North Korea question; and garnering public support by telling South Koreans exactly what they want to hear.