Myanmar's Deadly Mines
Despite an ongoing peace process, Myanmar is littered with mines. Civilians are paying the price.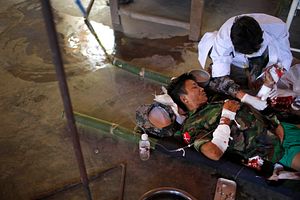 BAGO REGION, MYANMAR – Daw Mya Mya can't remember how old she is, but she can remember the day her husband lost both of his legs to landmines. A few years later, she also became a victim of the tiny devils that have plagued the residents of Mone village in Bago Region for decades – she lost one leg.
The mother had no choice but to get back to work after her injury. She spends most of her days tending to her husband and children. Daw Mya Mya still struggles to accept her husband's injury.
"When he lost his legs, I thought it is my responsibility to take care of him and support the family. When I lost my leg, I started to feel furious that I am obliged take care of my husband, who has lost both of his legs," said Daw Mya Mya. "I feel so exhausted having to fetch water for him to bathe. I felt angry that I need to help him in every basic chore on daily basis. At times, I threw a fit at him. He doesn't get mad when I shout at him. He just stays silent."
Three hours north, in the capital of Naypyidaw, the third installment of the 21st Century Panglong Union Peace Conference has been tentatively slated for this May. Back in 2016, when the conference commenced, the safe elimination of unexploded landmines was on the priority list, but so far no mines have been removed.
Like much of eastern Bago, Mone village, where Daw Mya Mya lives, is predominantly home to ethnic Karens. Its people and its landscape bear the scars of an almost ceaseless war between the Tatmadaw and the Karen National Union (KNU) and splinter militias.
Despite signing a second ceasefire in 2015 – a 2012 agreement fell apart – the count of victims of war continues to rise, and not only in Bago. Landmines contaminate nine of the country's 14 states and regions, according to the Myanmar Information Management Unit.
Landmine awareness organization HALO Trust, which signed a Memorandum of Understanding with the government in 2015 with an amendment in 2017, has the equipment and technology needed to begin demining work immediately.
Program manager Samual Fricker said HALO is ready to begin their nontechnical survey – data collection on landmine-contaminated areas – something that would have been impossible a few years ago.
"If you look back in 2012 for example, there were practically no activities going in country whatsoever. I mean you couldn't even talk about landmines — it was that sensitive," he said.
Fricker, although keen to highlight progress, also concedes that the process is a marathon, not a sprint. The Tatmadaw and ethnic armed organizations (EAOs) welcome technical training and education, but remain reluctant to unearth the mines that disproportionately wound civilians over combatants.
"We have to respect that we are international operators coming into this country and while I would always argue that… there's a lot of landmines, for example, that I think could be cleared, that we could do [a] survey on, that aren't strategic, it's not for me to say that," Fricker said.
"That is completely up to the wishes of the KNU or the Tatmadaw or whomever."
According the Landmine Monitor, which released its 2017 report last December, Myanmar lost 298 people to landmines in 2016. In reality, the figure is likely higher as many affected villagers are in isolated areas.
The lack of landmine removal is not the only indicator that the Panglong Conference is proving less effective than State Counselor and de-facto ruler Aung San Suu Kyi had promised. Originally scheduled to take place every six months, the most recent conference was in May 2017, itself several months late.
The Joint Ceasefire Monitoring Committee, comprised of Tatmadaw, EAOs, and government representatives, won't raise the issue of demining at the next conference, according to a spokesperson. Dr. Sui Kar said on the phone on Tuesday there are "no preparations that I know of" on the matter.
Myanmar's government remains reluctant to sign on the Mine Ban Treaty. Deputy Defense Minister Major General Myint Nwe admitted in 2016 the Myanmar military, known as the Tatmadaw, still uses the weapon "on the front lines." With the military entitled to 25 percent of seats in the parliament, the military is unlikely to acquiesce to any legislative push to demine or sign on to international treaties.
But it's the EAOs that are most reluctant to begin demining immediately, according to Min Zaw Oo, a former All Burma Students Democratic fighter and now executive director of the Myanmar Institute for Peace and Security and a negotiator in the peace process.
While everyone agrees on demining "in principle," implementation has stalled due to mistrust.
"They [the ethnic militias] are more reluctant. Not only for territory reasons but also … there is a trust deficit. Those kinds of activities [demining] may be interpreted differently," he said.
The back and forth, the uncertainty, and suspicion – none of it surprises Tin Myint, another one of the countless victims of an intractable civil war. The husband and father is quiet in his fury.
"I feel hatred towards those groups who planted landmines. Once a military colonel asked me, 'Tin Myint, if I arrest one of those people who put you in this situation, would you dare to kill him in front of me?'" he recounts.
"I replied, 'Colonel, I won't ask for swords, guns, or any arms. We, more than 40 landmine victims, [in the village] will kill him with our bare hands.'"
Kimberley Phillips is a reporter for Democratic Voices of Burma. Follow her on Twitter: @KPhillipsDVB.